Kymber Rhea Johnson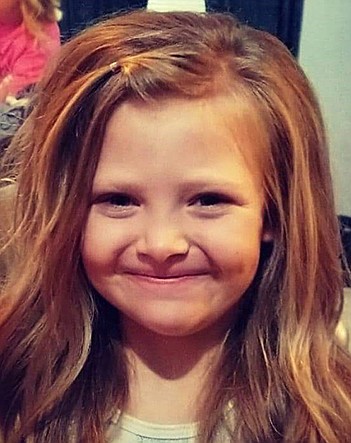 |
December 16, 2021 7:45 AM
Kymber Rhea Johnson was born on February 17, 2010 in Whitefish, Montana to her parents James and Ashley Johnson.
The second of three amazing girls that they would bring into this world. Kymber brought spice to their life with her witty banter, infectious smile, kind heart and all around undeniable presence to the people she loved. On Dec. 6, 2021, Kymber, safely wrapped in her mothers arms and surrounded by her family in the comfort of her home, went to be with the Lord and ended her two-year fight with cancer.
Never letting it get the best of her always positive attitude and never faltering in her faith and love of living the best life she could. Kymber will be welcomed with open arms and love by her great grandmother, Connie Rhea Birky and her great grandfather, Bill Gress.
She is survived by a multitude of family that include her parents and two beautiful sisters, Kaydence and Kaycee; her aunt and uncle, Ely and Brittany Yerian and their children Korah and Ethan, who were truly more like a brother and sister to Kymber than just cousins. Korah and Kymber share very close birthdays and always combined their parties to celebrate.
She also has her aunt and uncle, Steven and Keely Goe and their two daughters, as well as aunt and uncle, Cameron and Megan Johnson and their two children; and uncle Cody Birky.
As well as numerous grandparents, which include Hal and Dawn Birky, Jeff and Kathy Johnson, Jacque Gress and also great grandparents Dale and Betty Birky, LaVerne and Bob Johnson and Mike and Jeri Hickey.
Her family was immense and strong just like Kymber, which is why it also stretched far beyond that of just immediate family and brought her to have an army of loved ones that included a fortress of friends who became family. Kymber attended Kings Kids Preschool for her early years and then moved on to Glacier Gateway Elementary, just as her older sister did and right alongside her cousin Korah. Although she didn't get to enjoy the many adventures that Columbia Falls Junior High would have brought, she did frequently visit in hopes of joining her classmates and she was well known by all.
Kymber's true love for life and adventure was what most if not all people will remember and talk about. Her love of all things motorized: razoring, boating, dirt bikes, you name it and she would want to be on it. She also enjoyed camping, which really was her family's second home in the summer. Being with family and always being able to laugh and make people laugh was her specialty.
If Kymber was in the room, there was a certain light heartedness that poured out onto everyone; it was infectious and amazing to say the least and if for some reason you didn't seem to be having a good time or needed a laugh Kymber would always remind people to "stop being a dingleberry."
To put it best, Kymber was a force to be reckoned with. So when she was diagnosed two years ago with a rare and aggressive bone cancer, she came in full force with her positivity and was up for the fight. Battling not only the amputation of her leg but also making the profoundly hard decision on what kind of amputation to get. In true Kymber form she chose the more radical approach so that she could still do sports, run, play and be as energetic as she once was. Never taking the easier road was her style. Although Kymber did not beat her cancer, I think we can all say that without a doubt, she gave it the fight of its life and that in the end she was indeed the force to be reckoned with. Kymber's family would like to thank all of the family, friends, strangers, community and anyone in between for all of their love and support, from donations, to prayers and all of the positive thoughts and sentiments. It gave more strength to them than they can convey and truly is inspiring to know so many people cared.
The family knows that many will want to celebrate Kymber and be in attendance at her funeral, with that in mind they will be waiting until after the holidays to do a Celebration of Life, as right now they would like to focus on being with family and getting through the holiday season. Columbia Mortuary is caring for Kymber's family.
Recent Headlines
---