Boys soccer looks to make it back to championship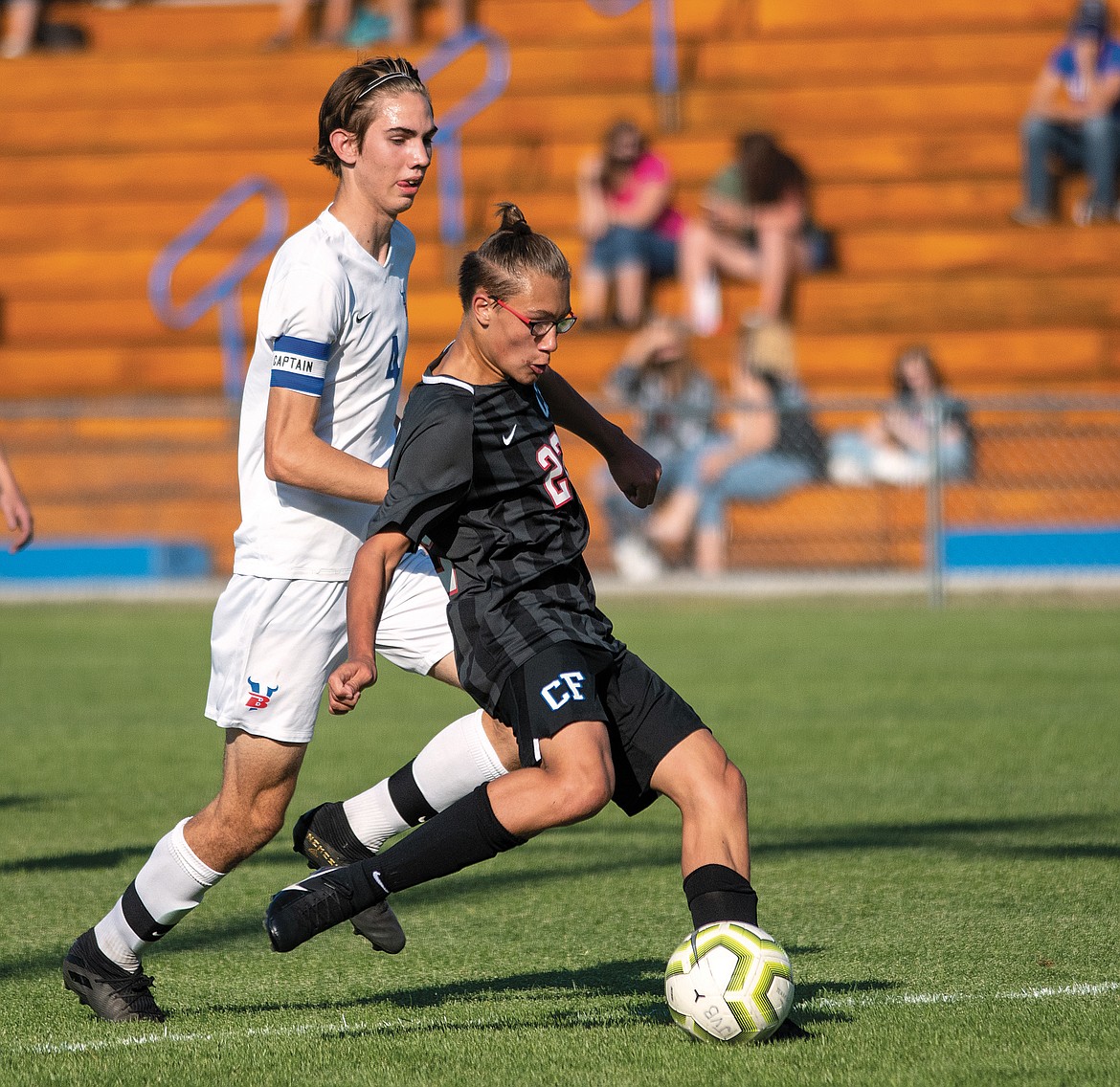 Fin Sundberg with a shot last season.
by
CHRIS PETERSON
Editor
|
August 25, 2021 8:00 AM
The Columbia Falls boys soccer team has high expectations for the program this year, after taking second in the state A championship last year to rival Whitefish.
Last year they were a very young squad — the youngest starting 11 in the entire state, noted coach O'Brien Byrd.
This year they're still young, but instead of being freshmen and sophomores, they're sophomores and juniors. The squad has three seniors, Hunter Trenerry, Brandon Lopez and George Robbins.
Byrd noted they recently had their blue and white scrimmage, which pitted the starters against the reserves. The reserve team also had two assistant coaches who played college ball in Cory Pete and Chris Nagel.
The starters won, 9-1.
The team did lose some experience. Five seniors graduated, four of which were starters, but the core of the squad is back, including Kai Golan, Fin Sundberg, Dale Blickhan, Nico Lang, Robbins and keeper Bryce Dunham just to name a few. Dunham's seeing some solid competition for the role of keeper from teammate Braden Fairchild at that position.
Byrd said he also plans on playing two freshmen midfielder River Wolford and forward Max Everett, who have shown great promise.
Byrd said the culture of soccer is growing in Columbia Falls and he's excited to see it. The school district also approved a junior high program, and the expectation is there will be two boys teams and a girls team when the season starts. (Junior High doesn't have any practices before school begins.)
The boys open the season Friday against Lone Peak High School on the road which is in Big Sky. Last year Lone Peak made it to the quarterfinals in the East, so they should be a good contest.
The first home game is Sept. 3 against Lockwood. Gametime is 4 p.m.
"We're excited to have fans back," Byrd said. "It's an exciting brand to watch."
---