Louise A. Steppe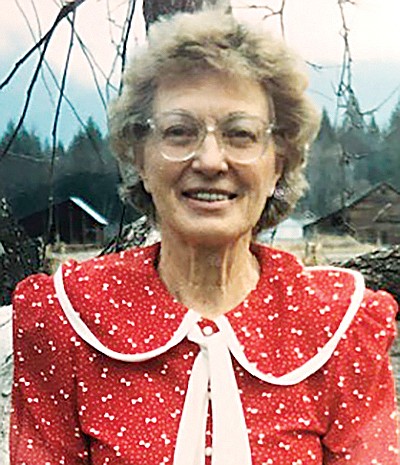 |
August 11, 2021 12:40 PM
Louise A. Steppe, 97, of Columbia Falls passed away Tuesday, July 28th.
She was born July, 18, 1924, in Wenatchee, Washington to Walter and Edith West. She was raised in Susanville, California and moved to Columbia Falls in 1946.
She was a faithful Servant to her Lord, Church and Community. She was an avid reader and writer of Christian articles and poetry.  She served over 70 years in the Seventh-day Adventist ministries and playing keyboards. She was an adventurer, loved to travel and threw caution to the wind. She loved her home and garden that grew award winning Irises. Most of all, she loved her family and will be looking down on us with all the love in her heart.
She is preceded in death by her husband, Laurence Craft and son, William "Billie" Steppe; brothers,  Ralph Kenyon "RK" West, Byron "Barney" West; and sisters, Lois Chapman and Ethel Janetski.
She is survived by her son, Kirk Steppe of Tualatin, Oregon; two daughters, Anita Feland of Helena, and Shanon Dorsey of Chapin, South Carolina; 10 grandchildren, Mike, Michelle, Ashley, Tanielle, Alyssa, Kristina, Sierra, Dakota, Bridger, Jaden as well as great and great-great grandchildren.
Services will be held at Woodlawn Cemetery Saturday, Aug.14 at 2 p.m. and following service there will be a Celebration of Life potluck starting at 3 p.m. at 291 Rogers Road, Columbia Falls.
Zoom meeting link will be set up for those unable to attend. Please RSVP for Zoom meeting link to shanon.dorsey@yahoo.com by Friday, Aug. 13. Columbia Mortuary in Columbia Falls is caring for Louise's family.
---