Glacier National Park's Sun Road ticketed entry system opens with bumps in the road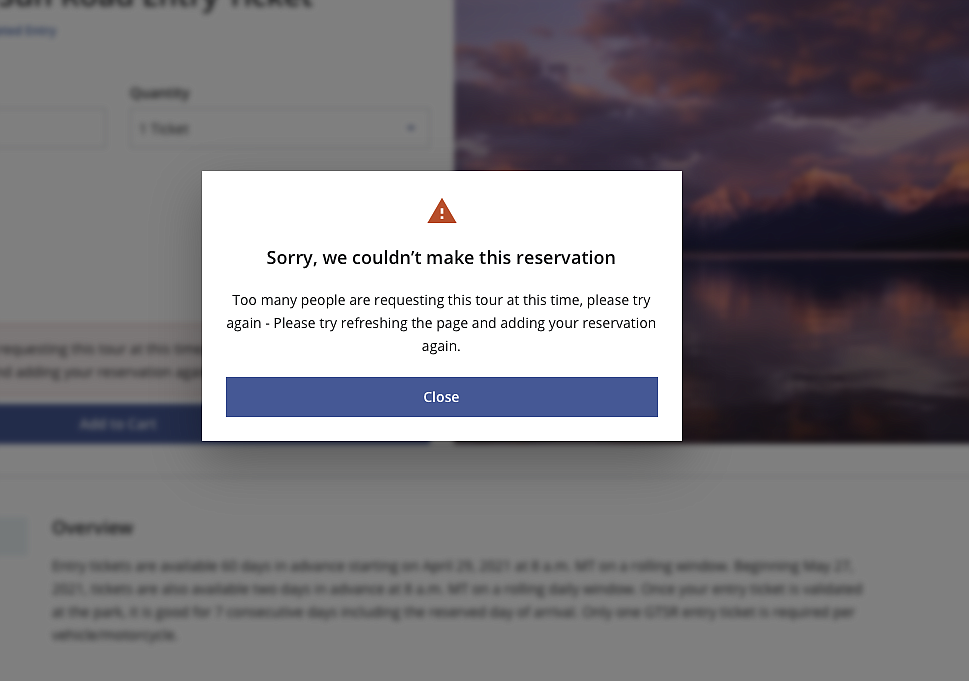 An error message on the Sun Road ticketed entry site Thursday morning.
by
CHRIS PETERSON
Editor
|
April 29, 2021 7:40 AM
Glacier National Park's ticketed entry system for the Going-to-the-Sun Road went live at 8 a.m. Thursday morning and there were bumps in the road.
The Hungry Horse News was able to secure a ticket for June 13, but dates after that were unavailable in minutes and the recreation.gov site appeared to have crashed partially, with an error that read "Sorry, we couldn't make this reservation. Too many people are requesting this tour at this time, please try again. Please try refreshing your page and adding your reservation."
But even after a refresh, it did not allow us to reserve a ticket on dates later in June.
Tickets are only available 60 days in advance, so July dates will come available on a daily basis.
Glacier Park officials said about 75% of the tickets are available 60 days in advance and the remainder two days in advance. People can also get tickets on the same day as well, if they're available.
Once the Sun Road completely opens, the Park anticipates that 4,600 tickets daily will be available. Tickets will not be required after Labor Day weekend.
People who arrive before 6 a.m. or after 5 p.m. do not require a ticket.
The tickets are only needed for the Sun Road. Other roads in the park do not require a ticket, but the Many Glacier Road and the Camas Road are both undergoing construction this summer, so motorists should expect delays.
For more information on the system go to: https://home.nps.gov/glac/index.htm
---