Swank awarded contract to build new Glacier Gateway School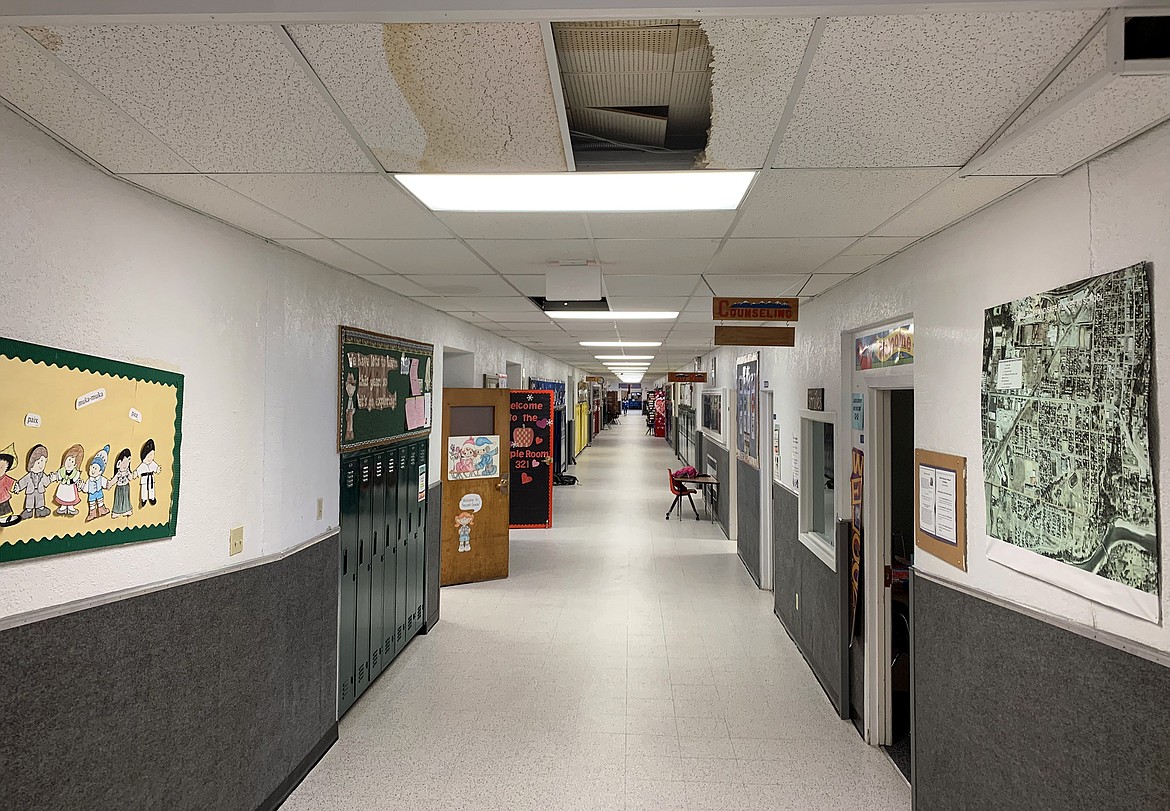 Leaking roofs have damaged several areas throughout Glacier Gateway Elementary, such as this area in the "mile long hallway." (Jeremy Weber photo)
The Columbia Falls School District 6 board Thursday approved a $21.970 million contract with Swank Construction to build the new Glacier Gateway Elementary School. The second lowest bid was $26.446 million from Sampson Construction of Cheyenne, Wyoming.
Two others firms, Sletten Construction and Oswood Construction, both of Great Falls, opted out of bidding on the project.
The bid comes under the school's budget for the project, which was $22 million.
Project manager Grant Kerley said the company would start work soon, with fencing going up this week and then earth work starting the first week in May.
He said with the current high demand for materials, they were trying to lock in prices as soon as possible for the project.
The targeted completion of the school itself is the fall of 2022. The bid includes demolition of the north wing of the old school. The fate of the south half of the old school, which was once the high school and the junior high, hasn't been determined exactly.
The district didn't want to tear it down because it has two gyms, and gym space is at a premium for youth sports during the fall and winter months.
The board still has more bids to consider in the coming days. A bid for a new heating and cooling system for the old Ruder building has to be considered. The heat failed in the old part of Ruder last fall and the system is showing its age. It was not included in the original remodel estimate. Meanwhile, the new wing of Ruder is expected to be completed in June. Swank is doing that project as well. The new wing includes new classrooms, a multipurpose room, a music room and a kitchen, among other amenities.
Superintendent Dave Wick said the school maybe able to use some federal Covid-19 relief funding to pay for the Ruder heating and cooling system.
---