Maverick Bench named Freedom Bank Hometown Hero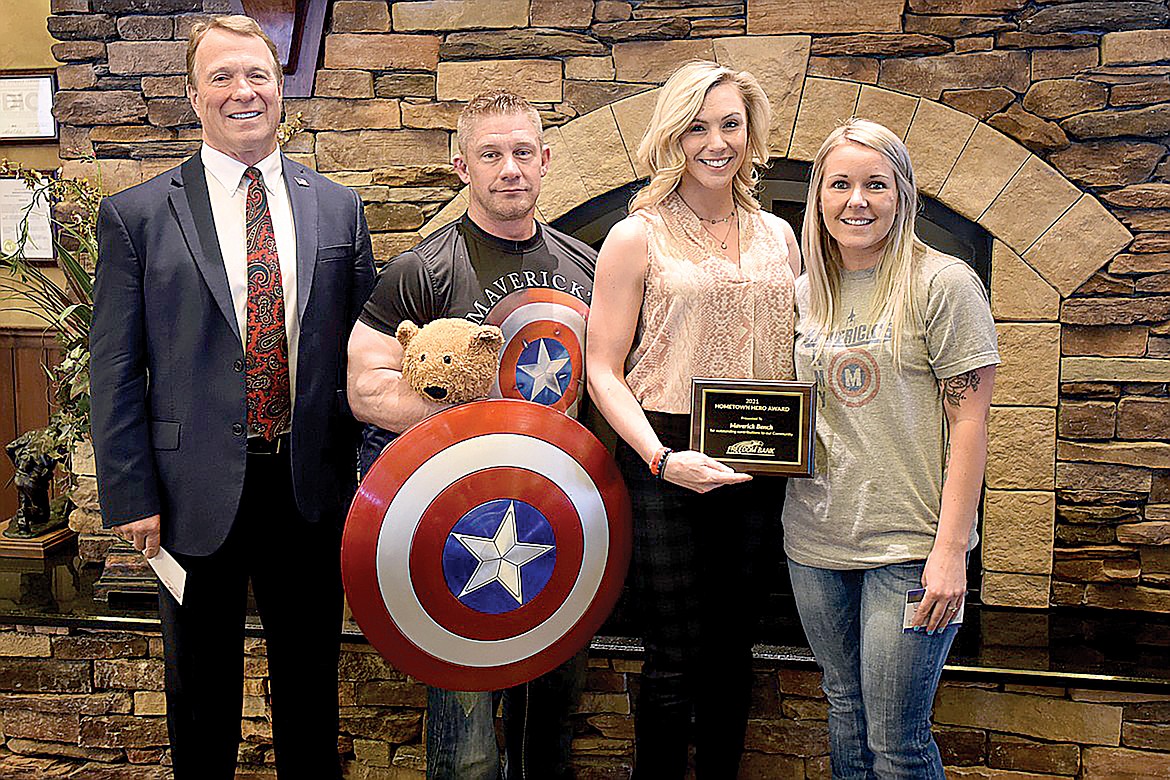 Maverick Bench was selected as the March Freedom Bank Hometown Hero. His parents accepted the award in Columbia Falls Wednesday. Pictured, from left, are bank president Don Bennett, Logan Bench, Colleen Bench and Megan Luce, who nominated Maverick for the award. (Jeremy Weber photo)
by
JEREMY WEBER
Daily Inter Lake
|
April 28, 2021 6:50 AM
The Kila boy whose battle against aplastic anemia had rallied tens of thousands to his cause last year was honored in Columbia Falls Wednesday as the March recipient of Freedom Bank's Hometown Hero award.
According to the nomination submitted by Kalispell's Megan Luce, "He brought our community together during his battle of aplastic anemia. He had such a big soul and big heart for those around him. He is the perfect person to be honored as our hometown hero." Bench succumbed to his illness in January of this year, but not before bringing the community together in support of his fight. "He touched so many people in such a short amount of time. I have family in Washington, Louisiana and Arkansas and they were following him every day. He was such an inspiration, especially for me and my kids," Luce said. "It might not have gone the way we were all hoping, but God obviously had bigger plans for him."
Luce, whose young son Devin still carries a stuffed Captain America toy he calls his "Maverick," feels Bench was able to unite the community during a time of unprecedented division.
"I felt that he brought this valley together in a time of darkness with COVID and everything else that was going on last year," she said. "It became important that every morning
we could wake up and read Logan's reports on how Maverick was doing. It was a hopeful thing. It was amazing to see how much the valley came together."
Don Bennett, the president of Freedom Bank in Columbia Falls, echoed Luce's sentiments.
"What an impact Maverick had on a lot of people. There is so much turmoil, division and strife in our country and the world right now. It's so nice to have something to rally around. You made a big impact for all the right reasons," he said.
Bench dominated the contest's monthly voting in March. Of 619 nominations received in March, 583 were for Maverick Bench with his nomination receiving 1,056 of the 1,293 votes cast on the bank's website. Maverick's parents, Logan and Colleen Bench, were at the bank Wednesday to accept the award.
"It would take pages and pages to say thank you to everyone that we should, but everyone should know how grateful we are for all of the help and support we received," Logan said. "How do you say thank you to literally everybody? There is just no way to really do it."
The award comes with a $500 donation to the charity of the winner's choice, which the Bench family have elected to give to Doug Betters For The Children, Inc., a nonprofit organization whose mission is to assist Montana families with children in need of medical treatment outside of their community.
Luce received a $50 gift certificate for nominating the winner.
For more information on the Freedom Bank Hometown Hero, visit their website at https:// www.freedombankmt. com/about/hometown-hero/.
---