Kats encouraged by play against Polson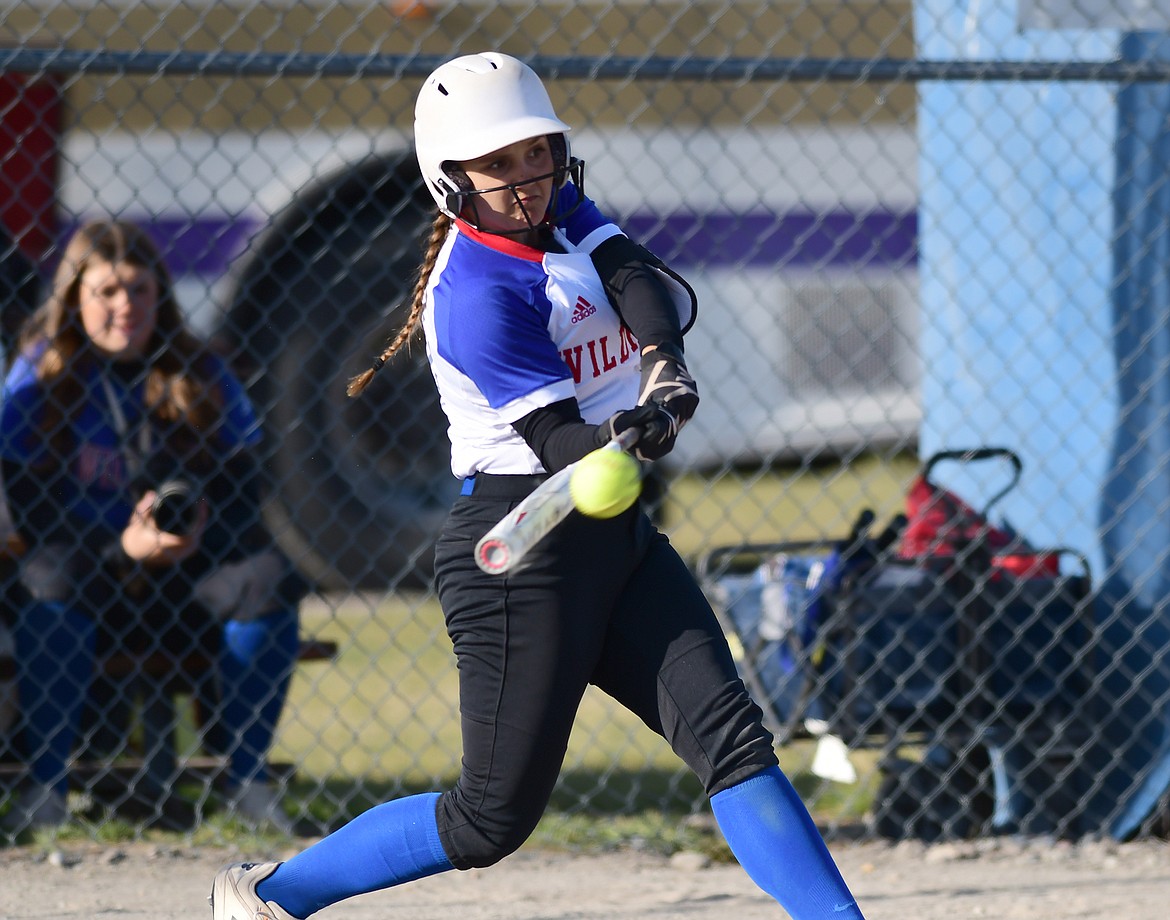 Alyssa Blankenship connects at the plate in a game against Polson in Columbia Falls on Friday. (Teresa Byrd/Hungry Horse News)
by
TERESA BYRD
Staff Writer
|
April 28, 2021 6:45 AM
Wildkat softball started out on a low note this week after fumbling a 13-12 loss against Libby on Tuesday only to end it on a high note by playing their fiercest game yet against top-ranked Polson on Friday to leave the undefeated Lady Pirates with one of their smallest wins of the season.
In Libby the Kats were up 12-1 at the bottom of the fourth before stacking up zeros on the board for the following three innings as the Loggers caught up with three runs in the fifth, five in the sixth, and four in the seventh to take the win.
Sydney Mann took the loss against the Loggers, allowing 13 runs on eight hits, walking six and striking out five.
Abbie Darsow went three for five to lead the Cats in hits against the Loggers.
The close loss came after the Kats had handily
defeated Libby 19-8 earlier in the season.
On Friday Columbia Falls faced Polson at home, holding their own with a 2-1 lead until the top of the fourth when the Lady Pirates steadily pulled away with three runs in the fourth, four in the fifth and two in the sixth to finish with a 10-2 victory.
"Honestly, that's the best we've played this year," said senior shortstop Alyssa Blankenship. "We kept our energy the entire game. We knew where we were going every pitch. We played well beginning-to-end and I'm really glad how it turned out. They're one of the best teams in the state and we really competed, so that was really exciting."
"Their approach to the game was really really good," added head coach Dave Kehr about his players. "I thought they played really well, they hung in there, they were excited about the game and I was happy with the effort."
Mann started the Kats
on the mound against Polson, allowing eight runs on seven hits and striking out seven before Maddie Moultray stepped in to relieve her in the fifth. Moultray allowed two runs on three hits, striking out one and walking one.
McKenna Rensel went 2-3 and Abbey Underdahl went 2-4 to lead the Kats in hits.
Columbia Falls is scheduled to play Glacier on Tuesday after presstime followed by the two-day Frenchtown Invitational tournament on Friday, April 30 and Saturday, May 1.
---