Lessons from a garden in the cafeteria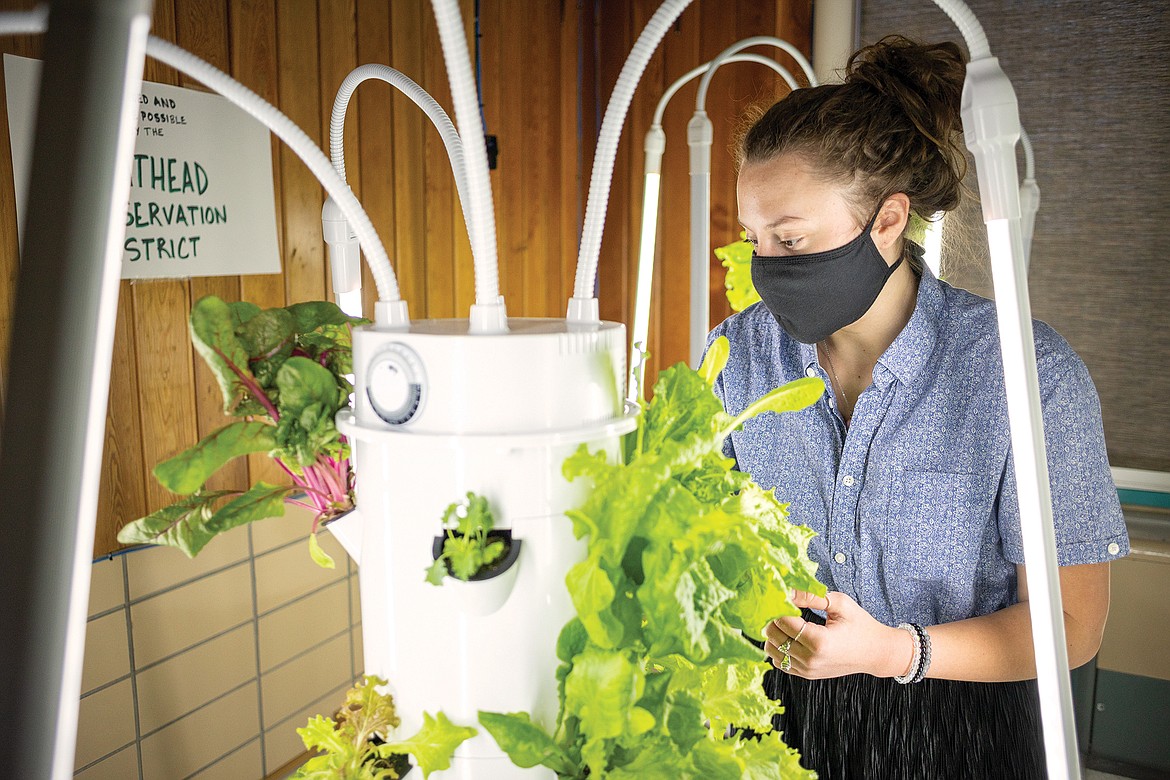 Jesse Rusche works on a garden tower at Columbia Falls High School last week.
by
CHRIS PETERSON
Editor
|
April 21, 2021 7:55 AM
Columbia Falls senior Jesse Rusche is learning more about plants than she could have imagined. The young woman has been growing lettuce, kale and spinach and other plants in the Columbia Falls High School cafeteria using hydroponic tower garden. Rusche, a member of the school's sustainable systems class, wrote a grant last year and the Flathead Conservation District funded the project, which consists of a half dozen towers.
The towers have pumps that feed water and nutrients to the plants and LED lights provide the necessary "sunlight" for them to grow.
Rusche feeds them liquid plant food and pays close attention to the pH of the water. Too basic and the plants don't do well. Too acidic and they don't like that either, she said. While the system isn't enough to feed an entire school, it does open the mind to possibilities
of large scale production, she noted.
One tower "could grow all your own vegetables for yourself," she said.
It takes about two weeks for the seeds to germinate and another three to four weeks for them to become big enough to eat.
Arugula takes the longest, she noted, about five weeks. The roots of the plants grow quite long — two to three feet on average.
That can be a problem — the roots will grow right into the water pumps and clog them up.
It's been a good learning experience, Rusche said.
Not just from the plant side of things, but how to work with others on a project and fundraise for it.
Rusche is a standout student. She's been accepted to both Smith College and Brown University — two of the best schools in the U.S.
She said she hasn't yet made up her mind, but her plans are to study an eclectic mix of physics and theater, she said.
---