Tennis snowed out at home, edged by Dillon in Polson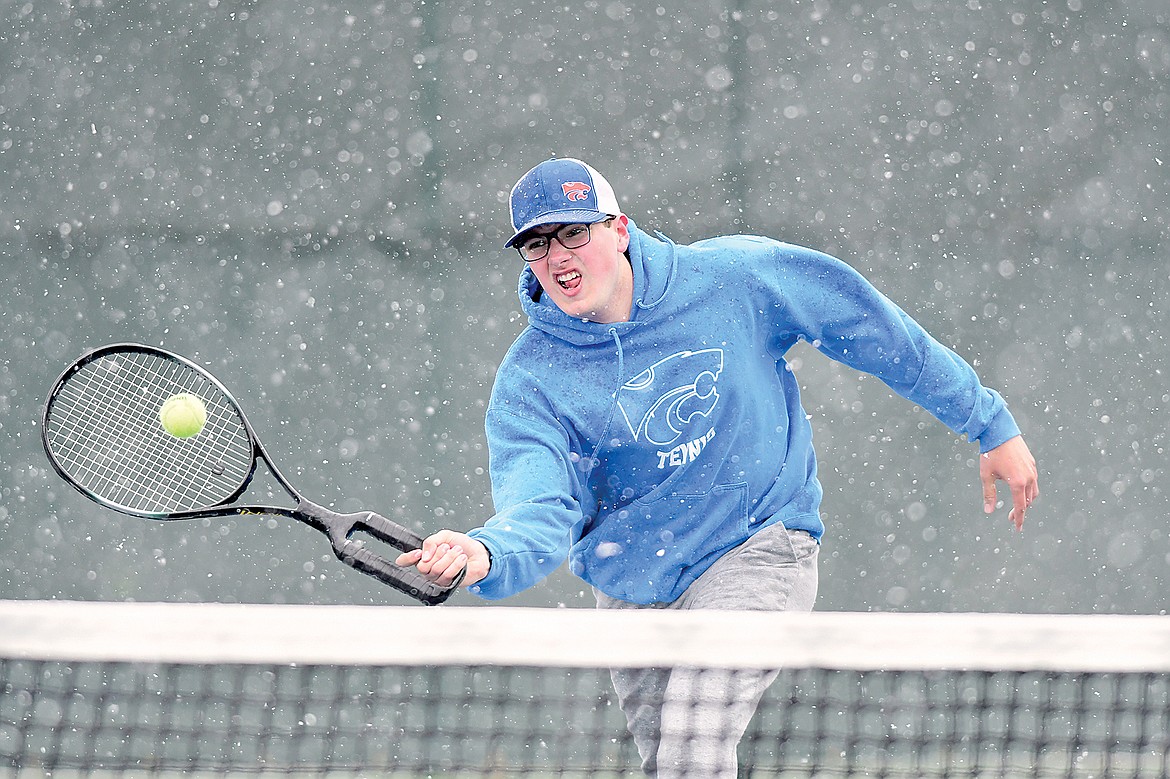 Wildcat Caleb Reinsburg lunges for the hit while warming up in a snow squall at the Flathead Valley Community courts on Thursday. (Teresa Byrd/Hungry Horse News)
by
TERESA BYRD
Staff Writer
|
April 14, 2021 8:50 AM
Columbia Falls tennis got off to a fitful start when what was supposed to be the season opener against Whitefish was moved from court to court in an attempt to dodge inclement weather without success Thursday afternoon.
The teams started out in Kalispell, encountered snow and then went to Whitefish, where it also snowed, ultimately canceling the matches.
The Wildcats had better luck on Friday in Polson where they faced off on newly surfaced courts against Dillon, under much better weather conditions.
"It was an absolutely beautiful day," said head coach Michele Colliander.
Both Columbia Falls boys and girls teams trailed behind the Beavers with overall scores of 4-3, but the Cats still came away with several standout matches.
Hannah Schweikert and Neils Getts, girls and boys No.1 Singles players for the Wildcats, remained on top after defeating their opponents. Schweikert won in two sets, with Dillon's Bella Glossa unable to land a single game. Getts defeated Dillon's Sam Jones in three, winning handily in the first set 6-1, trailing in the second and coming back in the third, 6-4.
Columbia Falls girls No. 2 singles Cloey Ramage secured a win in two, as did the girls No. 3 Doubles, Kati Crockett and Zoey Byrd.
Columbia Falls boys No. 2 doubles, Dale Blickhan and Nico Lang, along with No. 3 Doubles, Orion Barta and Lucas Thacker, were also able to secure wins at the Polson courts.
"I am so proud of my players," said Colliander. "It is so nice to be back out in the courts competing again and we are looking forward to our next varsity match against Flathead and Glacier on Tuesday."
The Wildcats are scheduled to compete against the Braves and Wolfpack after presstime on Tuesday, then face Polson in Columbia Falls at 2 p.m. on April 15 at Columbus Park, followed by a triangular against Whitefish and Stevensville at 10 a.m. on Saturday, April 17 at the FVCC courts.
Girls Dillon 4, CF 3
Singles
Hannah Schweikert (CF) defeated Bella Glossa 6-0, 6,0

Cloey Ramage (CF) defeated Laura Leonardson 6-4, 6-2

Lillian McDonald (CF) lost to Alanah Rose 6-4, 4-6, (7-10)

Abbey Biel (CF) lost to Emma Mitchell 0-6,0-6
Doubles
Grace Gedlaman and Alyssa Williams (CF) lost to Rachel Fluckiger and Eden Kindberg 2-6, 2-6

Mackenzie Nelson and Anne Lybbert (CF) lost to Ruby Pierce and Brooklyn Williams 0-6, 1-6

Kati Crockett and Zoey Byrd (CF) defeated Aubrey Hawley and Laura Martin 6-4, 6-2
Boys Dillon 4, CF 3
Singles
Niels Getts (CF) defeated Sam Jones in 3 sets 6-1, 5-7, 6-4

Caleb Reinsburg (CF) lost to Marcus Sandall 0-6, 0-6

Malachi Brower (CF) lost to Eli Sherwood 0-6, 0-6

Logan Heuple (CF) lost to Josiah Jones 0-6, 0-6
Doubles
Cody Schweikert and Cade Morgan (CF) lost to John Bramlett and Jett Mosher 0-6, 1-6

Dale Blickhan and Nico Lang (CF) defeated Kyle Hawley and Isaac Sandall 6-2, 6-0

Lucas Thacker and Orion Barta (CF) defeated Milo Glossa and Daniel Leonardson 6-0, 4-6, (10-4)
---