Kats drop Libby at home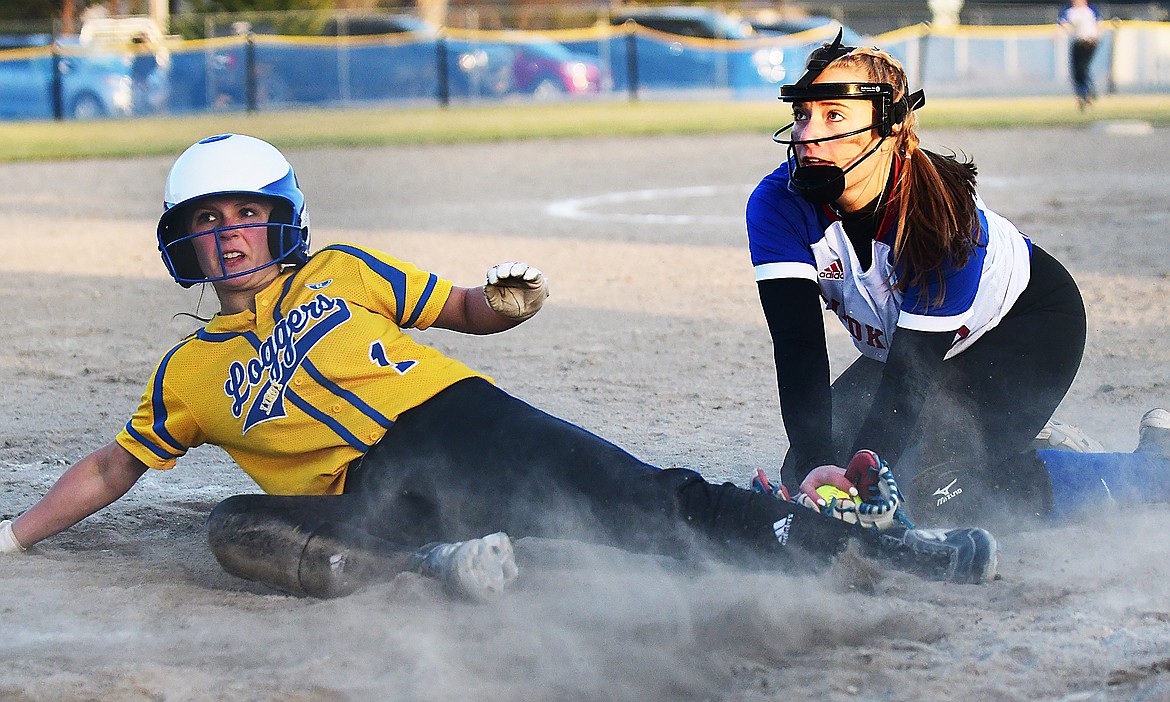 Sydney Mann tries to make the tag on a Libby play at the plate Tuesday. (Teresa Byrd photo)
by
TERESA BYRD
Staff Writer
|
April 14, 2021 6:45 AM
Columbia Falls softball got its first conference win last week, but had a tougher time against AA Kalispell Glacier. A game against Hamilton Saturday was called due to snow.
The Wildkats started off the week with a 19-8 win over conference rival Libby on Tuesday, in a game that was cut short in the fifth after the Cats pulled away with a 10-run lead. Overall, Columbia Falls racked up 19 runs on 10 hits with four errors compared to the Loggers' eight runs on five hits with seven errors.
The Cats had big third inning, scoring eight runs off of three singles and a triple.
The Wildkats also saw a wide range of hitters against the Loggers, with seven players making contact, led by Alyssa Blankenship, Aspen Dawson and Haylee Lawrence who each went two for three.
Wildcat Sydney Mann took the mound against the Loggers for all five innings, allowing eight runs on five hits and striking out nine.
"It's nice to put some runs on the board, it was good. I thought we hung in there really well," said head coach Dave Kehr after the game against Libby. "We looked much better at the plate tonight [than Saturday], more confident for some reason. I think [Libby's Mackenzie] Foss throws really well, so we did pretty well against that. We stuck it out and it was good, a much better game."
Columbia Falls didn't fare as well against Glacier on Thursday, however, losing to the Wolfpack 13-3 on the road. The Wildcats were only able to get in three runs on four hits with six errors, while Glacier had 13 runs on 13 hits with two errors.
Mann started on the mound for the Kats, allowing two runs on two hits with one strikeout.
Abbey Underdahl relieved Mann in the third, allowing 11 runs on 11 hits in 3 2/3 innings while striking out two.
Blankenship went two for three against the AA Wolfpack, leading the Kats in hits.
The Kats were up against Hamilton 11-1 after one inning on Saturday at home, but the game was called due to snow.
---