Joanne (Boisen) McLaughlin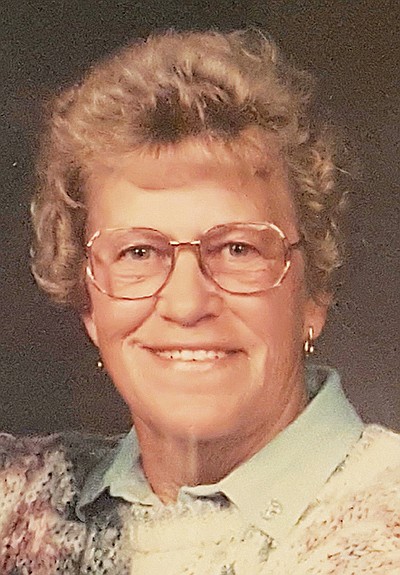 |
April 14, 2021 11:00 AM
Joanne (Boisen) McLaughlin, 85, passed away peacefully March 24, 2021 in Kalispell. She was born in Kalispell and raised in Patrick Creek and Columbia Falls. 
Joanne met her U.S. Army soldier husband of 66 years, Clayton McLaughlin, in Sunnyside, Washington. As a military spouse, moving often came with the territory. Joanne became a pro at setting up new households every couple of years all the while maintaining law and order with eight children. Often times, she performed these duties alone as Clayton would be deployed or away training with the U.S. Army. 
After over 20 years of military life they retired in Columbia Falls. Joanne, still bitten by the "travel bug," welcomed living the RV life. They were snow birders for several years. She loved camping, exploring the countryside and meeting up with old friends. She thoroughly enjoyed her guilty pleasures of fishing, bingo, keno, crafting and canning. But the truth be known she was a fabulous pie baker!
 Joanne was a strong, loving, dedicated mother, wife and grandmother, always putting others first.
 She was preceded in death by her husband Clayton and her daughter Cindy (McLaughlin) Riecke. Joanne is survived by her seven children, Leanna (Rip) Grubaugh, Debi (Dan) Grilley, Barbara (Dave) Barnaby, Karen (Frank) Shepard, Terri (Richard) Bruyer, Patti Piquett, and Keven (Linda) McLaughlin; one sister, Laara Vance, as well as multiple grandchildren and great-grandchildren. 
 Joanne will be missed dearly by her family and friends — she was a true "Montana Girl."
Joanne and Clayton will be interred together in Saint Richard's Cemetery, Columbia Falls, Montana. A July graveside memorial service date has yet to be determined. Information to be posted at a later date. Columbia Mortuary in Columbia Falls is caring for the family.
---