FWP Commissioner suggests drones a good way to get kids hooked on fishing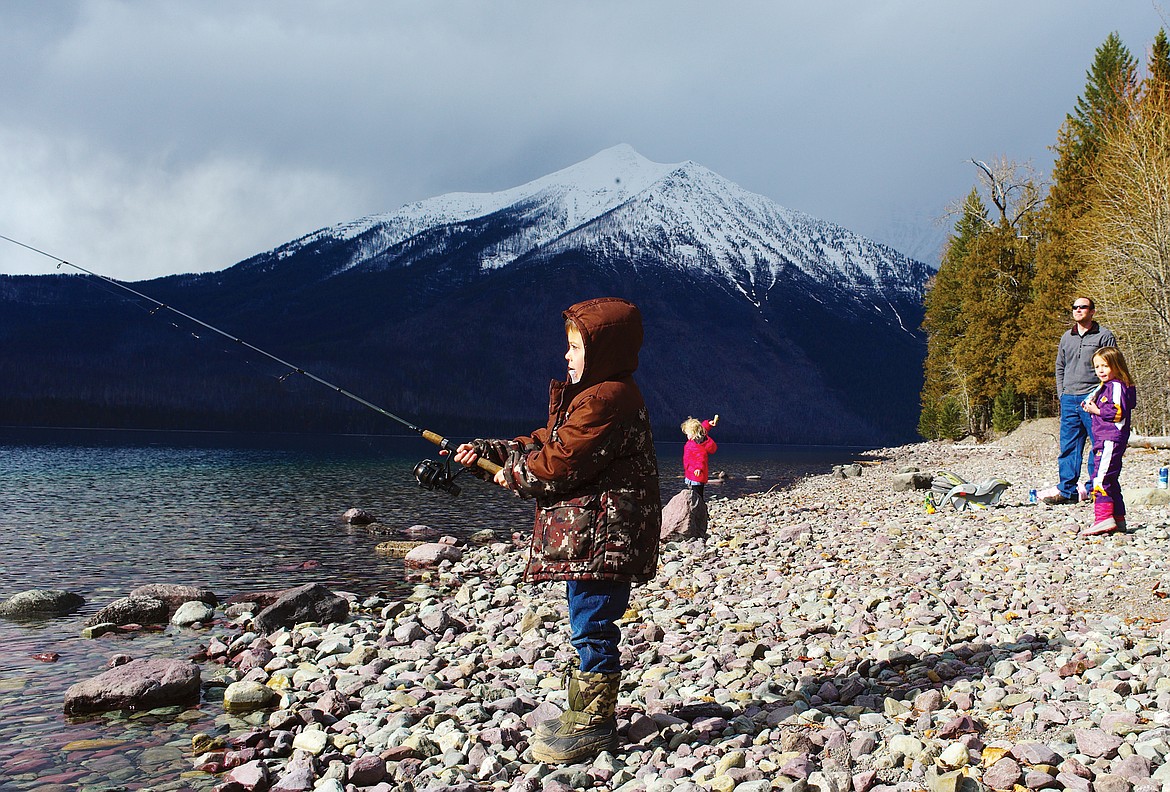 A youngster fishes in this file photo.
The Montana Fish Wildlife and Parks Commission last week voted to table changes to the fishing regulations that would have banned using drones to catch fish.
Drones are catching on as a fish seeking tool across the U.S., but the majority of the commissioners remained unimpressed. One suggested that using a drone on a lake might get more youth interested in fishing.
"I see this as a potential way to attract (young) people to fishing," FWP District 5 commissioner Brian Cebull surmised during the debate.
Cebull questioned whether the previous commission had considered a ban on rivers, but not on lakes.
Sgt. Phil Kilbreath of the FWP enforcement division in Helena said anglers in Montana have started using drone boats on the Kootenai River near the Libby Dam, where they can get closer to the spillways to try to catch a fish — a place they normally can't cast to.
He told the commission he's seen it twice.
Nationwide, drone fishing is a novelty, but a popular post on social media, particularly on YouTube with titles like, "I caught a monster bass with my DJI Drone!!!!"or "Catching big dumb Bluegills with a Drone!"
The proposed rule change, started during the previous commission, would ban the use of remote-controlled devices and drones while fishing.
But the commission has a host of new faces and some saw the ban as a solution in search of a problem. "I'm a little leery," FWP District 1 commissioner Pat Tabor said. District 1 includes the Flathead Valley. Tabor claimed that "innovation is the trend of the future."
District 3 Commissioner KC Walsh said he also has his doubts.
But District 2 commissioner Pat Byorth, who is the remaining commissioner from the Bullock administration, said the rule change made sense to him. "It has to do with fair chase," he said. Byorth disagreed with the other members who insinuated that the previous commission didn't do its homework on the issue.
"We didn't do this half assed," he said. "Staff did a ton of work on this."
But Walsh said it wasn't reflected in the packet of information he received.
In the end, they charged Kilbreath to come up with more evidence on what
other states are doing to address the issue.
David Brooks of Montana Trout Unlimited was the lone member of the public to speak in favor of the measure.
"I think this is forward- looking," he said. He noted that the use of drones to hunt game in Montana is already illegal, and it should be the same for fishing.
"I can't scout antelope with a drone and go and shoot them," he said. "It's a fair analysis to fishing with a drone."
---