Marsh receives technology award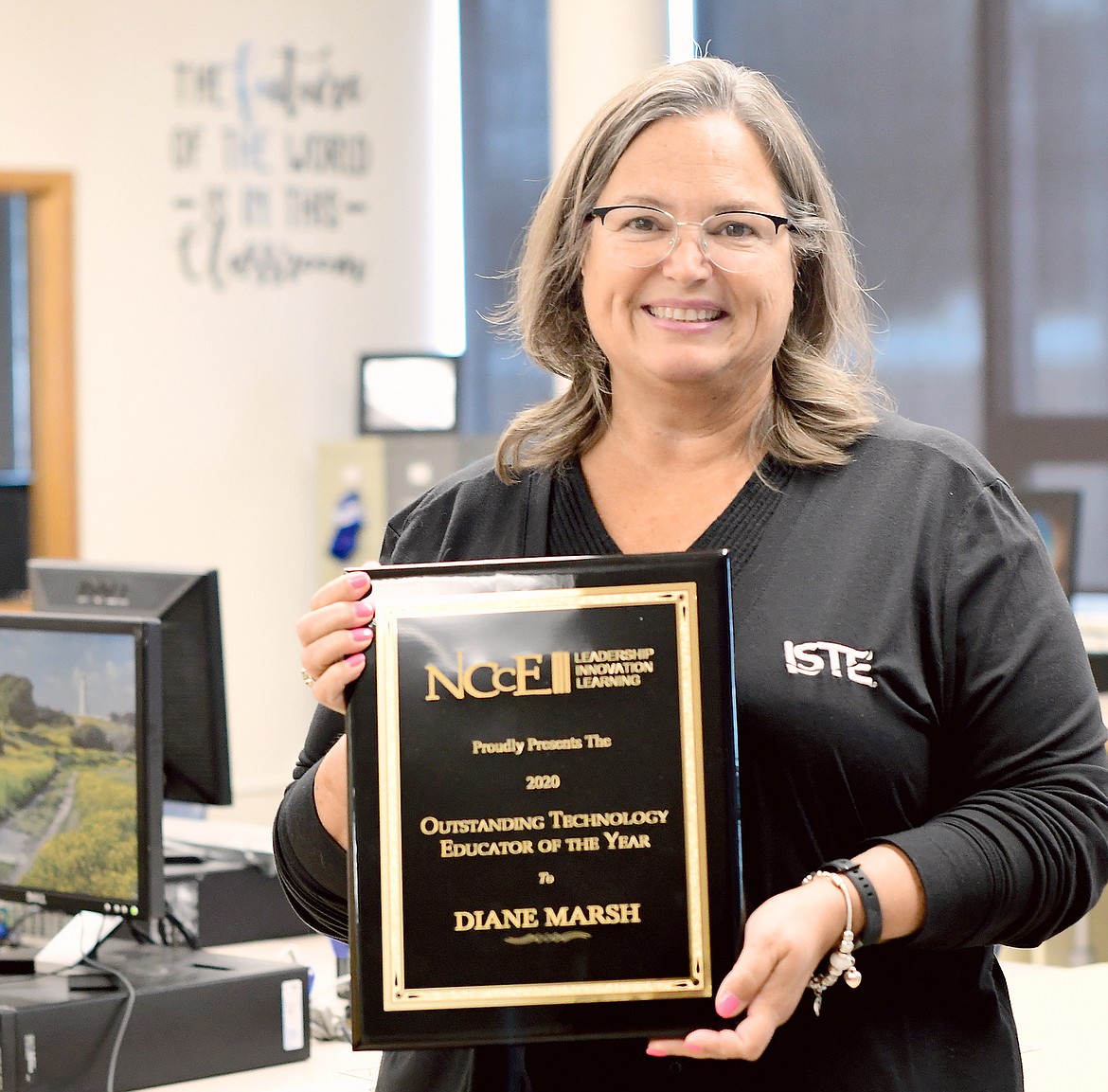 Diane Marsh, Columbia Falls High School business and technology teacher, holding the NCCE 2020 Outstanding Technology Teacher of the Year award she received in March. (Teresa Byrd/Hungry Horse News)
by
TERESA BYRD
Staff Writer
|
September 30, 2020 12:40 AM
Since changing her career from marketing to education, Columbia Falls High School business and technology teacher Diane Marsh has used previous real-world marketing experience and ever expanding accreditation to provide students with the most relevant education possible.
The combination helped earn her the 2020 Outstanding Technology Teacher of the Year award, presented by the Northwest Council for Computer Education , an organization based out of Coeur D'Alene, Idaho.
"Diane inspires other educators in the northwest with new approaches and ideas that make a difference for students, staff and the community," Heidi Rogers, NCCE CEO said. "She is never standing still and she is the first to learn something and share it with others. She overwhelmingly received this award due in part to her commitment and dedication to students, but also for her innovative teaching approach as an online instructor as well as being a traditional classroom teacher."
Since pivoting into education 12 years ago, beginning with teaching keyboarding at the junior high, Marsh has never stopped maximizing her professional development.
She earned her master's degree in Instructional Technology and then went on to earn five additional teaching endorsements in English, business,
technology, computer coding and graphic design.
She began attending NCCE conferences four years ago to continue her professional learning opportunities and last year even co-presented at the conference about the differences between Raspberry Pi and Arduino computer boards and which are better suited for certain applications in the classroom.
She is currently getting her International Society for Technology in Education certification as well as taking a five-week career technical education course. She serves as the Perkins Fund coordinator and Key Club advisor and teaches a course for the online high school Montana Digital Academy.
Marsh's dedication extends beyond serving students, to being a staff resource on educational technology, like Google Classroom and its extensions, and the school's new grading system.
"She's definitely our leader in making sure everybody's needs are met for whatever technology they need," said Marsh's business and technology colleague Becky Bates. "She doesn't technically have a title or anything, but she really assumes that role of professional development for our staff."
A role that has been in high demand since the start of the coronavirus pandemic in March, when Marsh has been helping teachers transition from face-to-face to, increasingly, online classrooms.
Bates nominated Marsh
for the award in January, and Marsh received it at a ceremony in Seattle a week before schools began shutting down for the pandemic.
"I'm really lucky to have colleagues that support me, Becky is such a great supporter, I couldn't do this without them," said Marsh. "I was sincerely humbled and surprised when I received it."
---