Election 2020: Debo Powers, House District 3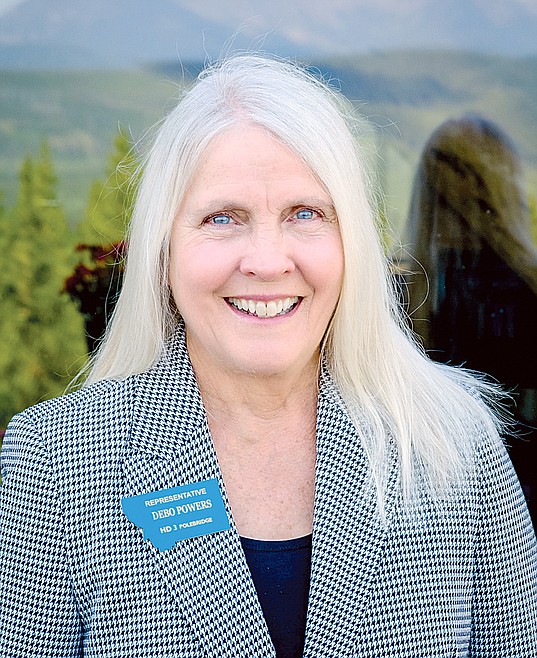 by
CHRIS PETERSON
Editor
|
September 23, 2020 8:20 AM
Debo Powers, Democrat, House District 3
Age: 69
Family: Single
Occupation: Retired principal, currently the House District 3 representative.
Debo Powers is the Democratic incumbent in the House District 3 race this fall. She was appointed to the position in October by Flathead County Commissioners after Democrat Zac Perry resigned to attend graduate school.
Powers has spent the bulk of her career both teaching and being a school principal in Tallahassee, Florida, where she led an award-winning charter school.
But she's also been spending her summers in the North Fork since 1979 she said, and since she retired in 2011, she's been a full-time Montana resident.
"I always hated leaving Montana," she said in a recent interview.
Currently she lives off the grid up the North Fork on five acres. She gets her power from solar and heats her house with wood, she said. Internet and phone service is via satellite.
An electric fence is strung around her garden to keep the grizzly bears out.
"They make a wide berth around my place," she said.
In the winter she said she skis everyday on the public lands near her home — either Forest Service or Park service. Not surprisingly then, she said keeping public lands in public hands is one of her top priorities as a lawmaker.
"There's people who would like to see those lands transferred," she said.
Public lands are the basis of the local economy, she noted, including recreation, tourism and timber. She said she also supports expansion of public lands, such as the proposed Bad Rock Canyon Wildlife Management Area that would use a blend of public and private funds to permanently conserve about 800 acres along the Flathead River that is currently owned by the Columbia Falls Aluminum Co.
Powers has also has been a volunteer for the Forest Service at fire lookouts. This year she did several hitches at Cyclone Lookout up the North Fork and has served at other lookouts in the past.
She said she supports continuing Medicaid expansion into the future.
"It's really important for people," she said, noting the last measure was a bipartisan effort.
She said she tried to get on interim committees during her tenure as a legislator, but they were full. She did, however, attend many meetings as an observer.
"I've tried to learn as much as I could," she said.
She noted people think it's a glamorous position. It's not.
"It's a lot of study and work and listening and weighing options," she said.
She said she doesn't support a statewide sales tax, because "It doesn't fall on the same people the same way." She also doesn't support an annual meeting of the Legislature, as opposed to the current bi-annual, as the term would be too short — about 40 days.
She said the state was spending its Cares Act monies wisely so far.
"It seems like we are," she said. "It's going to the appropriate places."
She said one of her top state budget priorities is to make sure schools are funded adequately. She said she would also like to review some tax breaks that are on the books that are serving special interests. The budget is likely to be a big topic in the upcoming session, with unemployment higher than its been in a while due to the coronavirus pandemic.
"There's going to be a lot of negotiation and compromise," she said.
Having said that, she thought the state was doing really well so far.
She said in her experience as a principal, she understands what budget cuts look like, having gone through them in Florida during the Great Recession.
On energy, she said the state could do more to encourage renewable energy, like wind and solar, such as easing regulations on net metering, which allows solar and wind users to gain a credit on their electric bill, rather than be off the grid entirely.
She noted she recently read a study that Montana has the second highest wind energy potential of all the states.
She said she'd also like to see laws that make it easier for Montana agriculture producers to sell more of their products in state.
"It think it's a great thing to do," she said. "It will make us more self-sufficient."
---