Soccer teams blank Bigfork to remain undefeated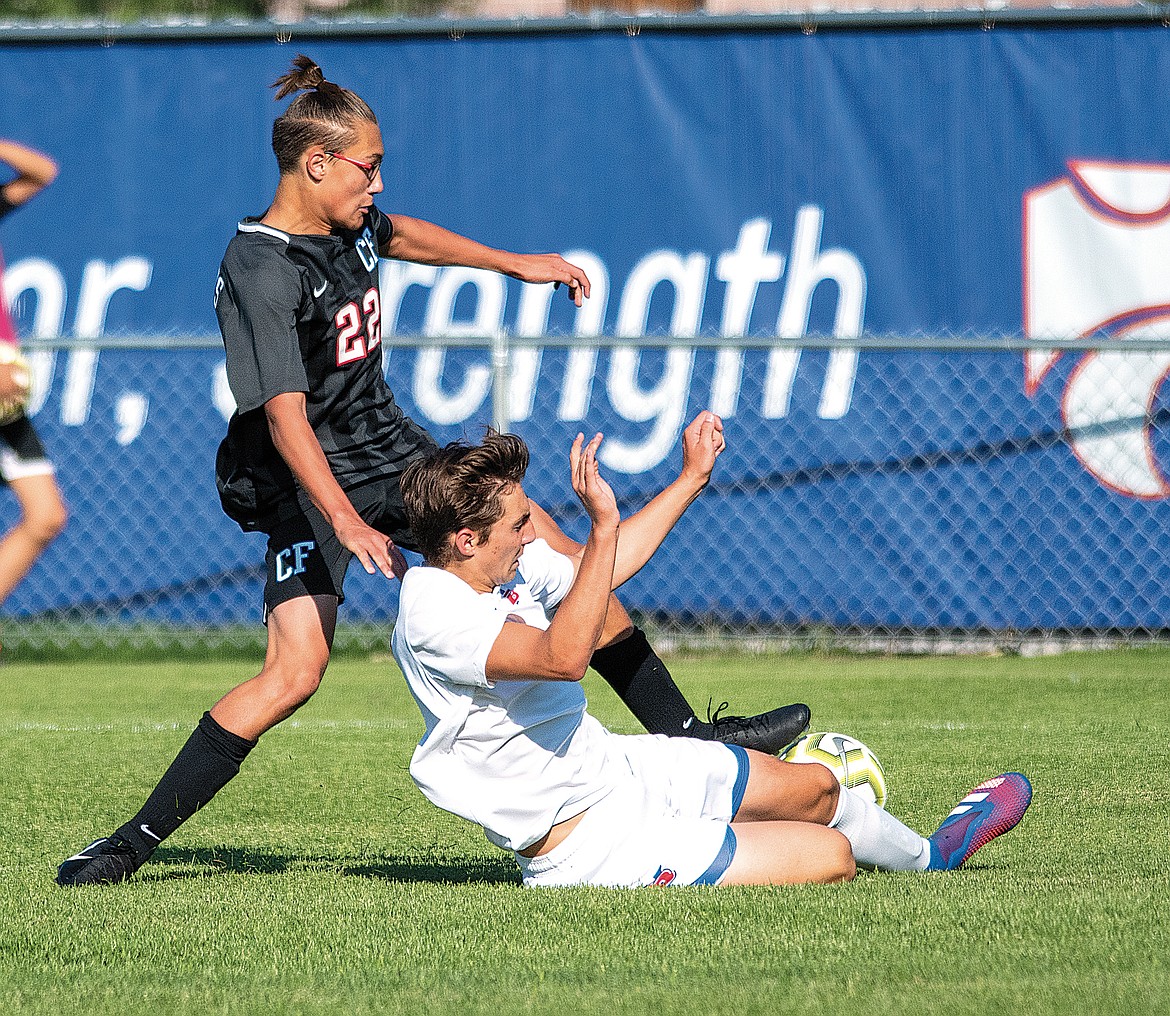 Fin Sunberg collides with a Bigfork defender Friday. (Chris Peterson photo)
by
TERESA BYRD
Staff Writer
|
September 16, 2020 7:15 AM
The Wildcat soccer program saw a memorable day on Friday against Bigfork at home, with both the girls and boys teams securing 5-0 victories.
The games were the first shutouts of the season for both the boys and girls teams and the coaches had high praise for their defense. "Our back line was fantastic," said Wildkat head coach Thomas Clark. "Sydney Mann has really become a leader for our defensive unit as a center back and she's starting to really communicate and come into her own as one of the top center backs in the conference."
Clark recognized freshman outside back Kiera Burner who defended on a level congruent with the aspirations of a team expecting to compete in the playoffs. Neveah Carlin stepped in as emergency goalkeeper and made several saves despite this being her first game of the season and having only prepared to play on the field.
Maddie Robison continued to lead the Wildkats offensively, securing yet another hat-trick by scoring twice in the first half and finishing the game with the final goal in the 74th minute. Cheyanne Johnston-Heinz was able to score a goal in the first half despite being shadowed by the Valkyries strongest defensive player, bringing the halftime score to 3-0. Freshman Josie Harris had a goal and assist for the second game in a row. The boys team gained some memorable milestones not only by attaining a shutout, but also by scoring the most goals yet of the season. The first half of the game saw the Wildcats struggling to find the net, said head coach O'Brien Byrd. The Cats totaled 13 shots at the goal without securing one until standin goalkeeper Niels Getts scored on a 40-yard free kick with a couple minutes left in the first half.
The team then came back strong by piling on four more goals in the second half.
Byrd praised the team's back line, stating that defensive players Andrew Miner, Nico Lang, Tyler Hull and Josiah Killman deserved much of the credit for the shutout, letting goalkeeper Niels Getts see only four shots throughout the game.
The Polson game scheduled for Tuesday was canceled due to smoke. Whitefish games start at 5 p.m. for the boys and 7 p.m. for the girls at home, if smoke from wildfires isn't too bad.
---