Harriers sweep 'Pandemic Quad Hoopla'
|
September 16, 2020 7:00 AM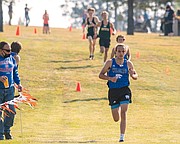 The Columbia Falls cross country team swept its "Pandemic Quad Hoopla Extravaganza" meet at Rebecca Farm Saturday. It was a tongue-in-cheek name for a "home" meet hosted by the Wildcats.
Lara Erickson was the winner of the girls varsity race with a time of 19 minutes, 57 seconds. She was followed by teammates Ally Sempf (20:48) and Hannah Sempf (21:18) for second and third respectively.
On the boys' side, James Petersen won with a time of 17.24, followed by teammate James Role (17:28). Role led most of the race, but Petersen nabbed the win down the stretch.
The meet featured Columbia Falls, Whitefish, Eureka and Libby.
Eureka's top runner, who was expected to be in the mix for a top spot, was apparently out with an injury. Typically the meet at Rebecca Farm in Kalispell is a huge one, drawing teams from across the western half of the state, but with coronavirus restrictions, the Wildcats were able to host a meet with a limited number of teams.
"I am impressed with the way the team ran, and we lucked out with a beautiful day. We finished the races before the smoke really started rolling into the valley, and the weather was terrific," coach Jim Peacock said. "From top to bottom, the teams ran exceedingly well. It was a small meet, but the competition offered by the teams in attendance gave us exactly what we need to grow. It was fun to watch the varsity teams get wins, and it was icing on the cake when the JV girls got a win of their own. It was a fun day."
Rounding out the scoring for the girls was Alyssa Blankenship who took seventh (22:04), Emma Upton, eighth (22.26), Siri Erickson, ninth, (22.32) and Ruby Davis, 18th, (25.32).
For the boys, Seth Umbriaco was eighth (17:57), Bailey Sjostrom, 10th, (18:40), Quinn Clark, 18th (20.01) and Alex Branstetter 25th (20.26).
---