Yesterdays: Grizzly almost gets Jonkel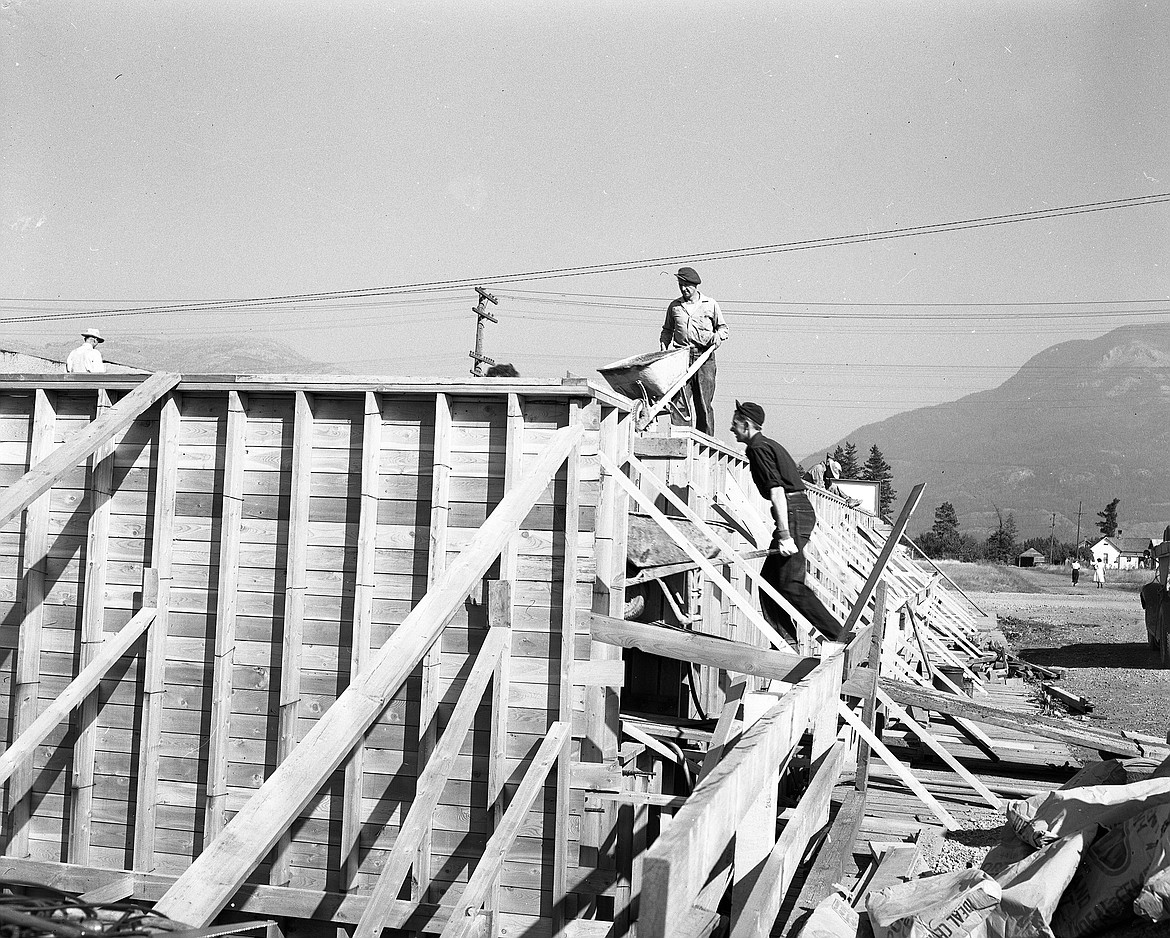 Pouring concrete for the Masonic Lodge on Nucleus Avenue, Sept. 18, 1950. (Mel Ruder photo)
|
September 9, 2020 10:15 PM
70 years ago Sept. 8, 1950
Thirty-six young men had turned out for football practice. The first game was against Libby on Sept. 22. They were supposed to open the season against Browning, but they had switched to sixman football. The Harvey Machine Co. was still eyeing Columbia Falls for a new aluminum plant, but now they were looking to build to the south near the airport.
60 years ago
Sept. 9, 1960
Glacier National Park was blacktopping a trail from Logan Pass to Hidden Lake Overlook to keep people from trampling the nearby meadows. Part of the trail remains blacktop today.
50 years ago
Sept. 11, 1970
Glacier Superintendent William J. Briggle was touring the park on horseback to determine what parts of the park would be suitable for a wilderness designation. "Once designated by Congress, this designation remains as such for 25 years and then is subject for review," the story said. While much of Glacier today is managed as wilderness, none of it is formally designated.
40 years ago
Sept. 11, 1980
Renowned bear biologist Charles Jonkel escaped with his life while releasing a bear from a barrel trap in British Columbia. The latch to the trap had caught so Jonkel pulled it up by hand while on top of the trap. The grizzly inside came out and then went after Jonkel. It had three legs on top of the trap and was just swinging up its fourth when a colleague of Johnson's shot the cantankerous bruin.
30 years ago Sept. 6, 1990 Total enrollment was up about 130 over last year in School District 6. The district had 2,323 students.
20 years ago Sept. 7, 2000 The water was so bad in Columbia Heights that residents say they wouldn't drink it. The water system was delivering brown, nasty water. The system has seen significant improvements this year — 20 years later.
10 years ago Sept. 9, 2010 A mountain lion chased a house cat into a Martin City home. The elderly man who lived in the house threw a glass at the lion and it ran back out. Wardens later shot two mountain lions that were prowling around the neighborhood.
---