Cats blank Chiefs
by
CHRIS PETERSON
Editor
|
September 9, 2020 1:40 AM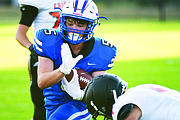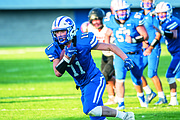 The Columbia Falls football team dropped Ronan 55-0 at home Friday night.
The Wildcats scored on their first possession after a 54-yard drive resulted in a 1-yard touchdown run by Cody Schweikert.
Kicker Neils Getts hit the point-after and the Cats were up 7-0.
Columbia Falls then stopped Ronan on their own 10 and a few plays later Rowdy White broke away on a 52-yard dash and the Cats were up 14-0 with 1:01 left in the first quarter. The Cats drove into Ronan territory again and Zane McCallum caught a 17-yard pass with 7:02 left in the second and the rout was on. Ronan drove down to the Cats's 27, but that's as close as they would ever get in the half. They were stopped on fourth and about three and a few possessions later, McCallum snared a 20-yard reception from quarterback Mason Peters and the Cats were up 28-0 with 1:56 left.
Schweikert would intercept a Ronan pass at the 20 and a few plays later Jordan Knapton got his first touchdown reception ever on a 9-yard pass from Peters. There was a penalty on the point after kick so the Cats opted for the two-point conversion, but it failed, the only blemish in a near perfect half of football.
They'd add 21 points in the second half on touchdowns from Knapton, Schweikert and Reece Rouig and Getts was perfect on PATs.
Peters was 14 of 17 throwing and threw four touchdown passes total.
White rushed for 108 yards to lead the running game. The Cats had 479 yards of total offense.
Cade Morgan led receivers with 129 yards.
The Cats face Whitefish on the road this Friday. The Bulldogs lost to Polson 14-7 last week.
Game time is 7 p.m.
The Cats are now 2-0 on the year.
---