Wildcats thump Pirates 48-28 in opener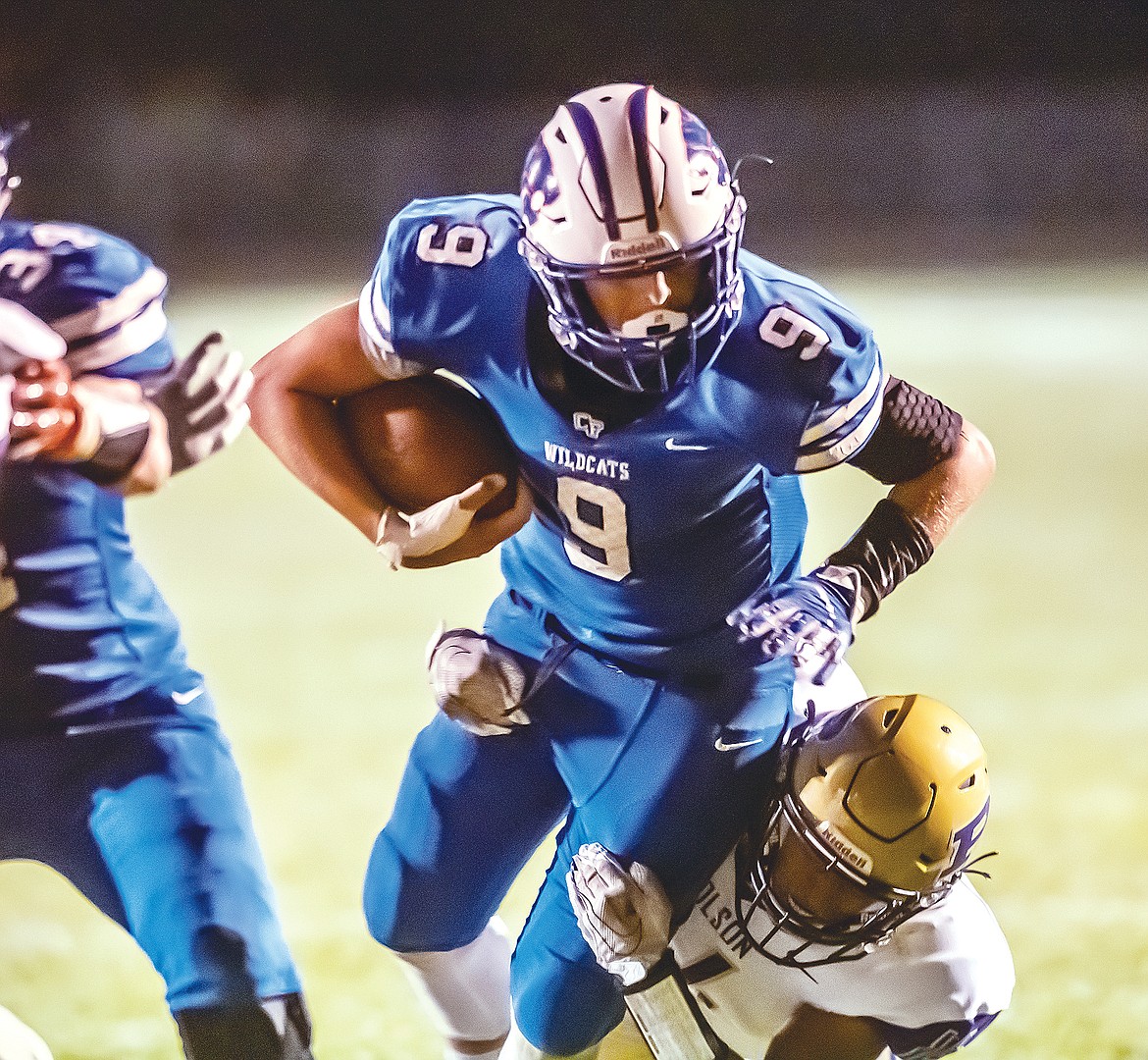 Cody Schweikert rumbles into the end zone against Polson.
by
CHRIS PETERSON
Editor
|
September 3, 2020 9:35 AM
t took awhile to find their groove, but when they did, lookout. The Columbia Falls football team scored 21 unanswered points in the fourth quarter to down Polson at home Friday night, 48-28.
The game started in Polson's favor as their first play from scrimmage, a flea flicker, resulted in a touchdown for the Pirates.
The Cats, meanwhile, were beset by penalties and mistakes. A touchdown was called back in the first quarter on a holding penalty and the Cats looked a bit out of sorts.
But they kept fighting, settled down and by the end of the third quarter, it was 28-27 Pirates.
It looked like the sort of game that would come down to the wire.
The Wildcats had other plans.
Junior quarterback Mason Peters found Taylor Bryant for a 33-yard touchdown pass to go up 33-28 after the point after was no good.
Isaiah Roth had a 37-yard strike with 4 minutes left to go up 41-28 after the two-point conversion was good.
Then Lucas Thacker picked off a Polson pass about 30 seconds later to kill the Pirates' hopes of a comeback.
The Cats drove down the Pirates goal line after the change of possession and Cody Schweikert rumbled in from 4 yards out to seal the deal with 1:30 left. Neils Getts point after kick was good to make it 48-28.
Peters was 23 of 41 passing for 247 yards and four touchdowns. He also rushed for 104 yards. Schweikert had 11 rushes for 49 yards and two touchdowns and Roth had 35 yards rushing and 92 yards receiving.
The Cats played well on defense as well. Thacker had several sacks as did Alec Knapton and Schweikert started as a freshman middle linebacker calling the plays on defense.
"They played fast, aggressive and hard," coach Jaxon Schweikert said. "They really tried hard and
did what we asked them to do."
Schweikert said they just have to clean up a few things on defense. He noted that Cody Schweikert, his son, was the first freshman to ever start for him in his 30-year tenure as a head coach.
"We thought he played pretty well," he said. "We couldn't be more excited."
Against Ronan this week they just need to make a few adjustments and make sure they take care of the ball and lessen the number of dropped passes, Schweikert said.
Gametime is 7 p.m. Friday at home.
---