A little shooting, swapping stories, as Daines stumps at Proof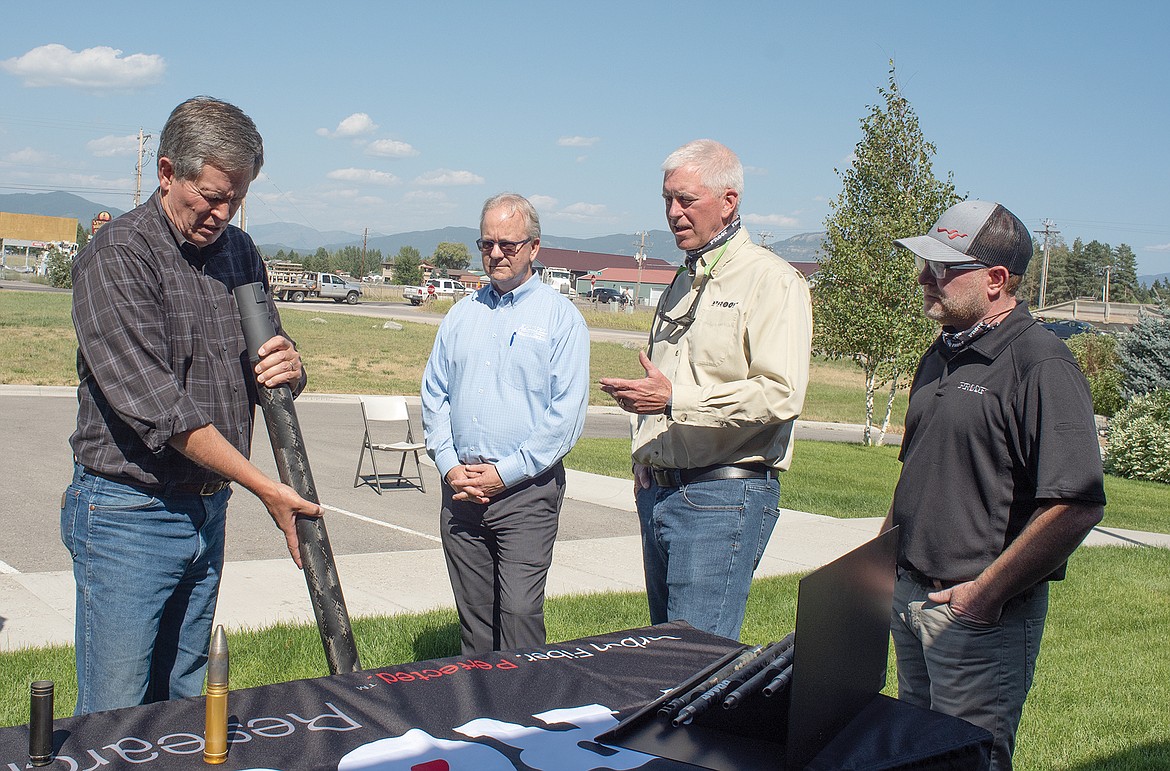 Sen. Steve Daines checks out the barrel of a .30 caliber machine gun barrel while Kalispell Chamber Director Joe Unterreiner, Larry Murphy and KK Jense look on.
by
CHRIS PETERSON
Editor
|
September 2, 2020 9:15 AM
Montana Sen. Steve Daines showed his prowess with a rifle during a stop at Proof Research in Columbia Falls. After his first shot was off a fraction of an inch he put three together in a .31-inch group at the company's 100-yard shooting range using one of their high-end rifles. "If I wasn't a Senator, I'd probably be a hunting and fishing guide," Daines told the employees gathered outside to see him. Daines was at the gun manufacturer to receive a Spirit of Enterprise Award from the U.S. Chamber of Commerce for his votes while in the Senate, including his support of the Great American Outdoors Act, the recent U.S. Mexico-Trade Agreement, the Cares Act, and his vote against the Green New Deal, which looks to wean the country off fossil fuels in 10 years and focus on renewable energy.
The chambers as well as Proof representatives also thanked him for support of the Paycheck Protection Program Loans. The loans were part of the Cares Act and more than $1.7 billion was loaned to Montana businesses, including Proof, during the early months of the pandemic.
Daines swapped a few hunting stories with the staff during his visit. He hunts with his wife, Cindy.
"There's nothing better than a long-range shot hunting bear with your wife prone next to you saying, 'yes,' when you make the shot," he said.
Daines is also a customer of Proof, whose high-end rifles cost thousands of dollars, as they feature lightweight barrels and stocks.
The barrels feature carbon fiber and steel, which reduces the weight. The company also displayed a .30 caliber machine gun barrel it's making for Apache helicopters.
It weighs about 9 pounds less than a traditional steel barrel, a big advantage in military aviation, noted CEO Larry Murphy and KK Jense, company co-counder and president.
Daines said his neckand- neck campaign against Gov. Steve Bullock has been busy. He's visiting all 56 counties of the state.
Asked about the Republican Party's rail against socialism, he claimed it wasn't about cutting social programs.
"We don't want to see a radical shift to the left," he said, which included the Green New Deal. He referred to rolling blackouts in California, which shut off power to hundreds of thousands of customers recently.
"We need an all the above energy approach," he said.
But a story in the New York Times, citing an energy expert, said the blackouts were mystifying, considering that the state hadn't reached the peaks of previous years.
In other words, the state had enough power.
Daines also spoke to the call to defund police in some regions of the country after the high-profile deaths of black men and women at the hands of police.
"The defund the police movement is insane," he said. "We should be defending the police."
---