Girls soccer season comes to a close with a loss against Laurel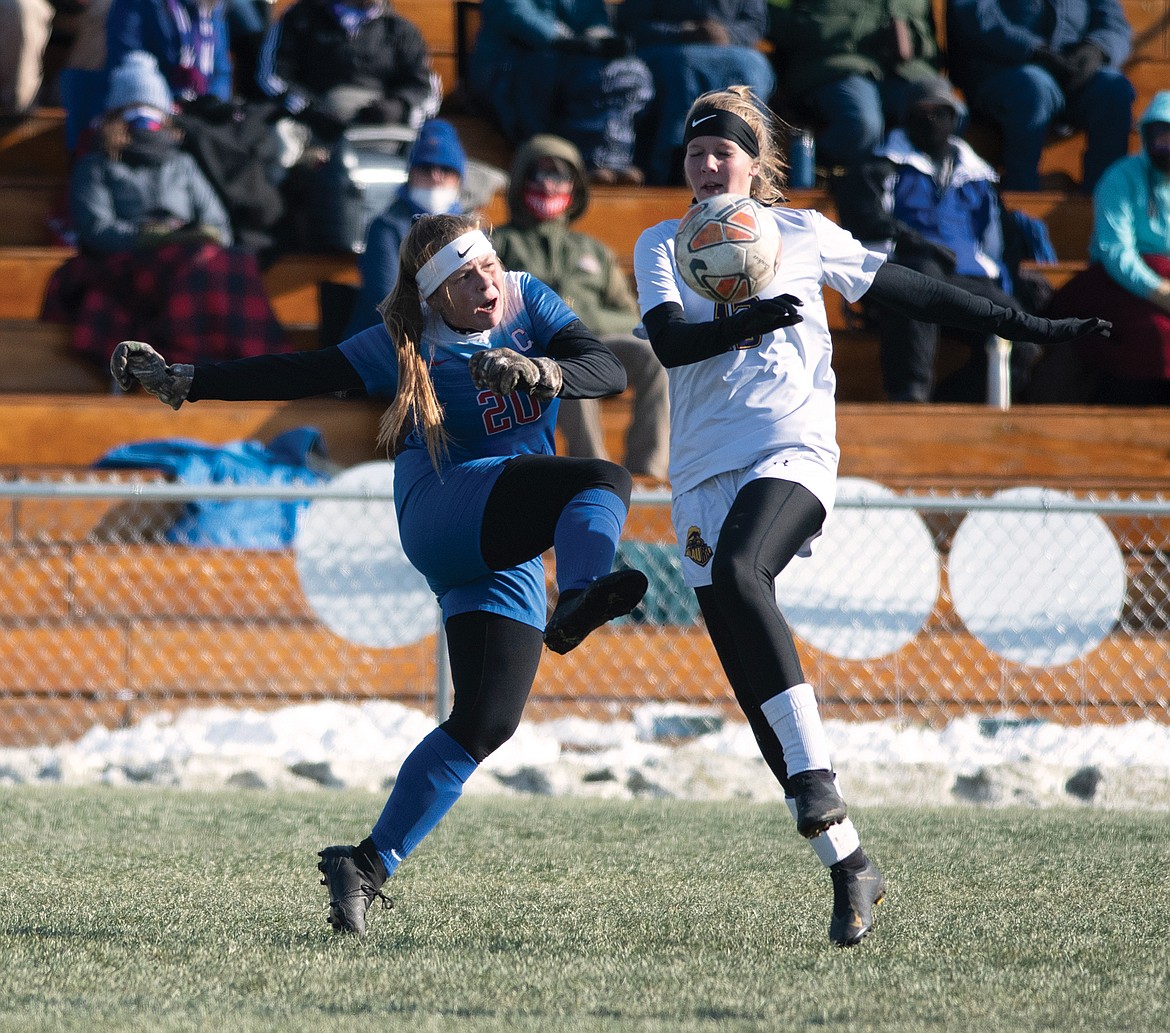 Makayla Sevesind fights for possession against a Laurel player. (Chris Peterson photo)
by
TERESA BYRD
Staff Writer
|
October 28, 2020 7:00 AM
The Columbia Falls girls soccer season came to an end Saturday after a tough 5-1 semifinals loss to Laurel, the reigning state champions.
The Wilkats played most of the game, occurring on a bitingly cold and windy day, without three of their main players.
The team was down both senior starting defender Kate Hatfield plus freshman starting forward Hope McAtee before the semifinals match even began. McAtee is one of the Kats' top scorers and is ranked third in the state for assists and fifth for goals. Then just before halftime, starting defender Kyra Bruner got injured and was out for the rest of the game.
"That puts you in a tough spot against a team like Laurel, to be down three starters," said head coach Thomas Clark.
Wildkat Maddie Robison, Montana's top class A scorer, was able to find the back of the net off a free kick within the first few minutes of the game, but from then on it was all Laurel. The Locomotives were up 2-1 by halftime and scored three more in the last half to secure the win.
The loss, however, did not mean the Kats went out without a fight. Clark praised the girls, especially Robison, Cheyanne Johnston-Heinz and LaKia Hill, for grappling until the end and had a few words for Hill, the team's sole senior on the semifinal field.
"LaKia was the last senior that we had on the field today and she just battled, man. She battled for 80 minutes" said Clark. "She is the embodiment of what you look for in leadership and I'm just so proud of her and I can't say enough about what LaKia means to our team. She's a warrior and she fought for everything she got this year, as a senior."
Despite the loss, Clark commented he was proud the team overcame adversities such as losing a senior captain goalkeeper to a torn ACL at the beginning of the year as well as completing a season during a pandemic.
"Obviously the girls were dejected at the end of the game but I think everybody walked off knowing that they were proud of the effort that they put forth, and proud of the season that we had," he said. "At the end of the day, as a coach all you can ask for is a team that's gonna fight from the first minute until the 80th minute and that's exactly what we have with this crew and I'm so proud of them for continuing to fight through the end of that game. No regrets from my end."
---