Cross Country: Girls take second, boys take third at state meet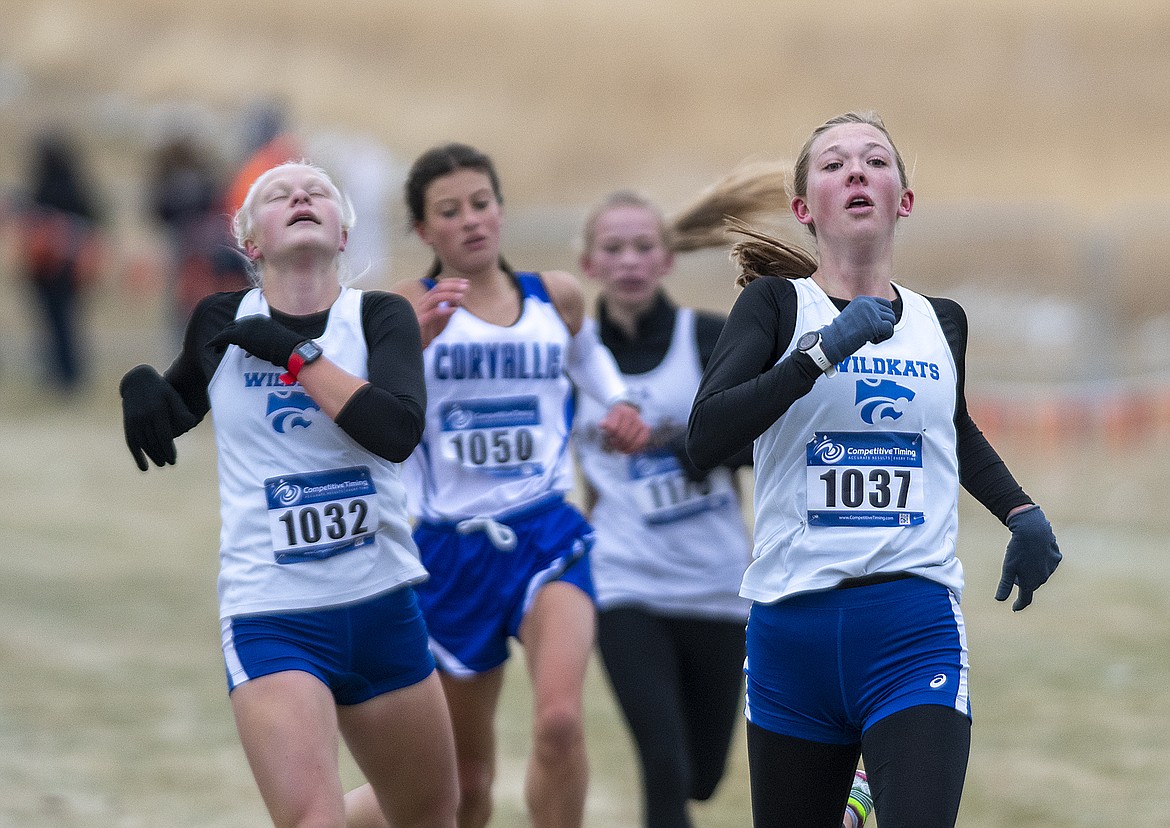 Teammates Hannah Sempf, right, and Lara Erickson, left, cross the line to take third and fourth at the state A championship at Rebecca Farm Friday. (Chris Peterson photo)
by
CHRIS PETERSON
Editor
|
October 23, 2020 12:05 AM
The Columbia Falls girls cross country team took second at the state A meet at Rebecca Farm in Kalispell Friday.
The Wildkats were led by Hannah Sempf who took third with a time of 20 minutes, 0.84 seconds. Teammate Lara Erickson was fourth, just a whisker behind with a 20:01.23.
Siri Erickson, Alyssa Blankenship and Emma McAllister took 20th through 22nd with times of 20.40.57, 20.41.55 and 20.50.22 to round out the top five.
Laurel won the meet.
The girls also got a solid race from Emma Upton, who took 31st and Courtney Hoerner who took 76th, with times of 21:36 and 23:58 respectively.
"We couldn't have asked for a better race from our girls," said coach Jim Peacock, who noted this was the best finish for Columbia Falls girls in decades.
The boys team took third with another solid showing at state. Last year they won the event.
They were led by James Petersen, who took 18th with a time of 17:13.78; followed by Bailey Sjostrom, 30th, 17:48.62; Seth Umbriaco, 33rd, 17:55.50; James Role, 34th, 17:59.05; TJ Jacobi, 37th, 18:02.20; Colin Smith, 69th, 19:04.96; and Alex Branstetter, 92nd, 19:50.64.
Hamilton won the boys meet.
Top runner for the boys was Colter Purcell with a time of 16:17.52; Brynnli Poulsen of Hamilton the girls title with a 19:02.30.
The snow held off until midway through the boys meet, but the weather wasn't really a factor, as winds were light and temperatures were in the high 20s. Heavier snow didn't start until the meet was over.
---