Girls take Western A crown in cross country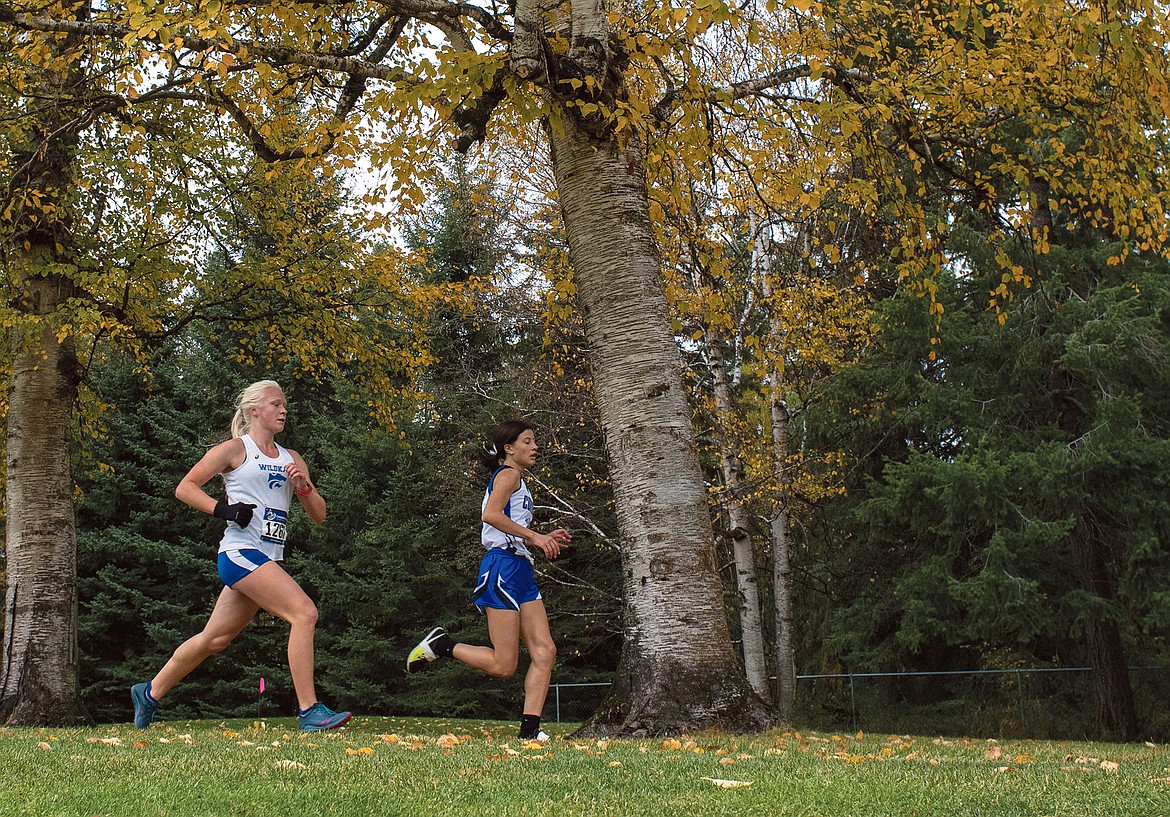 Lara Erickson, left, runs in the Western A Divisional at Whitefish Golf Course Saturday. (Chris Peterson photo)
by
CHRIS PETERSON
Editor
|
October 21, 2020 9:00 AM
The Columbia Falls girls cross country team took top honors at the Western A Fall Classic in Whitefish Saturday.
Lara Erickson led the squad with a second-place finish and a time of 29 minutes, 12.7 seconds.
Teammate Hannah Sempf was third with a 20:24.65, her best time of the season.
The Wildkats finished 2-3-10-13-15 for 38 points, beating Corvallis by 11 to take the crown.
Siri Erickson was 10th with a 21:11.05; Emma McAllister was 13th with a 21:30.81; and Emma Upton was 15th with a 21:43.88.
The boys' squad, which won state last year, was down runners due to coronavirus quarantine and injuries.
Wildcat James Petersen had a solid race, taking eighth with a time of 17:26.28. Bailey Sjostrom was 15th with a time of 18:15.65.
Coach Jim Peacock expressed frustration on the quarantine situation, noting that he will be missing several runners for the state meet this weekend at Rebecca Farm in Kalispell.
Under the school policy, if a student has a 15-minute cumulative time within 6 feet of a person who tests positive, they're subjected to a 14-day quarantine, even if they test negative for coronavirus themselves.
A couple of runners will come off quarantine the day after the state meet.
Peacock said he understands the quarantine, but, "It's just a tough situation to be in."
Having said that, he gave kudos to the girls team for a great performance and they have high hopes to bring home hardware at the state meet.
Many, if not all of the athletes, have trained for more than a year to compete in this race.
The girls in particular were a favorite to win state, and the boys were looking to bring home some hardware as well.
It's still possible, but they'll need some reserve runners to have a great race on Friday to make it happen.
The races start at Rebecca Farm in Kalispell with the girls at 10:30 a.m. and the boys at 11:30 a.m.
---