Girls also end season with victories, will also travel south, but to Corvallis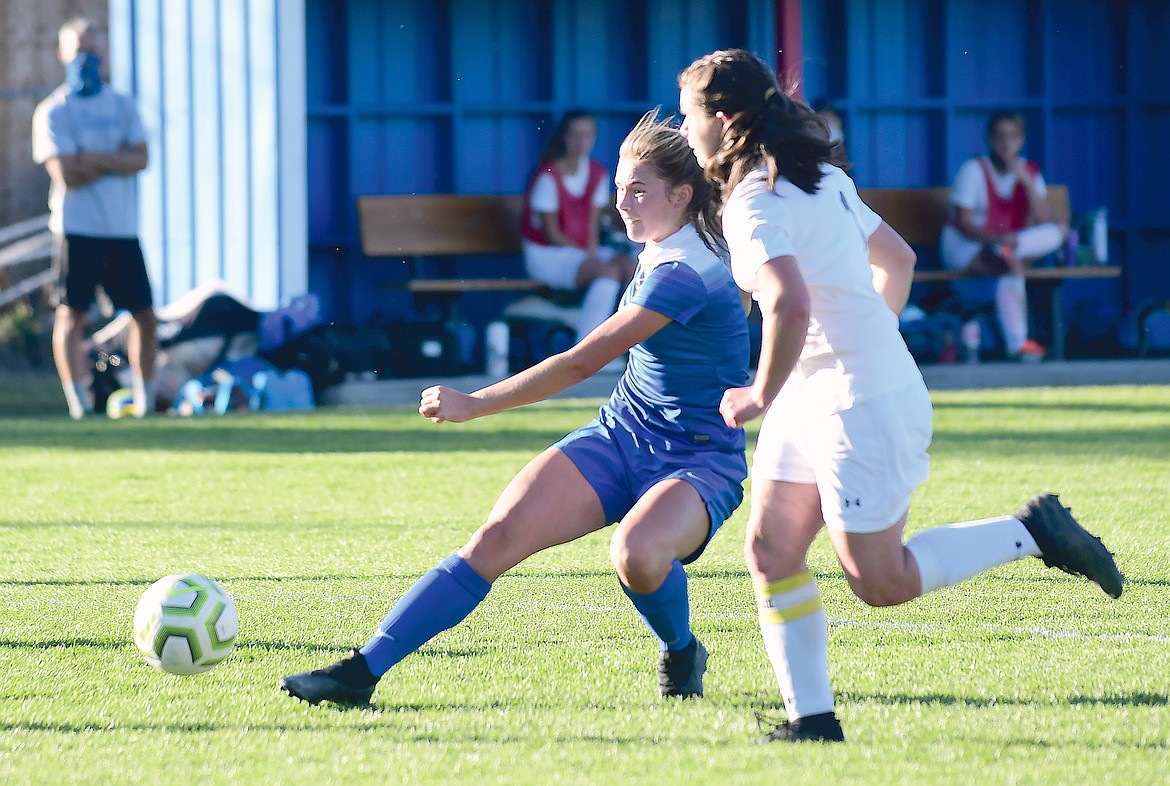 Maddie Robison with a shot against Libby last Tuesday. (Teresa Byrd/Hungry Horse News)
by
TERESA BYRD
Staff Writer
|
October 14, 2020 12:10 AM
Wildkat girls soccer celebrated a 9-0 win against Libby during senior recognition night on Tuesday.
The Kats scored three goals within the first ten minutes of the game and continued with that momentum, bringing it to 6-0 by halftime. Maddie Robison, Cheyanne Johnston-Heinz and Hope McAtee were the scorers for the first half, each landing two goals.
The second half saw a suite of different scorers for the Kats with Cloey Ramage, assisted by Sydney Mann, landing the first goal. The next was a collaboration between the two seniors on the field when LaKia Hill passed to Kate Hatfield to make the shot. Alexis Green, assisted by Neveah Carlin, scored the night's last goal.
The evening honored the Kats' five seniors: managers Abby Underdahl and Taylor Weaver, defender Kate Hatfield, midfielder LaKia Hill and previous goalkeeper Ave McDonald, who has been out for the season due to an ACL injury but has stayed on as an assistant coach.
"It was a special night for our three seniors, just to see them get to play one last regular season game on their home field was really special, and incredibly proud of the contributions that they've had to this program over the last four years and they'll be missed next year," said head coach Thomas Clark. "So it was a special night for them and a special night for the whole program."
The Kats hammered home yet another big win on Saturday against the Bigfork Valkyries 6-0, ending their regular season with a record of 9-2 and finishing second in the north conference. The Kats play next in the quarterfinals against Corvallis on the road. The game has a 1 p.m. start. The girls haven't played Corvallis this year.
---