Because everyone needs a mother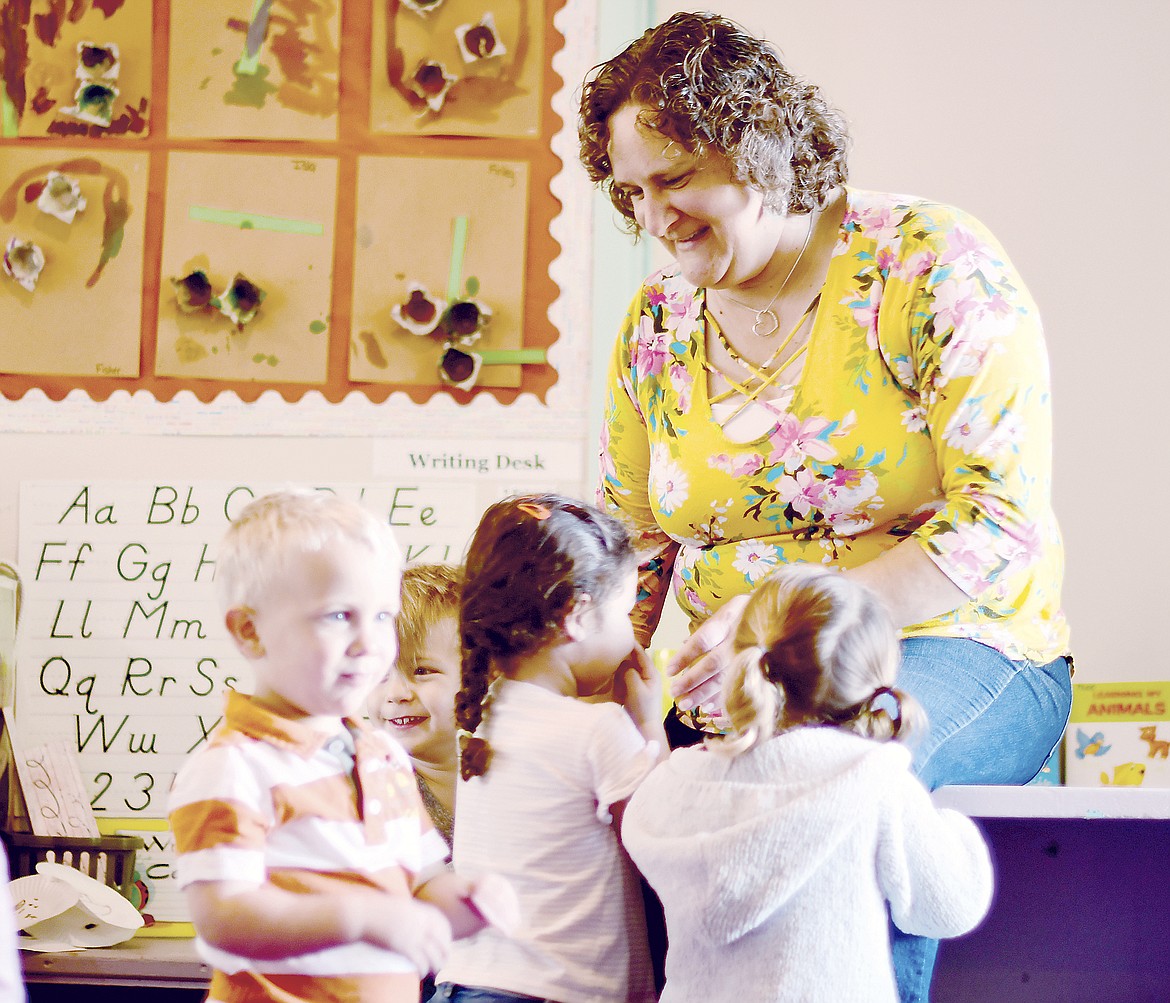 Amy Ream, flocked by a group of preschoolers she cares for at Trinity Lutheran Child Care in addition to fostering children from around the valley. (Teresa Byrd/Hungry Horse News)
by
TERESA BYRD
Staff Writer
|
October 14, 2020 12:50 AM
Amy Ream has had it in her heart to take care of displaced children ever since she was first able to read the "Anne of Green Gables'' and "Elizabeth Gail" novels she was drawn to as a child growing up in Columbia Falls. Nearly 30 years later, Ream has followed her heart to spend over a decade taking care of children through Kalispell's emergency placement foster care system.
Ream began fostering in 2009 after becoming licensed through the Child and Family Services Division of the Montana Department of Public Health and Human Services.
Having worked in preschool child care for over 10 years at that point, Ream had been gravitating to the idea for a while but had been putting it off, in part because she was single and had never had biological children of her own. Then "a friend encouraged me that I can still offer love to kiddos, and so I went ahead and applied and started the process," she said.
In the 11 years since, Ream has cared for over 11 boys and girls, ranging in age from 7 to 15 years old. Eight of those were with her for longer term stretches, ranging from three months to two-and-ahalf years, long enough to establish strong relationships with each of them.
Ream says people often tell her they could never be foster parents because of the difficulty of letting them go when they return to their biological parents. She believes that is exactly why foster parents are so necessary.
"Those children need somebody that will love them so much that they cry when they leave," says Ream. "That's what they need, they need to see you cry because they know that, 'Wow this person really loved me.' Because that's what helps them to learn how to make connections themselves and that's what they need. So that's kind of the point of it, is to love them so much that it breaks your heart, because I'm an adult and I can deal with a broken heart but they can't deal with not being loved."
Knowing there is a process of letting go is fundamental to emergency placement foster parenting.
"Anytime a child goes into foster care, the goal is to reunite them with their family. That's the main goal is to get them back with their family
in a safe, healthy environment. Whatever that looks like for helping that family be able to bring that child home," Ream said.
Staying in touch with her foster children after they've left is something Ream has made a priority. She talks to them frequently and even still brings some to church with her. Those that have moved away she makes sure to call at least on holidays. Some of the older kids she has fostered, now in their late teens and early 20s, will reach out to connect with her.
Maintaining those connections helps with the heartbreak and is one of the most rewarding aspects of becoming a foster parent, Ream said.
"It's so wonderful, building relationships with these kiddos that are going to grow up to adults, and just hoping that I've made a little impact in their lives," she said.
Besides the difficulty of having to say goodbye, fostering presents additional challenges, not the least of which can be learning how to navigate different personalities or trying to manage difficult behaviors. Fostering also comes with a fairly demanding schedule of the children's doctor visits, therapy sessions and twice-weekly parental visits that can be strenuous, especially for a single person working full time such as Ream.
Fortunately, says Ream, there are plenty of resources to help foster parents, including organizations like Child Bridge and Youth Dynamics, as well as Facebook support groups full of fosterers willing to sit down for supportive chats over coffee.
Ream also created a rule for herself to take a break between fostering episodes, both for the children and for herself, "just to be able to give a little buffer and time for me to reset so that I come in with the proper attitude, and I'm looking at things fresh and everything," she says. Despite the intense care and dedication she provides, Ream emphasizes she's nothing special. She states there are two comments she often hears that don't sit well with her. One being, "They are so lucky to have you," and the other, "They should be so thankful for what you are doing."
"Neither of those is true," Ream said. "You know, they're not lucky; they got ripped out of their home. Where is that lucky? They didn't choose
it, it's based on their parents' choices, and they still love those parents very much and they miss them and you know I think of like when I was probably 8 and went on my first sleepover and it was my best friend's house and I'm sure I probably was still very nervous and cried that night and here's a child that's younger than that, and they're taken out of their home and they're put in a stranger's house, and it's just like — no they're not lucky and they shouldn't thank me. So I really want to point out that the kids are the heroes."
After a break that began late last winter and was extended due to coronavirus concerns, Ream has just taken in her 12th foster child this October.
Noting a need for foster parents in Montana, Ream encourages others who feel compelled to take up the charge.
"I don't want to say anybody can do it, because you know not anybody can, and I don't want somebody doing it that shouldn't be," she said. "But if you can love on a kid and offer them a safe home, then, it's worth it."
---