Kats remain undefeated, drop defending state A champs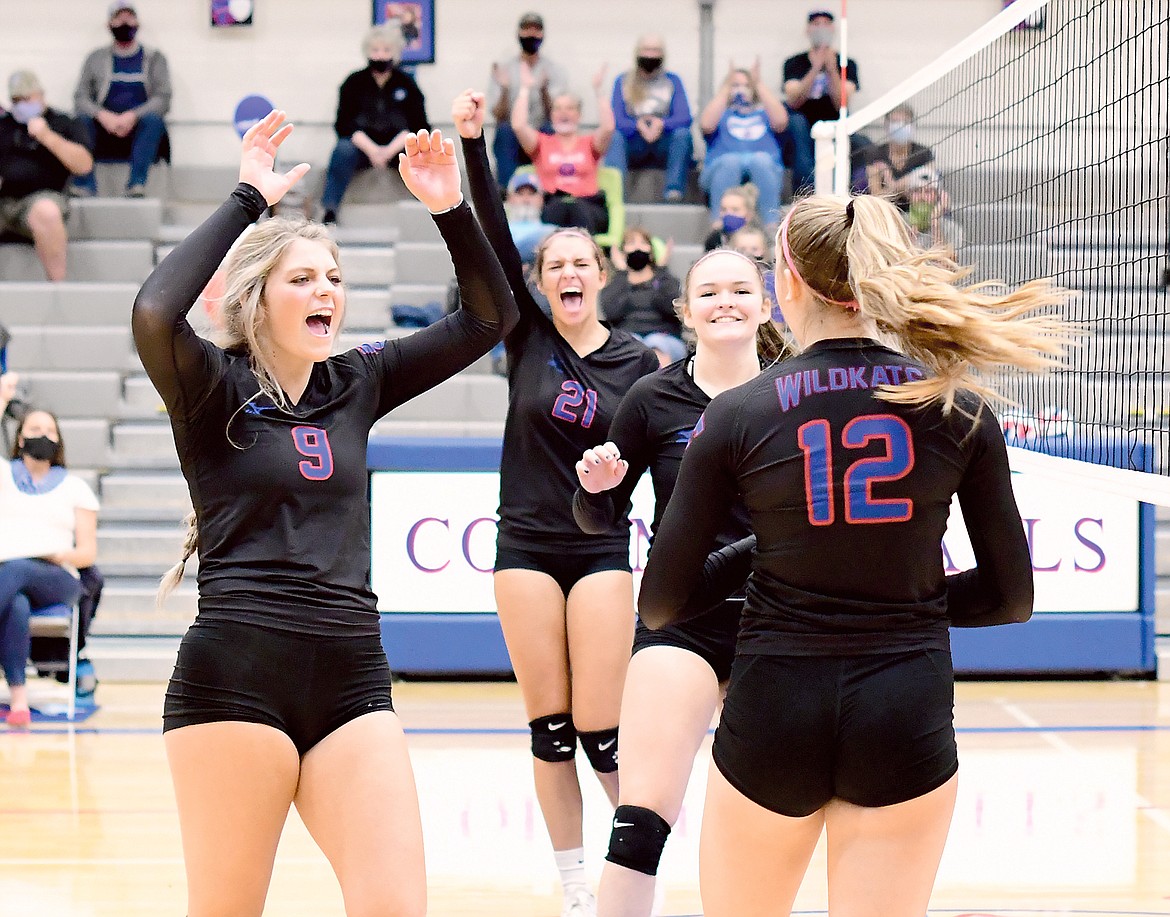 Wildkat volleyball celebrates in a match against Corvallis over the weekend. Left to right, Hannah Schweikert (9), Maddie Hoerner (21), Grace Gedlaman, Lauren Falkner (12). (Teresa Byrd/Hungry Horse News)
|
October 7, 2020 12:00 AM
Wildkat volleyball remains undefeated after a double-header against Hamilton and Corvallis on Saturday.
Columbia Falls secured their first win of the day against Hamilton in four sets, 25-19, 25-16, 22-25, 25-19. The third set of the match started out unexpectedly slow for the Kats, with the Broncs gaining a nine point lead before the Kats fought back to within three before losing the set, only their second of the season.
Lauren Falkner had a great all-around game, with 14 kills, three aces and one block.
"Falkner played tough and made key plays at key times," said head coach Jolandie Brooks.
Mady Hoerner also logged 17 kills against the Broncs. Dillen Hoerner had eight kills, 10 digs and two aces. McKenna Rensel had 16 digs. Hannah Schweikert had 41 assists, 10 digs, and one block.
The Kats went on to play Corvallis, in a much anticipated match against the reigning
state champs, defeating the Blue Devils in straight sets, 26-24, 25-9, 25-8.
"I was really proud of the way the whole team stepped up, played together, adjusted well and fought to keep a fastpaced offense and scrappy defense," said Brooks.
After breaking the school record for number of aces served in a career last week, Schweikert had another incredible match, leading the team with nine kills, 26 assists, 12 digs, two aces and two blocks against the Blue Devils. Dillen Hoerner and Lauren Falkner each had eight kills and McKenna Rensel had 14 digs.
---