Yesterdays: Glacier visitors ice skated on glassy Swiftcurrent Lake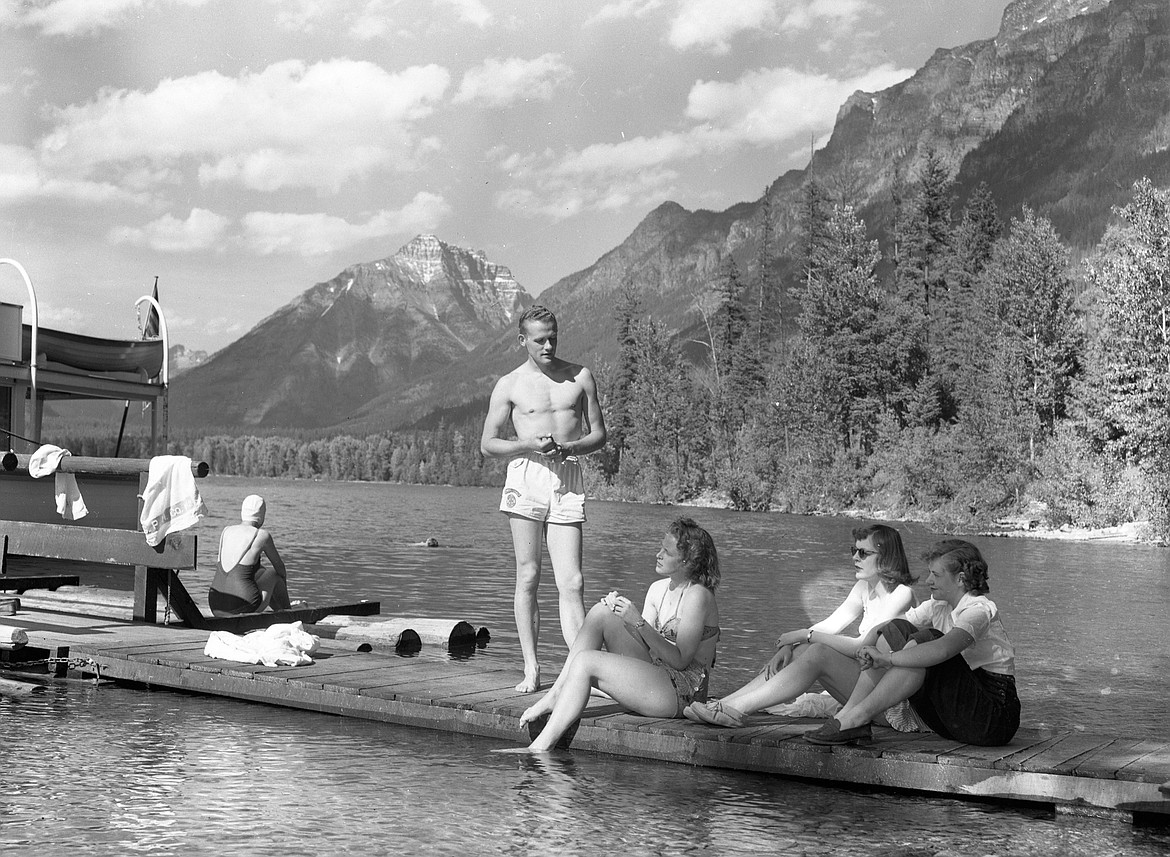 Basking in the sun at Lake McDonald Lodge boat dock, 1950. (Mel Ruder photo)
|
November 18, 2020 1:00 AM
70 years ago
Nov. 17, 1950
Glacier National Park had a problem moose that kept eating the cardboard over the vents at the Avalanche Creek toilets. The cardboard was put up to keep the snow out. The bighorn sheep in Many Glacier had dropped down to the valley because of snow at higher elevations. There were also 500 to 600 elk in the flats at St. Mary.
60 years ago
Nov. 18, 1960
A page 2 picture showed 100 horses and mules en route to winter pasture to the west, passing the Hungry Horse News offices. At the time, the road was a two-lane route. Crews from Shell Oil were drilling up Cate Creek in British Columbia, about 60 miles up the North Fork.
50 years ago
Nov. 20, 1970
The top taxpayer in Flathead County was the Anaconda Aluminum Co., with a property tax bill of $1.2 million. There was a snag in trying to designate wilderness in Glacier National Park. The 1910 enabling legislation allowed the federal government to utilize parts of the park for a "reclamation project," such as a dam. That made it difficult to designate portions of Glacier as wilderness.
40 years ago
Nov. 20, 1980
Editor emeritus Mel Ruder went to Many Glacier and showcased photos of people ice skating on Swiftcurrent Lake. The lake was like glass. Lumber companies were encouraged by the election of Ronald Reagan as president, but they were worried about the prime interest rate, which was 16-1/2 %.
30 years ago
Nov. 21, 1990
Fifty-five local Army Reservists were being called up to serve in Operation Desert Shield in Saudi Arabia. They would be driving water trucks for the effort in the U.S.'s first invasion of Iraq. The U.S. invaded Iraq after Iraq invaded Kuwait.
20 years ago
Nov. 16, 2000
It was a bad year for grizzly bear deaths by human means — 19 bears had been killed, the most ever at the time. Nowadays, with more bears in the woods, the number is even higher — closer to 50 annually as of late.
10 years ago
Nov. 17, 2010
More pot was showing up in schools, including the junior high. Police blamed parents, who were smoking pot as well. So far police had busted six kids in the junior high for having pot.
---