Spikers take second at state tourney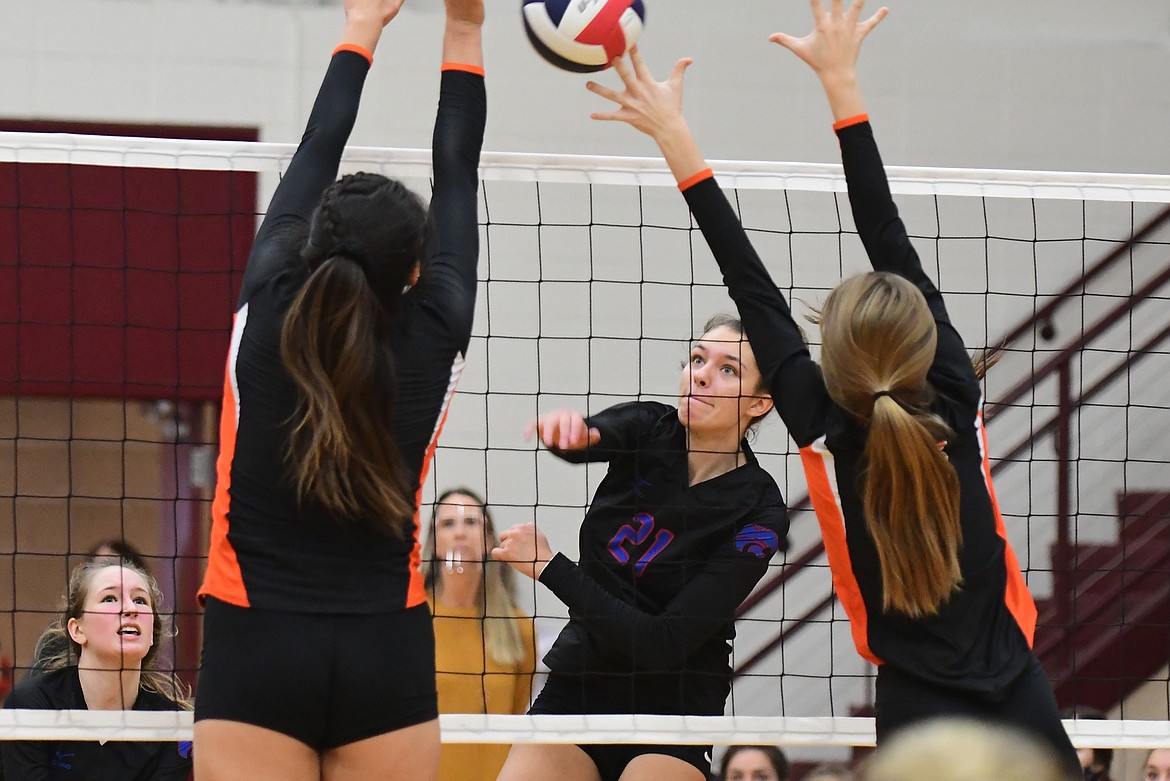 Mady Hoerner spikes the ball past Hardin in a comeback match against the Bulldogs that propelled the Kats into the championship. (Teresa Byrd/Hungry Horse News)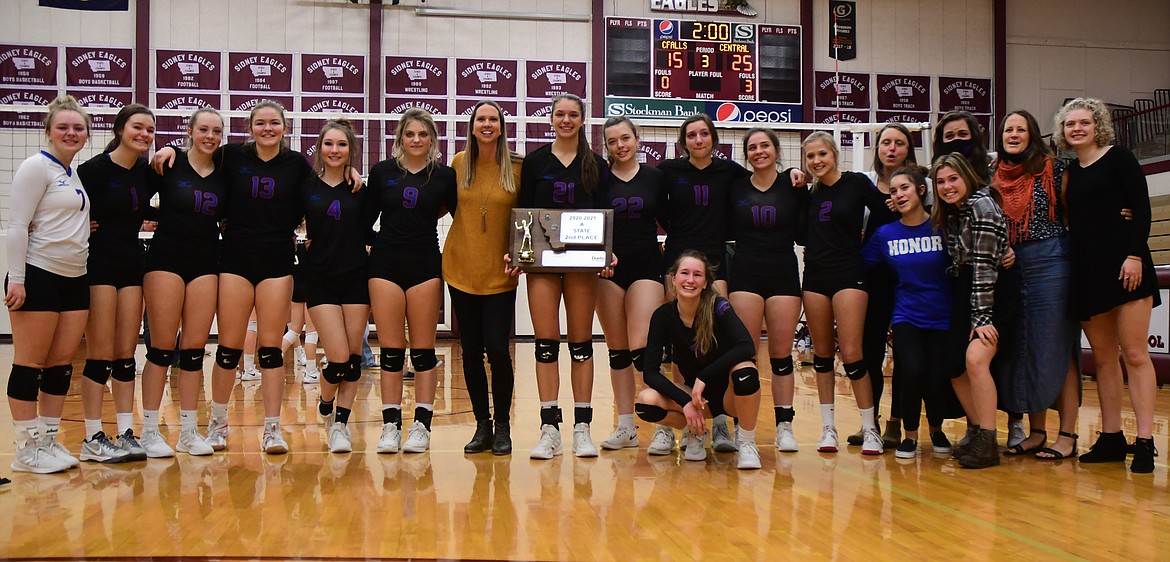 The Wildkat volleyball team poses with their second place State A trophy after the championship match in Sidney on Saturday. Back row, left to right: McKenna Rensel, Rhys Sharpton, Lauren Falkner, Grace Gedlaman, Isabel Brandeberry, Hannah Schweikert, head coach Jolandie Brooks, Mady Hoerner, Maddy Collins, Jazzy Marino, Madeline Stutsman, Haylee Lawrence, coach Anna Danley, coach Haley Belgarde, coach Gretchen Miller, Demye Rensel. Front row, left to right: Dillen Hoerner, Jayden Webb, Aspen Dawson. (Teresa Byrd/Hungry Horse News)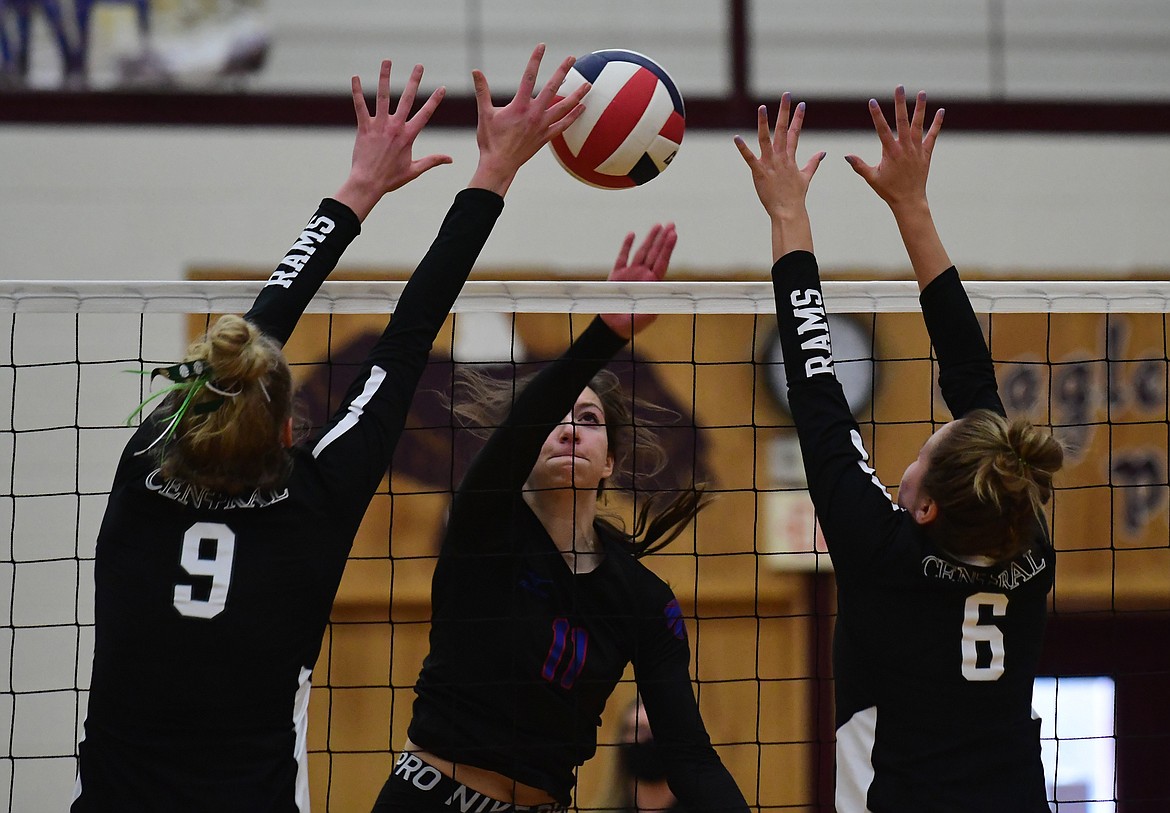 Jazzy Marino taps the ball over the net against Billings Central during the championship match on Saturday. (Teresa Byrd/Hungry Horse News)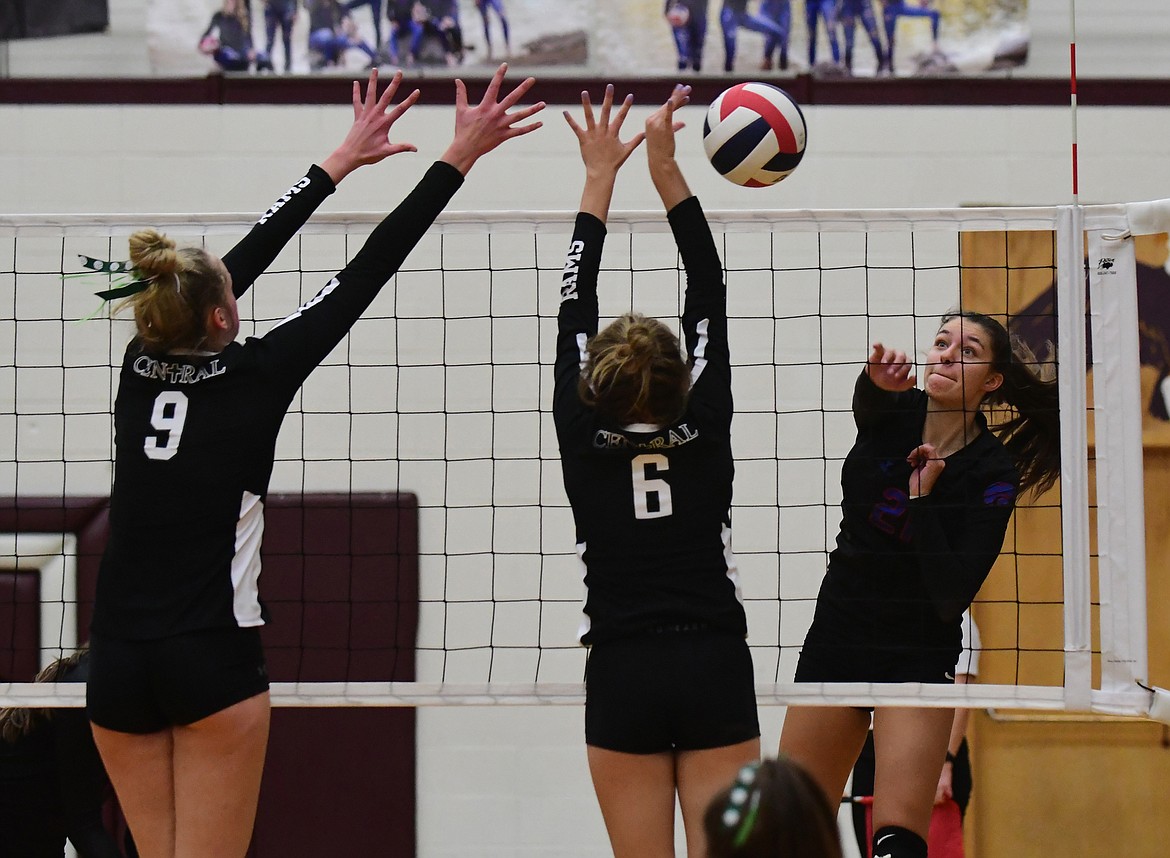 Mady Hoerner with a trademark kill against Central during the championship. (Teresa Byrd/ Hungry Horse News)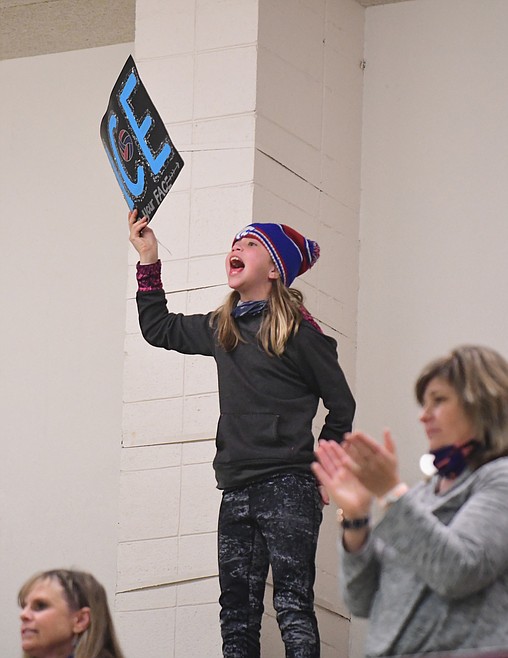 Jezanie Brooks stokes fan spirit for the Wildkats during the State A volleyball tournament in Sidney last week. (Teresa Byrd/Hungry Horse News)
Lauren Falkner spikes the ball past Hardin in their second match of the state tournament last Thursday. (Teresa Byrd/Hungry Horse News)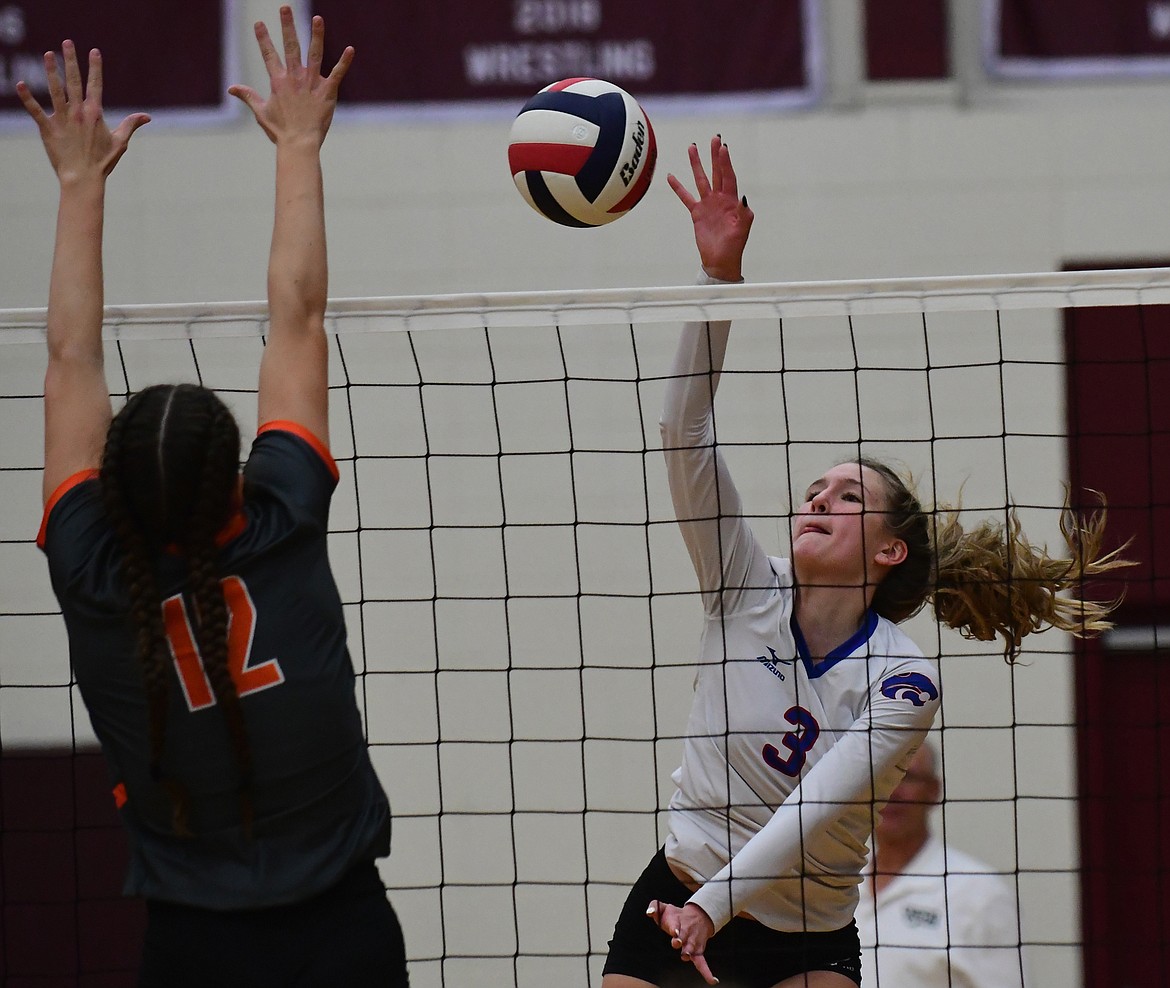 Dillen Hoerner taps the ball over the net against Hardin Thursday night during the second round of playoffs at the state tournament in Sidney. (Teresa Byrd/Hungry Horse News)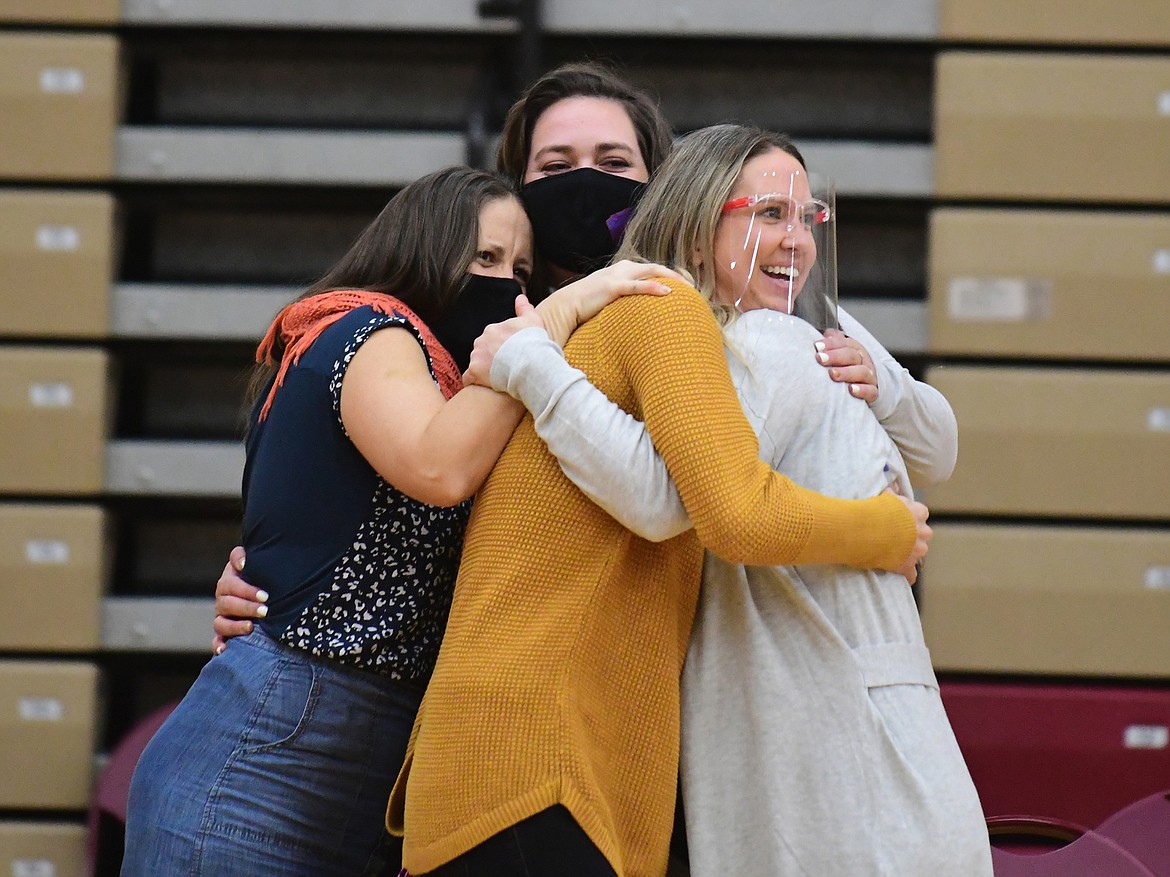 The Wildkat volleyball coaches huddle in a celebratory hug after the Kats came back to beat Hardin which landed them in the championship match. (Teresa Byrd/Hungry Horse News)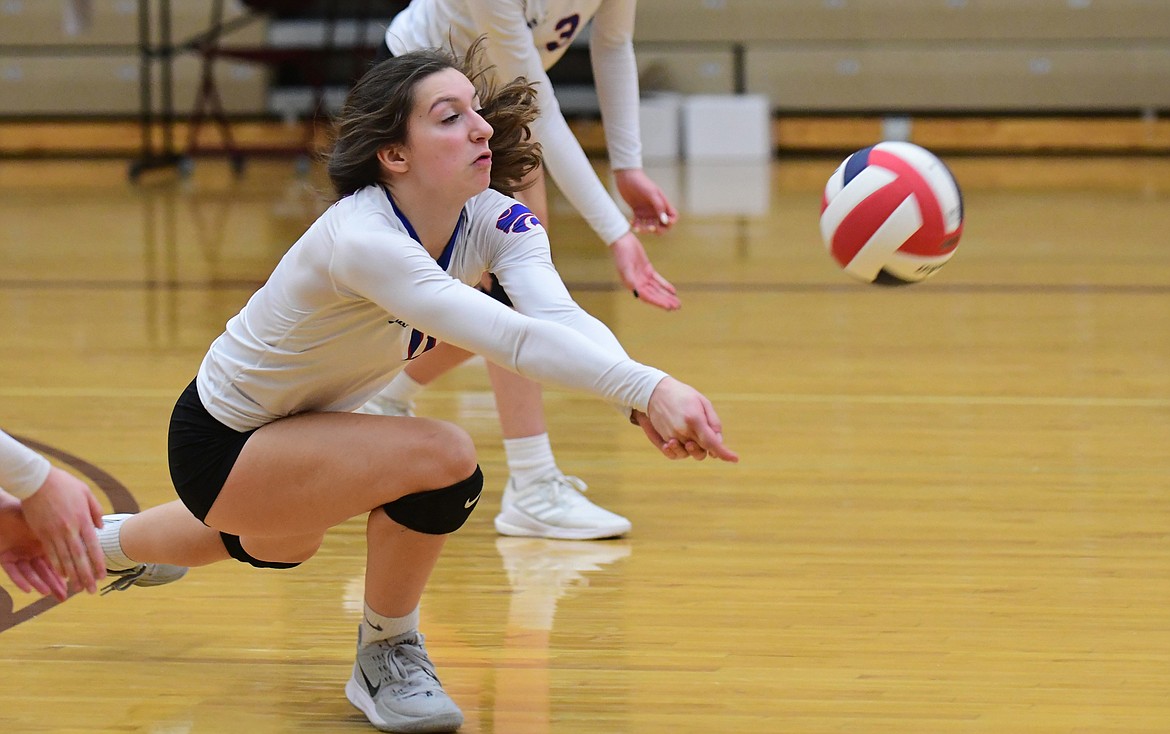 Jazzy Marino lunges for the dig in a match against Corvallis at the state tournament last Friday. (Teresa Byrd/Hungry Horse News)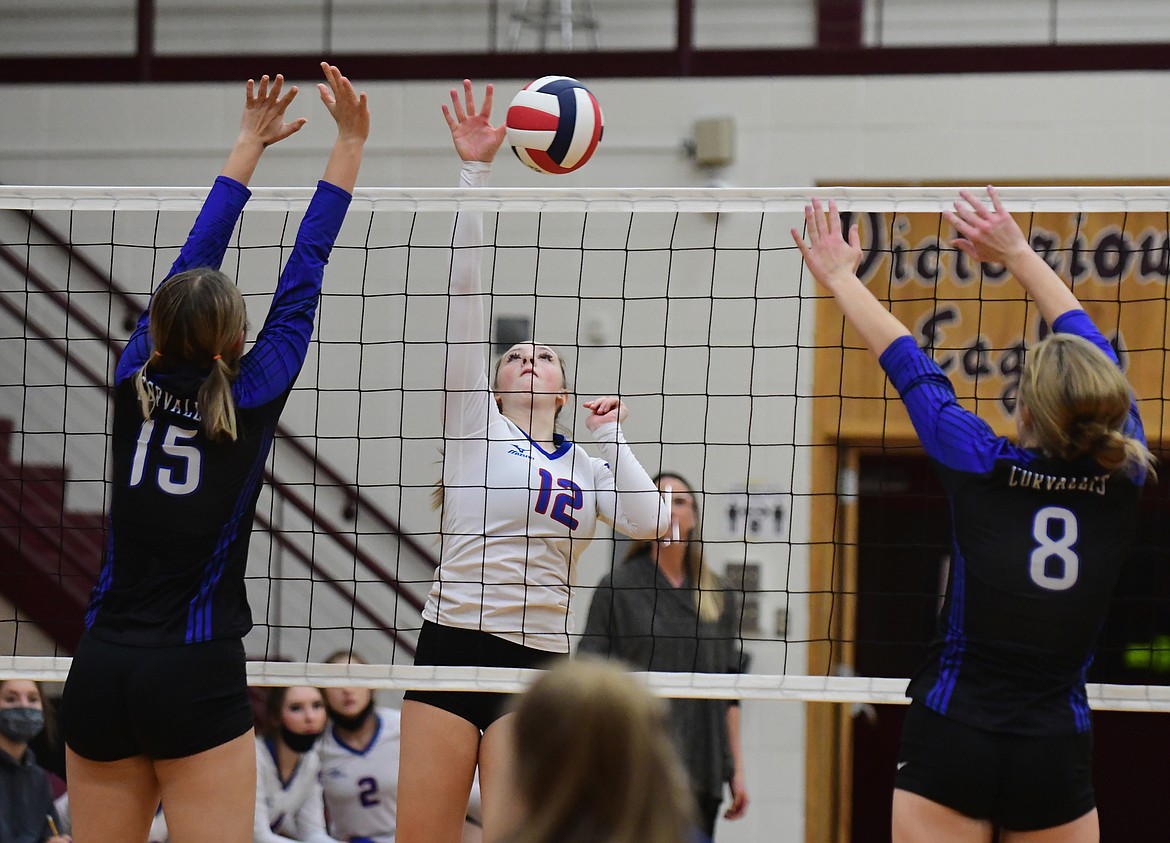 Lauren Falkner spikes the ball past the Blue Devils in a match against Corvallis last Friday. (Teresa Byrd/Hungry Horse News)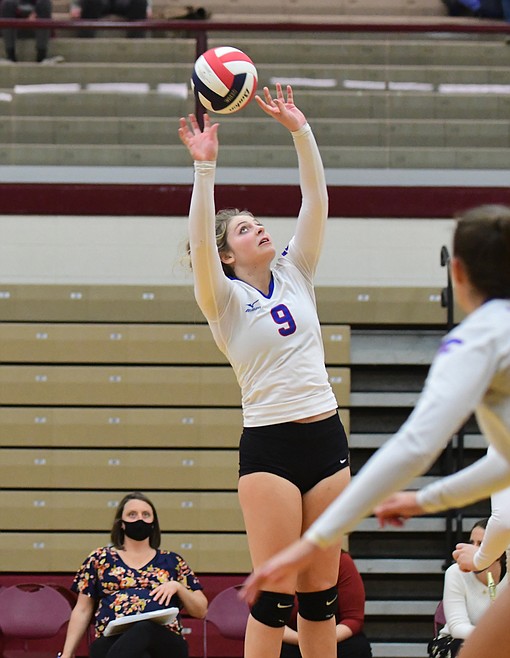 Hannah Schweikert sets her teammates up for the kill during Friday's match against Corvallis. (Teresa Byrd/Hungry Horse News)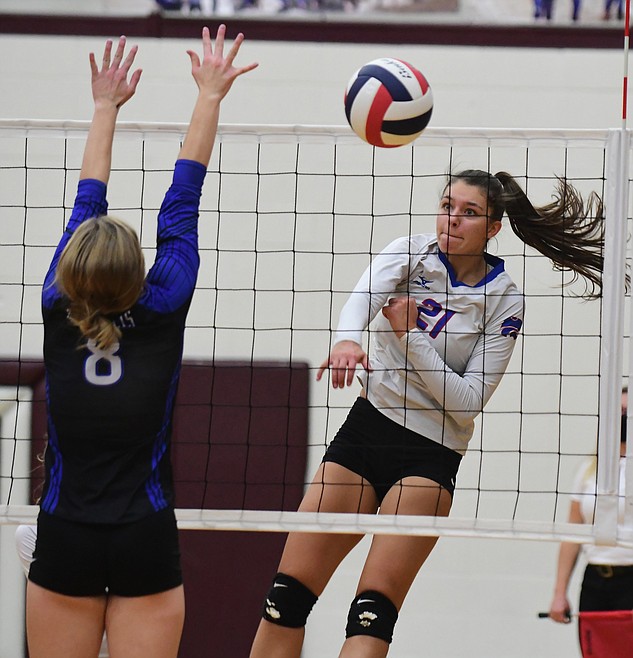 Mady Hoerner slams the ball against Corvallis during the state tournament last week. (Teresa Byrd/Hungry Horse News)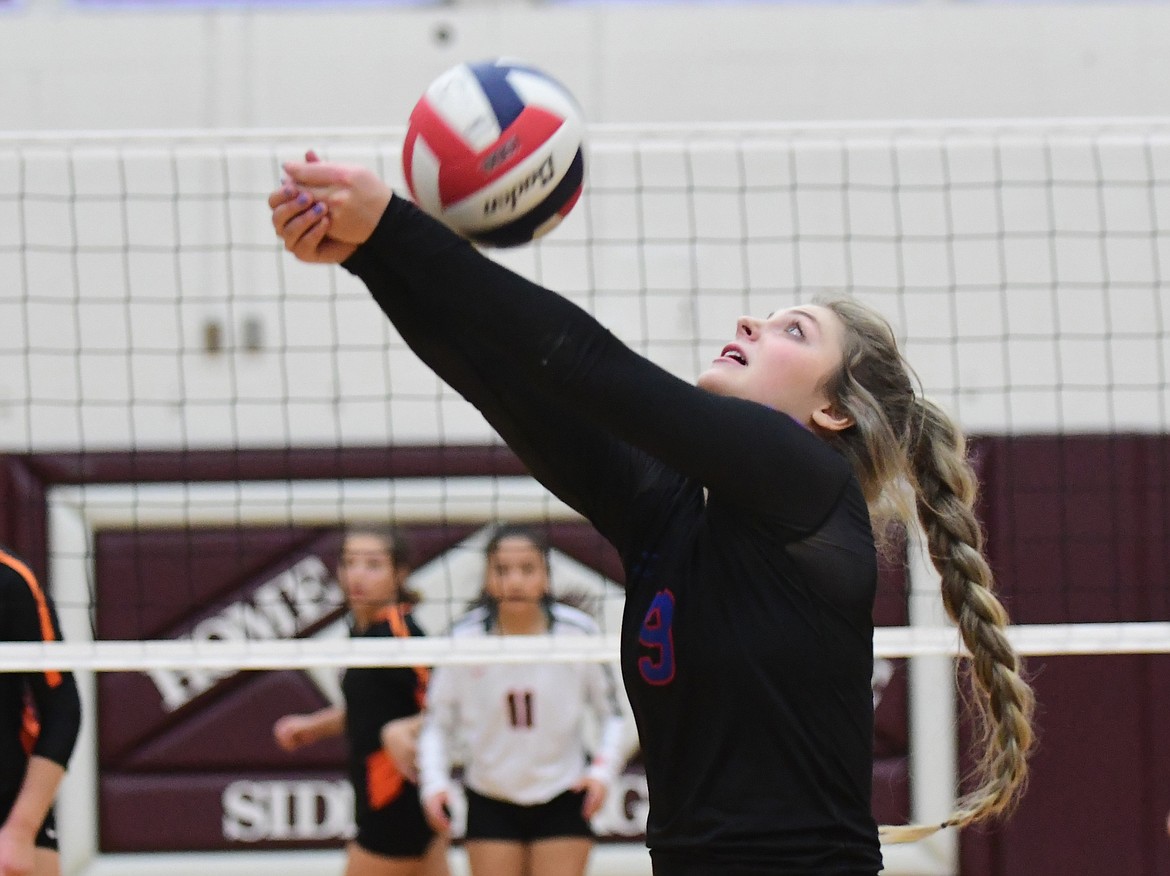 Hannah Schweikert continues the rally in a match against Ronan at the state tournament last week. (Teresa Byrd/Hungry Horse News)
Previous
Next
by
TERESA BYRD
Staff Writer
|
November 18, 2020 7:00 AM
Wildkat volleyball fought their way back to a well-earned second place in the Class A state championship game after dropping the title to Billings Central in a tough 3-0 loss on Saturday.
The Kats began the state competition with their usual momentum, beating Havre 3-1 Thursday morning, but quickly found they faced a different type of opponent during their second match of the tournament against Hardin later that evening.
The Bulldogs brought a team of bigger athletes and a faster style offense than the Kats had yet encountered, creating a matchup that would be battled to the final set, finally ending 15-10 to Hardin. The loss came after four nail-biting sets with final scores of 21-25, 25-23, 25-20 and 18-25.
"It wasn't quite what we wanted," said head coach Jolandie Brooks, "[But] taking that first loss was just an opportunity for us to come together and to learn from it, and I think that they made a fantastic comeback."
The loss veered the Kats onto the harder road of having to climb their way up the loser-out side of the bracket, where they had to win two more matches, against Ronan and Corvallis, before facing Hardin yet again just for a chance at the championship spot.
"I was really proud of the girls," said Brooks. "We could have gone any which way and they decided to come together and they listened to all of the things that we told them that they needed to do for the rest of the tournament and they did it, man with all of their heart."
The Kats' semifinals rebound victory against Hardin was sweet, full of pride and excitement, Brooks said.
Yet the Wildkats had little time to savor it, turning around to play Billings Central for the state title almost immediately after.
"Billings Central played a fast-tempo offense which is similar to what we've been trying to run all year," said Brooks. "It's the first that we've really seen somebody be able to run that really fast offense, and they put up some really big blocks."
Mady Hoerner led the Kats during the championship match with 13 kills, followed by Hannah Schweikert's seven and Dillen Hoerner's five. Schweikert also had 13 digs, 23 assists, three aces and one block. Dillen Hoerner had 12 digs and Jazzy Marino had two blocks.
"I just want everyone to know how proud I am to have gotten to coach this group of girls," said Brooks. "When they were young, we didn't picture this senior year going any differently. We had a vision, we knew the type of competitors they were, we knew the type of offense they were running, and every year we would just try to incorporate something new."
Brooks told the team they've set a new standard.
"No one can take away the culture that you've created in this program over the past four years. No one can take away the time you've spent at the gym and the memories and the bond that you have formed. Just hold your head up high and be proud and continue to love on each other," she told the squad.
The Kats ended the year with just two losses on the season.
---