School board OK's another $7.2 million to finish Ruder work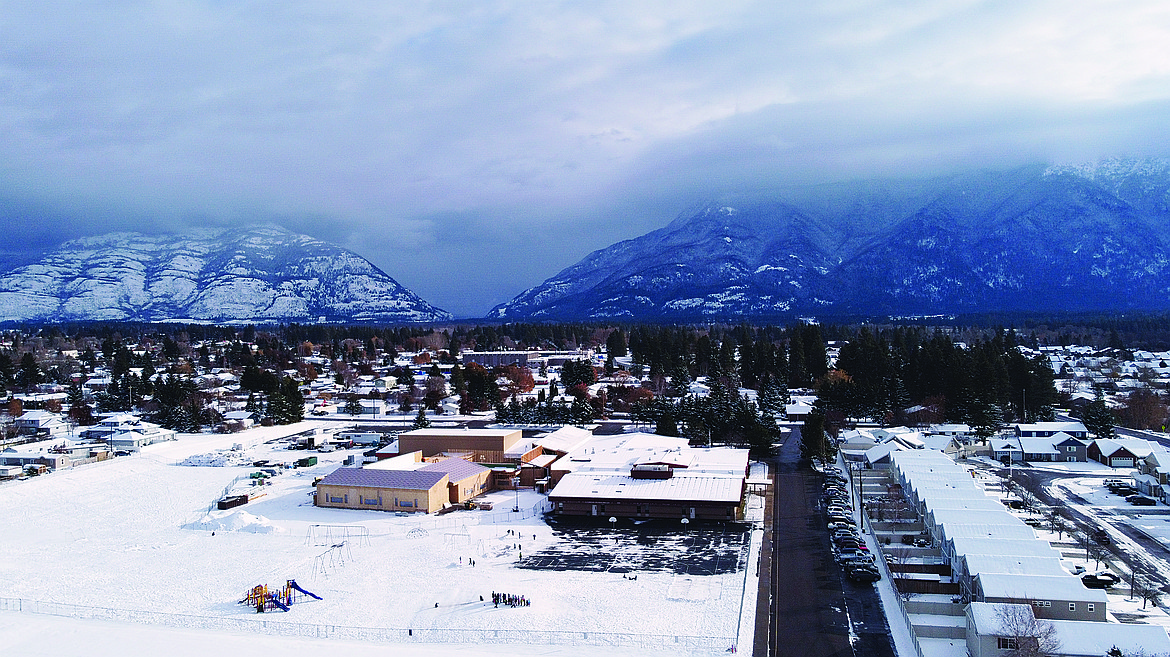 An aerial view of the addition of Ruder School. (Chris Peterson photo)
by
CHRIS PETERSON
Editor
|
November 18, 2020 1:00 AM
The Columbia Falls School District 6 board last week approved allocating $7.191 million toward the Ruder Elementary remodel and reconstruction project. The funding will also go toward a new secure entrance at the junior high.
The project is well underway and the funding includes a $500,000 contingency that the district may not have to use.
This pays for the second phase of the project, which includes all of the interior work. The board previously approved $3.77 million in funding which got the project rolling in the spring and completed the new ball fields between Ruder and the junior high.
Voters approved a $37 million bond to revamp Ruder and build a new Glacier Gateway Elementary School last fall.
But to date, the district has borrowed $32 million, though it has the authority to borrow the full amount if need be.
Last week, the board got a briefing from architect Max Grebe of LPW Architecture on the Gateway building.
The two-story building will be Y shaped, with the tip of the Y facing north.
That section will contain two gymnasiums and the classrooms and other facilities are in the arms of the Y.
The hope, Grebe added, is to use cross-laminated timbers in the beams and other work of the school, which are manufactured literally across the street at the SmartLam facility.
Gateway will go out to bid late this year or early next year.
The plan is to build the new school on what is now the track this year. Once it's completed, the old building, save for the gyms and what was once the old high school, will be torn down.
Crews will then spend a summer putting in the parking lots for the new school on the footprint of the old building.
Gateway has a budget of about $23 million for the 86,800 square-foot school.
The board debated on how to bid the project. One way is to simply bid it all at once, the other is through what's called a general contractor/construction manager process, where a contractor gets a base percentage of the job and then subs out part or all of the project.
That's how Ruder is being done and it gives flexibility to a project. The single bid, however, also locks in the price.
The board made no decision on which way to go, and decided to mull it for a few days and have a special meeting if need be. Swank Enterprises has the contract for Ruder.
The new entrance to the junior high will see work over the Thanksgiving holiday and then wrap up during Christmas break, so it doesn't interfere with school operations.
---