Book Review: 'Heroes of the Bob Marshall Wilderness' dishes up a plateful of Wilderness tales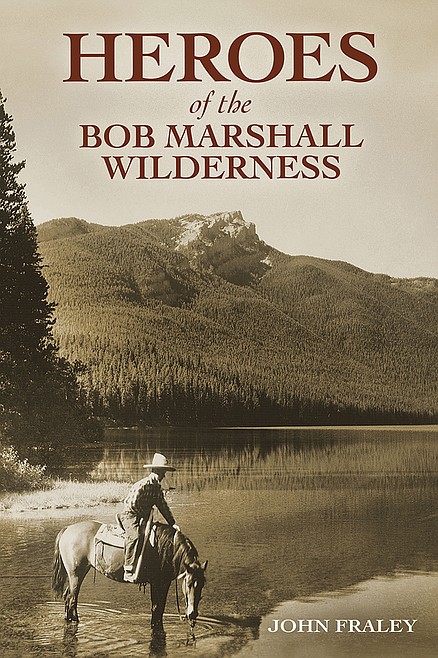 John Fraley's new book "Heroes of the Bob Marshall Wilderness" tells the story of folks whose lives have been shaped by the wilderness in our backyard.
by
CHRIS PETERSON
Editor
|
November 18, 2020 1:00 AM
John Fraley has written another fine book about the Bob Marshall Wilderness and the people who have called it home, at least seasonally, for years.
In "Heroes of the Bob Marshall Wilderness," Fraley's fourth book, he tells the story of folks whose lives have been shaped by the wilderness in our backyard.
As a former Montana Fish, Wildlife and Parks biologist and information and program manager, Fraley himself has been visiting the Bob for the past 48 years and still does 30-plus mile day hikes, even in his 60s.
This book, like Fraley's previous books, is steeped in history, with a lengthy and entertaining chapter on early guide and outfitter Joe Murphy, but it also tells the tale of many contemporary Bob Marshall figures, like well-known packers Smoke Elser and Bill Workman, Big Prairie District Ranger Guy Zoellner and his family, and many others.
Workman, a longtime packer for the Forest Service, was recently inducted into the Montana Cowboy Hall of Fame.
In Fraley's book, Workman nearly died after he runs into the "black-clad backpacker."
That hiker was me.
Fraley didn't interview me for the book, but Workman's story is relatively spot-on, save for the part where my butt was in the air (it was actually a camera).
Rather than ruin the tale here, you should read the book.
(As an aside I wrote my own side in a short book I did on the Bob Marshall Wilderness six years ago, in a story called, "Kill Bill." See column here.)
Fraley's book is full of fun and sometimes incredible tales. For example, one party carried a live rooster with them so they could roast it in camp.
It doesn't end like you'd think.
In another story, Elser loses a hunter he had been guiding, only to find the man standing next to him in the pitch black night.
There's tales of treasure hidden in the wilderness and families raising children there. There's grizzly bears, black bears, lions and even a fish-eating deer.
There's the story of Bud Moore, who ran traplines in the Bob in the winter, going up and over Lion Creek Pass on snowshoes while he was in his late 60s. Lion Creek Pass, for folks who haven't been there, is a tough hike of more than 10 miles with a very steep pitch across an avalanche slide. It's a nasty walk in the summer, nevermind winter.
The real hero in the book, however, is the Bob itself. The landscape rules the roost.
One of my favorite facets of the book is the description of some of the cool places in the Bob that I haven't visited yet, or simply walked by and missed.
Fraley said it took about a year and half to write the book. The last chapter talks of possible "ghosts" and strange events in the Bob that Fraley has witnessed himself.
Those will be fleshed out in the next book that he's currently working on.
He said he needs to get it done, "while he still has enough energy."
Published by Farcountry Press, "Heroes of the Bob Marshall Wilderness" is available in local bookstores and online or by visiting the Farcountry website directly at www.farcountrypress.com
---