Man now behind bars after driving car through Super 1 Foods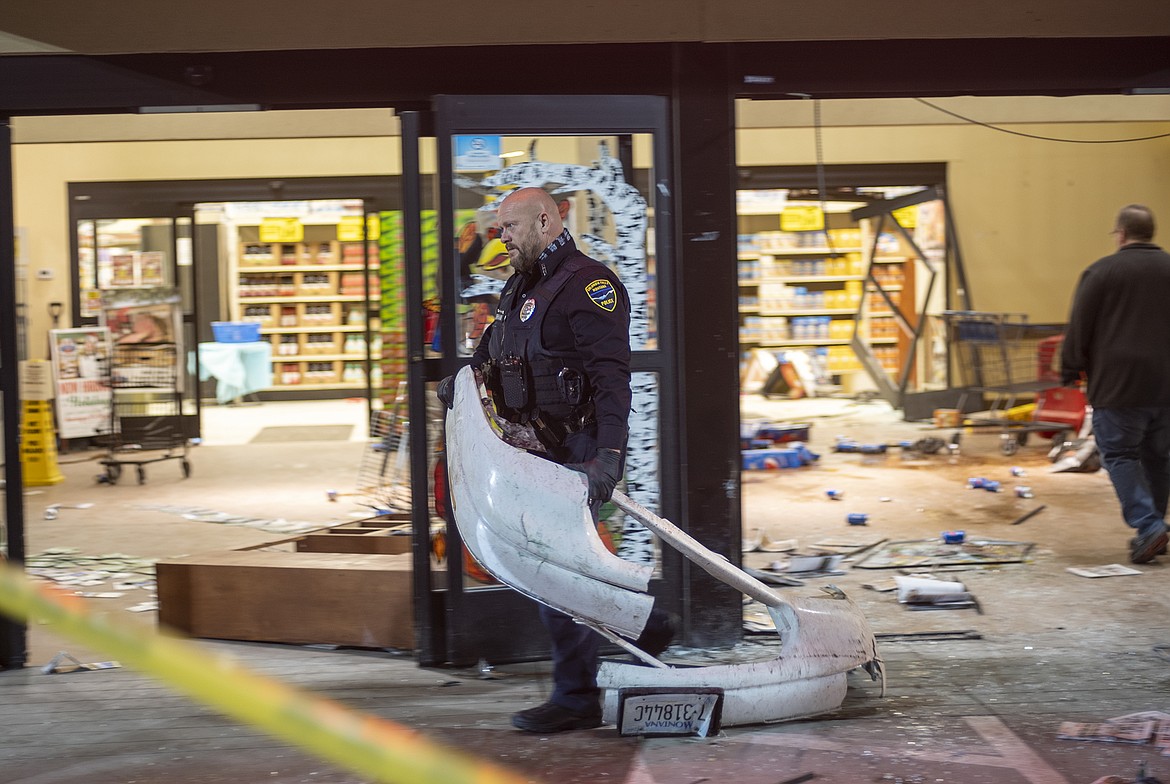 A Columbia Falls policeman drags a portion of the car's bumper out of the store.
by
CHRIS PETERSON
Editor
|
November 13, 2020 12:45 AM
A Columbia Falls man is now behind bars after he allegedly drove his car drunk into Super 1 Foods Thursday night, narrowly missing customers inside in one of the most bizarre crimes in Columbia Falls history.
Miraculously, no one was hurt in the incident.
Alan Roger Connor Jr., 50, of Columbia Falls faces charges of attempted negligent vehicular assault, criminal endangerment, felony criminal mischief, aggravated DUI and numerous traffic infractions.
Meanwhile, through the help of dozens of volunteers and staff, the store reopened at 6:30 a.m. Friday morning.
Witness Natasha Woodworth, who was just leaving the store at the time, said Connor first drove into the front doors of the store shortly before 6 p.m. but initially couldn't get in. He then backed up and rammed into them again.
Once inside the store, Connor drove down one aisle to the meat department and then turned around and went up another aisle and then out of the store, burning rubber along the way with his beat-up 1995 Chevy Lumina.
People inside the store had to run down the aisles to avoid being hit and groceries spilled to the floor like a scene out of a movie.
Columbia Falls Police and Flathead County Sheriff's Deputies responded and a short time later Connor's rig was located across U.S. Highway 2 where it had apparently crashed into a trailer, which disabled the vehicle. Connor fled the scene of the second crash on foot.
Within minutes of that call, Columbia Falls Police were advised of a nude male — Connor — running down the hallway of a nearby retirement home that was adjacent to the area of his abandoned car. Officers located him approximately one block west of the retirement home and detained him. Employees of the retirement home were able to identify Connor through previous contacts and he had a known relationship with a resident there.
Connor was transported to a local hospital for non-injury medical issues and has since been transported to the Flathead County Detention Center.
No one was injured in the incident, which was extremely fortunate, said Columbia Falls Police Chief Clint Peters.
Peters said there was no evidence the incident was terrorist related, but they also don't have a motive for the crime at this point.
Once the store scene was cleared by police, about two dozen volunteers showed up to clean up the mess, said store meat supervisor Pete Pourroy after the Columbia Falls Chamber of Commerce posted a call for help on its Facebook page.
They worked quickly — in about three hours they were mopping the floors and everything was picked up.
"The Columbia Falls community is so amazing… I doubt you see that anywhere else," Pourroy said.
On Thursday store personnel were fixing shelving and restocking the two aisles that were damaged.
"The Columbia Falls Police Department would like to thank the Flathead County Sheriff's Department for their assistance during this incident. We would also like to commend the employees of Super One Foods who showed true heroism by ushering customers out of the way of danger, preventing serious injury and potentially saving lives. We would like to recognize the incredible, and instantaneous response of the community of Columbia Falls for assisting with the securing of the building and cleaning of the mess inside the Super One Foods store. This is further proof of what an incredible community we are all blessed with being part of," Peters said in a release.
"Our investigation has led us to believe that Connor's actions were not in any way related to a political, social, or terroristic-type attack and this was an isolated incident," Peters said. "If you were inside Super One Foods at the time of this incident, and haven't already talked with our personnel, please call (406) 892-3234 so we can accurately determine the amount of people in the store at the time the vehicle broke through the doors."
---