Car drives through Super 1 Foods
|
November 12, 2020 12:00 AM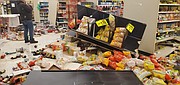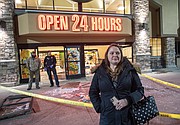 A person drove their car into the Super 1 Foods store in Columbia Falls Thursday night about 6 p.m., went down the aisles to the back of the store and came back out the same door it went in.
Witness Natasha Woodworth of Columbia Falls said she was just coming out a side entrance to the store when she saw a white car drive into the front door, which was closed. The car didn't make it on the first attempt, so she said it backed up and blasted through the doors. This time it made it into the store where it apparently drove as far back into the store as the meat department, before turning around and heading out the same doors it went into.
"It's like he planned this," Woodworth said.
Woodworth said the car chased a man down the aisle at one point, but he escaped.
She said the car looked like Chevy Monte Carlo and was in bad shape. She said she immediately called 911.
No one was seriously injured.
Columbia Falls Police at the scene declined to comment, referring questions to police Chief Clint Peters who was not immediately available. Apparently the driver was apprehended not far from the scene.
Police could be seen hauling pieces of the car out of the store, including the front bumper.
Produce and soda was scattered throughout the entrance and the west side front doors were destroyed where the car went through them.
The store is closed and a contractor was already measuring the front for repairs by 7 p.m.
It wasn't clear how much damage was done inside the store.
This story will be updated as more information becomes available.
---