Edward Peter DeReu
|
November 11, 2020 7:00 AM
Ed died peacefully in his sleep Nov. 4, 2020 while at the Montana Veterans Home, which he enjoyed.
Ed was born on July 29, 1923 in Pipestone Minnesota to William DeReu and Gertrude Roelandt. They were both born in Illinois. Both are deceased.
Ed's siblings are: sisters Marilyn (Powell) and Janice (Sehr) of Minnesota, and brother John DeReu (Joy Wilson) of Kalispell, all living.
They all grew up on a grain farm in Jasper, Minnesota.
Eighth grade was the last full year of schooling for Ed. This was a common amount of schooling for farmers in those days. Then it was time to do farm work.
Ed joined the Navy and fully remembers the foreign ports and cities he was able to see. It was quite a change from the farm in Minnesota. This was during the time of World War II.
He was honorably discharged from the Navy on Oct. 13, 1945. Service of three years, three months, five days.
He married a fine lady named Darlene Bergin.
They moved to Coram in 1952. He worked on the Hungry Horse Dam Project. He also worked in Idaho on the Priest River Dam. When he returned to Coram, he hauled logs.
Then he worked at the Anaconda Aluminum Co. while it was being built. When the plant was built, he worked in the office handling the general ledger.
Throughout all of this they had seven children. They moved from Coram to Columbia Falls in 1963 to alleviate the many trips for school activities. Their move was into an older house on 10 acres south of Columbia Falls. The deal included a few existing milk cows and some various other farm animals.
As sideline jobs, (he always had multiples) and for extra money, he bartended in almost every bar including the Blue Moon and up to the Dew Drop Inn.
In 1966, Ed left the Aluminum Plant to try a new adventure. He bought Rex's Bar and Motel in the Columbia Heights area. Both Ed and Darlene operated this for three years.
Upon selling and leaving Rex's Nightclub he worked at Plum Creek as a millwright until he retired in 1983.
He began golfing sometime during all this and after retiring made it a mainstay for his daytimes.
He also began playing pinochle at the Senior Citizens Center. You probably remember his name being posted (rubber stamped) quite readily in the paper. If his name did not show up in the paper, he must have taken the night off or someone else got REALLY LUCKY.
He also enjoyed bowling, and later attended the "Old Timers League" he called it.
Ed was a hard worker. He took all that he did with the necessary passion to be good at it. In his younger years he was competitive, which made him good at baseball and whatever sport he was playing. He was an avid bowler also. He once bowled against a famous bowler named Johnny Guenther. The match was at the Glacier Lanes. Ed was chosen because he had the high average for the league at that time. Yes, Ed lost that one. At the end of the game, Ed threw a ball that did not get the necessary pins to keep going. Mr. Guenther walked up and said, "I won." After re-thinking that, it seems Mr. Guenther may have been relieved!
Ed was preceded in death by his oldest son, Wayne (Sally), and daughter Becki (Rebecca) Miller.
Ed is survived by his ex-wife, Darlene (Beehive 92 years old), sons Timothy (Dorothy), Tom (Mary) and Chris (Bettie Lou), and daughters Beth Hagen (Mark) and Mary DeReu.
Ed will be greatly missed. His humor and the bringing out of the Olden Days quips out again will be missed. An occasional take on an "Ancient" song, (if you knew Suzy) or a quick yodel would bring back memories.
A viewing for Ed will take place on Thursday Nov. 12 from 1-2 p.m. at Columbia Mortuary. Mass of Christian Burial is Friday Nov. 13 at 11 a.m. at St. Richard's Catholic Church with interment at St. Richard's Catholic Cemetery.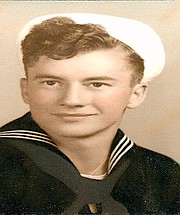 ---