Cats fall to Bulldogs, but future looks bright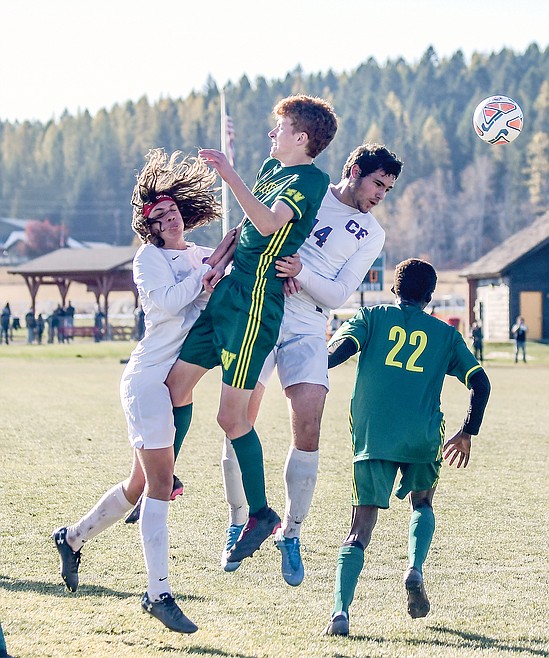 George Robbins (left) and Tyler Hull collide with a Whitefish player during Saturday's state finals. (Teresa Byrd/Hungry Horse News)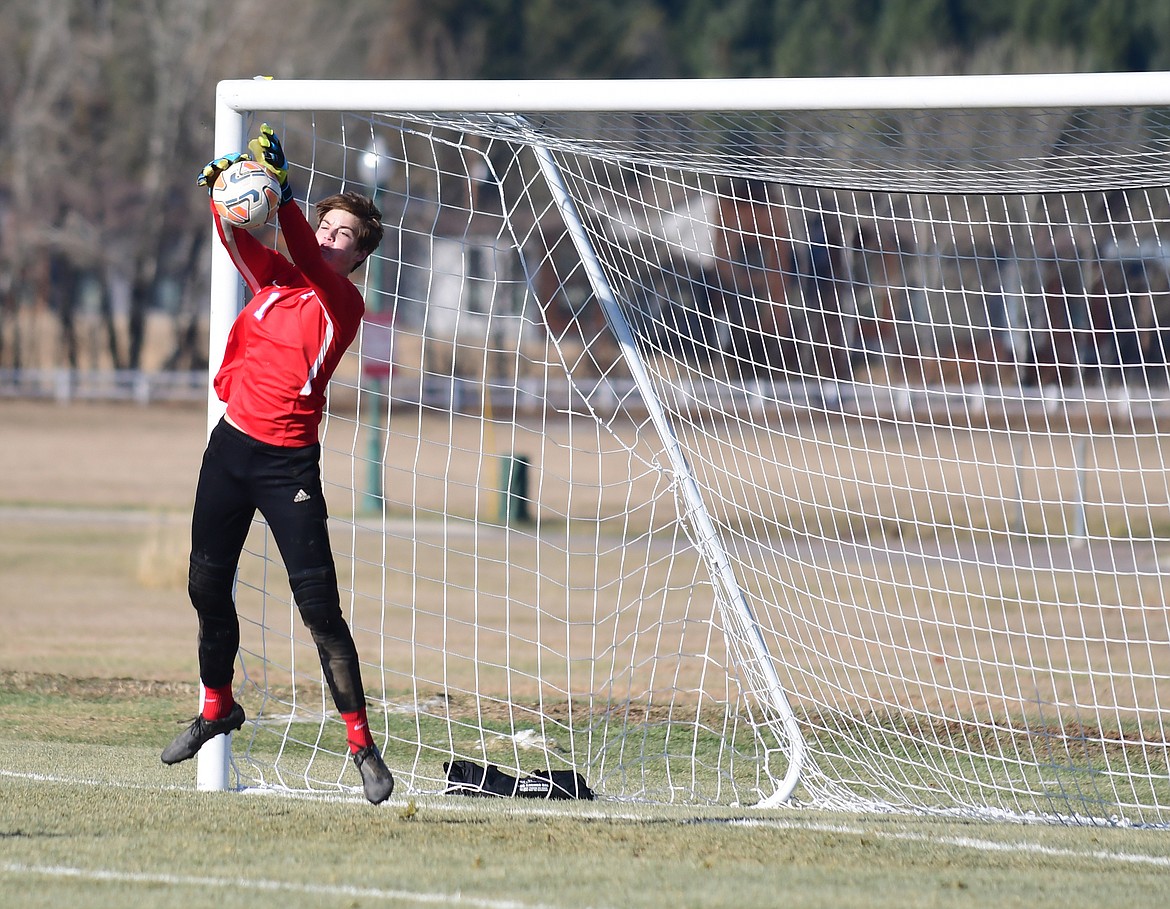 Wildcat goalkeeper Bryce Dunham with a save during Saturday's state final match. (Teresa Byrd/Hungry Horse News)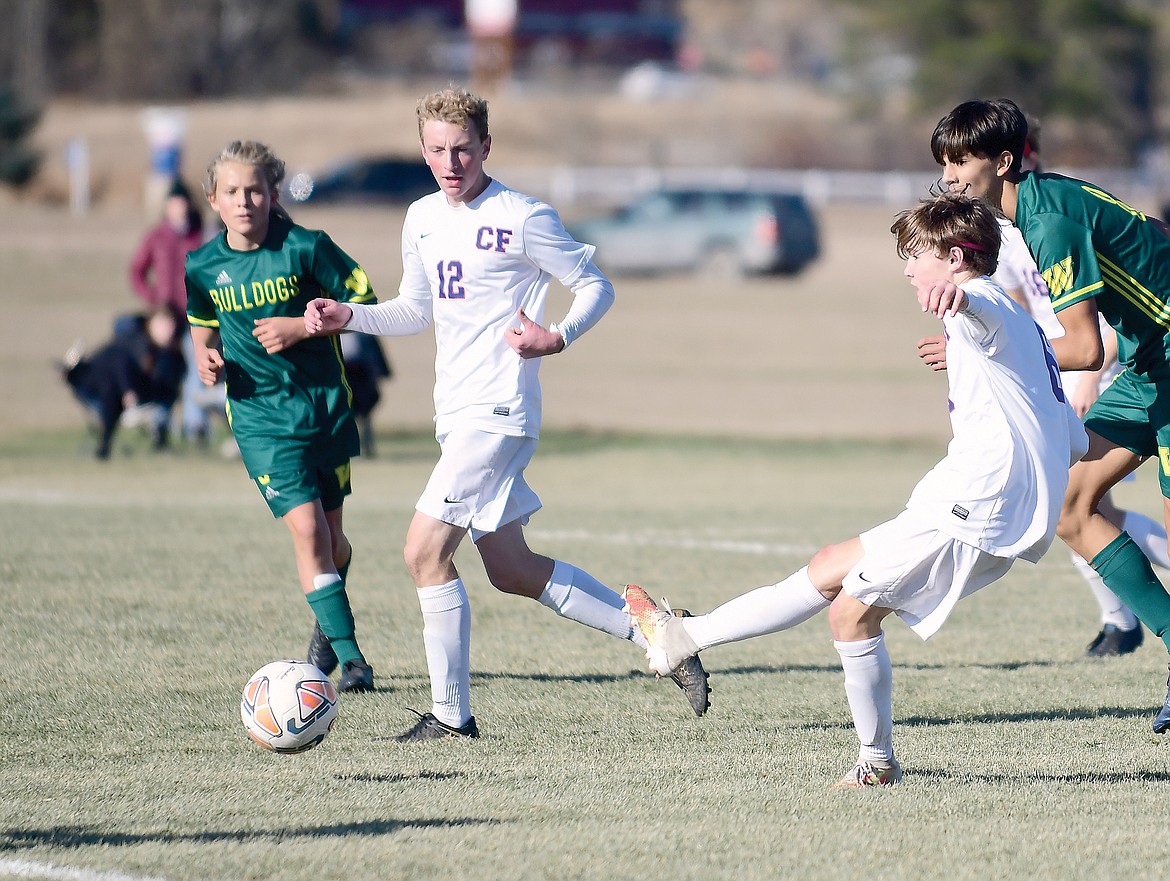 Dale Blickhan clears the ball on defense in the championship on Saturday. (Teresa Byrd/Hungry Horse News)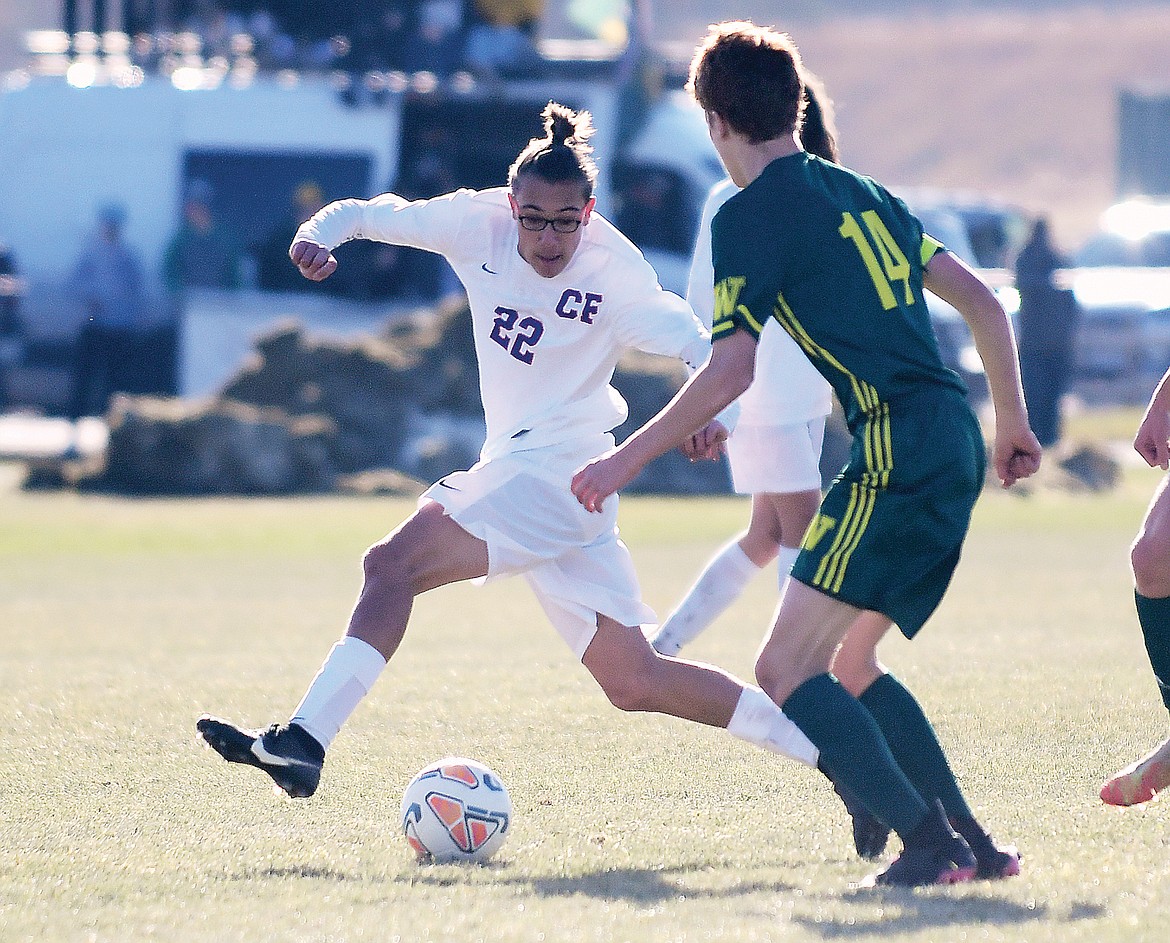 Finley Sundberg drives to the goal during the Class A State Championship on Saturday. (Teresa Byrd/Hungry Horse News)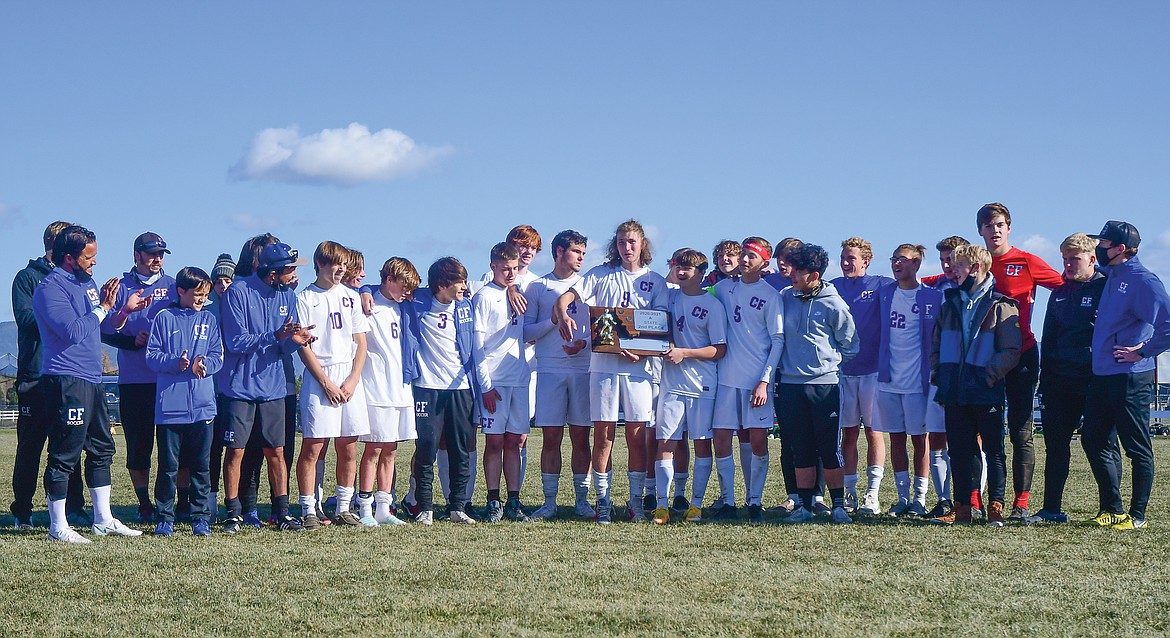 Niels Getts holds the Wildcats' second place trophy after Saturday's Class A State Championship game. (Teresa Byrd/Hungry Horse News)
Previous
Next
by
TERESA BYRD
Staff Writer
|
November 4, 2020 1:00 AM
The Columbia Falls boys soccer team finished their season second in the state after a 3-0 loss in a hard-fought game against Whitefish during the Class A Championship on Saturday.
Despite being the underdogs, beginning the match without captain Walton Nichols, and losing defender Nico Lang to injury about 20 minutes into the first half, the Wildcats never flagged, fighting ferociously to the game's final seconds.
The Bulldogs scored their first point with 14 minutes left in the first half, bringing the halftime score to 1-0. Their second goal came six minutes into the second half and the finishing point was scored with 15 minutes remaining.
"We knew we were going to be the underdogs so we made some adjustments and we made a plan to beat them, you know, to try as hard as we could and try to win," said head coach O'Brien Byrd. "The plan was working great, we were very comfortable in our tactics and our plan until Lang, probably our most important defender, got a bad injury. Our strategy really suffered after that, we had to move three guys around and of course lost maybe our best, most valuable defender."
Sophomore midfielder Nichols was out for an injury from the previous semifinals match against Billings Central and would have "died to play in that [championship]," said Byrd. The team definitely missed Nichols' leadership and energy, said Byrd.
"Honestly without those two guys — two of our most important players — it was just too much to ask," said Byrd.
"Full credit to Whitefish. They just out-classed us, kind of everywhere. They deserved to win, certainly," said Byrd. "We needed a really close to a perfect game, and they needed to make a couple mistakes for us to really have a chance at winning, so, we're all right, we live to fight another day."
Byrd expressed pride in the way his athletes competed during the championship.
"We just asked them two things," said Byrd. "We just asked them to play without fear and we asked them to give 100% for each other. And they absolutely, absolutely did. They absolutely gave everything, and in the end that's what you can hang your character on, not results."
Byrd also had nothing but praise for this year's team and its season, which ended with an 11-2-1 overall record.
"It was one of the most successful seasons in program history," said Byrd. "And we did it with the youngest team in program history. So, God, there's just so much to be excited about."
"I'm excited for the future," said Byrd. "Not just because we're young, but because of what our young guys learned. Our young guys were in a state championship, they made it all the way to the big dance. […]Guess what their goal is going to be for the next two years?"
Byrd also reflected on some of the adversity this season brought, not least of which was having a season during a pandemic.
"We overcame so much," he added. "Twelve quarantined kids, one of whom was quarantined twice, missing four weeks of the season. We had concussions, broken noses, sprained ankles. We overcame so much and every time we had a hardship, somebody would step in and fill the role and get it done."
Lastly, Byrd had some parting words for the team's five seniors.
"Definitely want to thank [them] for their four years of dedication to this program and joining us on their last year for a state title run. I just hope we gave them some everlasting memories this last season of theirs, I know we did."
---