Jean Marie Ringo-McDonald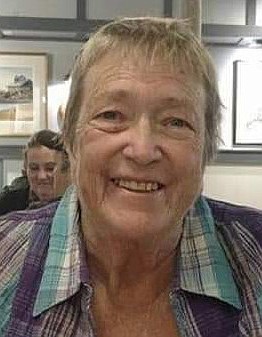 Jean Marie Ringo-McDonald left her earthly home to be reunited with her heavenly family late Sunday, May the 3rd, 2020. Her last moments were spent in the loving care of Peace Hospice surrounded by her family.
Jean, who went by many titles, including; mom, Amma, sister, aunt, friend and counselor, was a woman who loved her family and friends fiercely. She was a therapist by profession, but those who knew her best know she was a therapist by nature. She loved helping people become the best versions of themselves they could.
Jean delighted in nurturing life through plants and flowers. She had a green thumb and a knack for putting things together in a beautiful way. For the past year and a half, Jean created a "Zen space" at the Missouri River Care Center, where she lived in her room of many plants, bright decor and welcoming arms. Jean also loved books and writing, art and music of all kinds. She loved morning coffee chats and campfire shenanigans with food, drinks, family, friends and fun. She loved to share and hear raucous story telling. Every fall for the past 10-plus years, Jean gathered with her "girl tribe" to enjoy a special time together dubbed "the Chick Weekends."
These long weekends were soul reviving time of amazing food, a bit of debauchery, games, crafts, plenty of laughter and occasionally a few tears. We left these weekends feeling loved and renewed.
Jean had the gypsy blood of her father and was always up for an adventure, whether it was a multi-state journey or just a nice Sunday drive. She started life out as an "Air Force brat" living in Japan and Brazil at times as well as several states and numerous stops along the way. Though travel became difficult for her the past few years, her heart for adventure never dulled.
Jean is preceded in death by her parents, Ben and Shirley Ringo; her in-laws, Doug and Elna McDonald; as well as several aunts, uncles and cousins.
She is survived by her husband Dan McDonald, daughter Melissa McDonald, brother Tom Ringo (Nina Ringo); and sister Allison Berg (Robert Berg). Her legacy continues through grandchildren Mike McLeod and Kelly Harding; and her great grandchildren, Jakob "JP", Abbie, Michael, Dante, Liam and Lochlan. Jean also leaves behind nieces, nephews, aunts, uncles, cousins and innumerable friends.
Jean lived life to the beat of her own drum most days. She had a rebellious spirit and though she enjoyed some traditions she embraced the unconventional too. In that spirit, given the current circumstances of travel restrictions, Jean will be cremated and ashes spread in meaningful places to her, allowing small gatherings to honor her memory. The time and dates of the gathering will be announced later in the summer. Please visit Jean's online memorial at www.bentonfh.com to leave a message of condolence for her family.
"Those we love never truly leave us. There are things death can not touch," by Jack Thorne.
---