Dorothy Quick, 101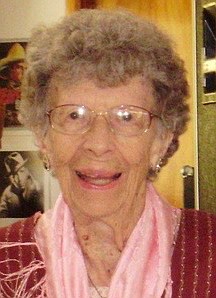 Dorothy Quick passed away in the early morning hours of April 30, 2020. Dorothy Edith Brown was born in Butte on Aug. 15, 1918 to Robert C. Brown and Olive M. Fitze Brown. She grew up in north Walkerville and made childhood friendships with several other girls that lasted until the others passed away well into their 90s.
As a young woman she and her friend Lil drove a milk truck delivering milk from their friend Mary's family dairy farm. They loved the fact that all the other milk delivery trucks in Butte were driven by young men who would always wave as they passed.
Dorothy attended Butte Business College, then began working in the office at the college. She was working in the office after World War II when a young man from Anaconda, Allan Quick, who had returned from serving in the war, was attending the college. She noticed he had beautiful blue eyes. He asked her to a Valentine's Day dance and she turned him down as she was going to work serving refreshments at the dance. Her co-worker encouraged Dorothy to go to the dance with Allan, so she did.
Dorothy and Allan were married on Nov. 24, 1947. They lived in Anaconda for the first few years of marriage and Dorothy worked for the Anaconda Chamber of Commerce. Allan was called back into the Army during the Korean War and they moved to Olympia, Washington for a time. During that period Dorothy worked for the "Employment Office." Once Allan was released they moved back to Anaconda. Roberta was born in 1952 and David in 1955. The family moved to Columbia Falls when Allan took a job at the Anaconda Aluminum Company in 1955.
Dorothy stayed at home until both of her kids were in school, then began working as a secretary at the Columbia Falls Elementary School. She loved her job at the school and the folks she worked with, as well as the students. Even after she retired she would go back and fill in when needed.
Dorothy was an amazing mother and grandmother. She supported her children and grandchildren in anything and everything they wanted to pursue. Her "local" grandchildren, Andy and Jenny, always knew Grandma and Grandpa Quick would be at whatever school event they participated in. The "Spokane" grandkids, Lissa and Geoff, always counted on Grandma and Grandpa Quick to be over to color Easter eggs with them. The grandkids remember Grandma made the best pasties and apple pie.
Dorothy and Allan spent many years doing things they enjoyed. They were great dancers, both ballroom, and Dorothy especially loved square dancing. Dorothy made many of her own square dance skirts as she was an amazing seamstress. They were members of the Flathead Pioneer Auto Club for decades and traveled to car meets and events. Dorothy enjoyed taking water aerobic classes and also took calligraphy and quilting classes.
Dorothy loved flowers and gardening. She learned to use a computer and email. She always loved music, but growing up during the depression her family couldn't afford piano lessons. Dorothy and Allan got a piano and she took lessons for a period when her kids were younger and again when she was in her 80s. She loved attending musical events in the valley and watching Lawrence Welk every Saturday evening.
It is difficult to sum up a life that was so well lived for almost 102 years in a few paragraphs. She touched many people and her passing leaves an empty spot in the hearts of her family, but also many wonderful memories and a legacy of love.
Dorothy was preceded in death by her husband Allan, parents, Robert and Olive, an infant brother, Robert, sister Bobbie, in-laws Al and Edna Quick, and dear life long friends Lil DeBerti, and Mary Calcaterra.
Dorothy is survived and missed by daughter, Roberta Struck; son, David Quick; grandchildren, Andy Struck and his wife Mandie; Jenny Rodriquez and her husband Steve; Lissa Roberts and her husband Scott; and Geoff Quick and his wife Nicole; great-grandchildren, Allan, Lucy, and Charles Quick; Elliana and Paxton Struck; Asher and Atley Rodriguez; Jacob and Eliza Dorothy Roberts; and a new little Roberts that will arrive in September. She is also survived by extended family Renee and Randy Riggin, and cousins and nieces and nephews scattered around the country.
The family would like to thank some special friends that helped Dorothy so much over the years: Mary and Don Reynolds; Maryruth and Jack Fallon,; Carroll and Virginia Lindsay, and many others. Also Dr. Laura Csaplar, and the staff at Renaissance Senior Care for their care during the past few weeks.
A celebration of life for Dorothy will be held at a later date.
---