Flathead National Forest, other forests, opening up campgrounds, cabins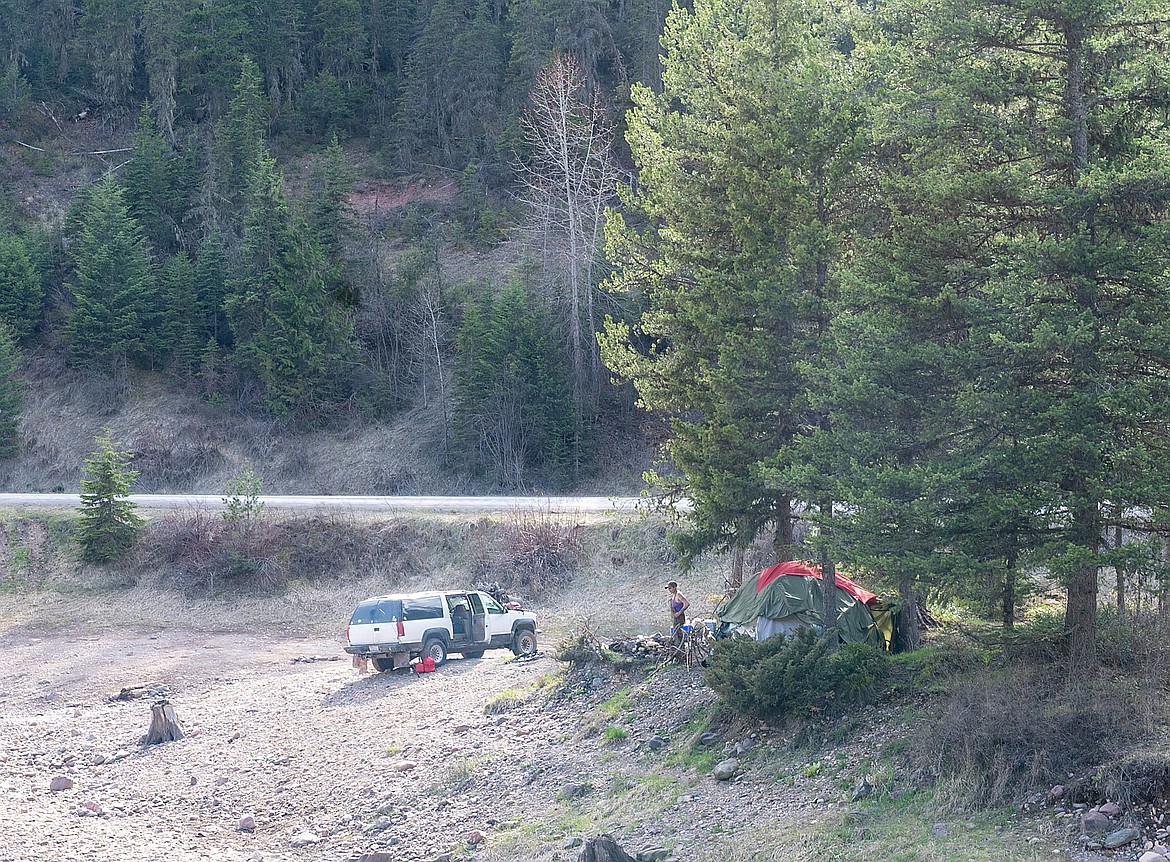 A couple camps near Emery Creek.
by
Chris Peterson
Editor
|
May 13, 2020 7:34 AM
The Flathead National Forest and other national forests across the state have begun reopening campgrounds and other facilities.
A significant number of people were camping along the Hungry Horse Reservoir over the weekend. Some were simply camped in undeveloped areas, like Emery Creek, but formal campgrounds, like Doris Creek, were open, though the bathroom looked to be unkempt.
That's not untypical for this time of year, particularly as concessions campgrounds don't actually have staff in place early in the season.
In other words, campers should expect fewer services, if any, in the next few weeks. They could also have to move from their camp if the concessionaire has to do work in the campground, Forest Service spokeswoman Lauren Alley said Monday.
"People should avoid camping in the concessionaire operated campgrounds if possible during pre-season because of ongoing hazard tree and other maintenance work. You may be asked to leave if work needs to occur," Alley said.
On Friday, the gate will be opened at Tiger Creek to allow access to the Spotted Bear Ranger Station via the East Side Reservoir Road. The staff will then determine if the Spotted Bear Campground can open.
People should call the ranger station at (406) 758-5376.
With Glacier National Park closed, more people than usual are using Forest Service lands.
All concession-run campgrounds are expected to completely open by Memorial Day weekend.
On the Helena-Lewis and Clark National Forest, the plan was to have most campgrounds open by May 22.
Rental cabin facilities will also begin a phased reopening, expected on or before Memorial Day weekend based on seasonal availability and facility conditions, the Forest Service said in a release.
Those with existing campground, cabin rental and lookout reservations through Recreation.gov will be notified via email or phone call if there are any changes. Folks are urged to bring their own cleaning supplies, as rental cabins and lookouts will not be cleaned between uses. As far as trails go, folks should expect a lot of downed trees, particularly in the Swan Valley.
Hikers should expect that all the trails in the area won't be cleared this year. Hikers are also urged to spread out and avoid highly congested trailheads, to avoid the potential spread of coronavirus, though that doesn't appear to be always happening.
Locally, the Columbia Mountain Trail in Columbia Heights has been very busy.
Most state parks and fishing access sites are open, with the exception of Lost Creek, Brush Lake, Bannack and Camp Baker.
Wildlife Management Areas are expected to open May 15.
One problem right now is snow — a cool April has meant that snow, even at some relatively lower elevation trailheads, still hasn't melted out. If you're heading into even modestly high terrain expect snow — lots of it.
The West Side Road of the Hungry Horse Reservoir was accessible for about 22 miles with four-wheeled drive, according to folks who posted on Facebook. It was still snowy beyond that, apparently.
---