Of Art and Cake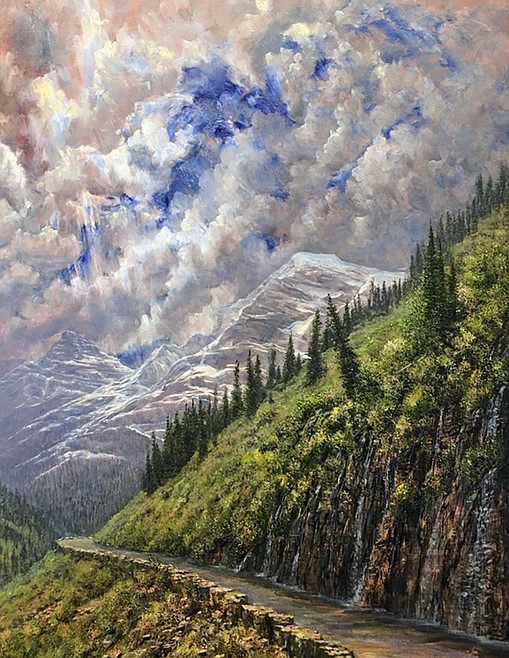 Weeping Wall by Nicholas Oberling, 30-by-24 inches.
I received a call from Hungry Horse artist Nick Oberling last week. He lamented that Glacier wasn't open to local folks, while also understanding why it's closed.
We think of the park in many different ways. For artists, the closure of Glacier also means the closure of their livelihood. Painting the park is their profession and when you have an economic downturn the size and scale of what's happening with the novel coronavirus, the impact to artists can be tremendous.
So over the course of the next few weeks we'll feature a painting or two as a gentle reminder that Glacier is a lifeblood not just for the tourism economy, but for the art economy as well.
Making a living as an artist can be difficult in the best of times — purchases from just a few folks can make or break a year.
We hope you enjoy the artwork.
-----
Last week was my son's 22nd birthday and I decided to bake him a cake. This particular recipe came from a renowned New York chef Cristina Tosi, who has been featured on the Netflix series "Chef's Table."
It was a birthday cake with sprinkles in it with a buttercream frosting. I made it twice.
The first time, was my fault. My oven is temperamental and the cake over cooked. Not burned, but not good, either. It seemed awfully dry in the pieces that I taste tested.
So I made another one. This one was perfectly baked. Golden brown, spongy and ... just as dry as the first one.
Now granted, the recipe said you were supposed to liberally brush the cake with milk and vanilla as you put the layers together. I did that on the first layer, but forgot on the second.
It didn't matter. I literally had to soak the cake in milk to make it edible, which is to say, dump milk on it.
The frosting, which had vegetable shortening in it, tasted like fatty wallpaper paste. I made that twice, too.
The worst part about the recipe is that it had expensive ingredients like grapseed oil and glucose. You can't even find glucose locally, you have to mail order it. Even the rainbow sprinkles, which it had in it, cost 5 bucks.
All told, I think the cake was pushing $50 in ingredients.
That cake reminds of the song "Someone left the cake out in Rain." In the tune, the cake is ruined.
With this cake, a good thunderstorm would have given it just the right moisture.
Oh well, the chickens enjoyed it. Chickens will eat almost anything, though they don't much like carrot peels.
Can't blame them there. Have a good week.
Chris Peterson is the editor of the Hungry Horse News.
---