Federal court orders Glacier National Park, 22 other parks, to come up with formal air tour management plans
A federal appeals court has ordered Glacier National Park along with 22 other national parks to come up with an air tour management plan with the federal Aviation Administration within two years.
The May 1 decision by the United States Court of Appeals for the District of Columbia is in response to a lawsuit filed by Public Employees for Environmental Responsibility (PEER).
"For almost 20 years, the FAA and the NPS have allowed an airborne reign of terror to go unmitigated over park skies," PEER attorney Paula Dinerstein, who argued the case before the court said. "PEER will work with affected communities and parks to, at long last, develop responsible air tour management plans."
The Air Tour Management Act of 2000 requires vendors who wish to conduct commercial air tours over certain national parks and tribal lands to first obtain a permit from the FAA.
Glacier is one of those parks, but it has never formally adopted an air tours management plan. Noise from helicopters flying over the park on tours is a common complaint from visitors.
Glacier's General Management Plan, which was finalized in 1999, actually calls for no air tours over the park.
PEER's suit has been weaving its way through the courts since 2017.
PEER and Hawaii Island Coalition Malama Pono petitioned the court for a writ of mandamus to compel the agencies to implement the The National Air Tour Management Act. A writ of mandamus is an order from a court to an inferior government official ordering the government official to properly fulfill their official duties or correct an abuse of discretion.
The court in its ruling said both the Park Service and the FAA have been dragging their feet for years.
Management plans may prohibit air tours entirely or place certain conditions on them, such as "maximum or minimum altitudes," "time-of-day restrictions," "maximum number of flights per unit of time," and "mitigation of noise, visual, or other impacts," the court ruling noted.
The government, in part, claimed it was still working on voluntary agreements in some parks.
The court rejected that notion.
"If the agencies can't stick to their own plan with the threat of judicial supervision hanging over them, how can we expect them to do so when the threat is gone?" the ruling noted. "Left to their own devices, the agencies have failed to comply with their statutory mandate for the past 19 years. Accordingly, we grant the petition for a writ of mandamus and order the agencies to produce a schedule within 120 days of the issuance of this opinion for bringing all twenty-three parks into compliance ... We fully expect that the agencies will make every effort to produce a plan that will enable them to complete the task within two years, as Congress directed. If the agencies anticipate that it will take them more than two years, they must offer specific, concrete reasons for why that is so in their proposal."
Dinerstein said she expects the agencies will comply this time around.
"I think agencies take it pretty seriously when there's a court order," she told the Hungry Horse News.
Air tours over Glacier have diminished somewhat in the past couple of years, as Minuteman Aviation sold its West Glacier property. A restaurant is planned there now. But there are still at least two other air tours operators outside the park that fly over the park in the summer months.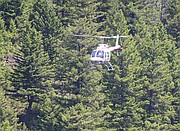 Recent Headlines
---