Weyerhaeuser announces Montana land sale finalized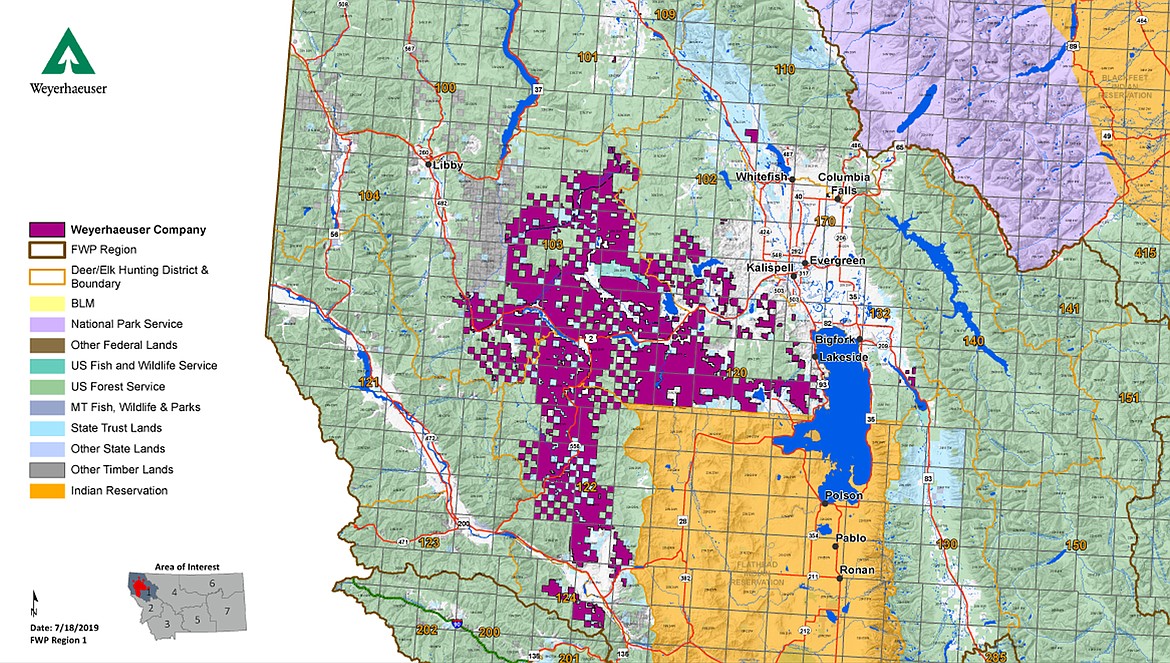 This map shows Weyerhaeuser property that was under the Block Management program in Montana. The purple is the Weyerhaeuser lands.
by
CHRIS PETERSON
Editor
|
March 26, 2020 5:26 PM
Weyerhaeuser announced late Thursday it had closed the sale of 630,000 acres of Montana timberlands to Southern Pines Plantations for approximately $145 million in cash.
"The sale of our Montana timberlands is part of our ongoing effort to strategically optimize our timberland portfolio," said Devin W. Stockfish, president and chief executive officer of Weyerhaeuser. "I want to thank the employees of the Montana timberlands team for continuing to operate safely throughout this process, and for their contributions to Weyerhaeuser over the years."
The transaction was announced in December 2019, and the company's three manufacturing facilities in Montana are not affected by the sale, the company claimed.
"We're proud to continue supporting Montana communities through our mills and other local operations," said Stockfish.
It isn't clear how many employees who worked in the local woods for the company will lose their jobs. The lands cover a wide swath along U.S. Highway 2 from just outside Kalispell to Libby. Plum Creek owned the lands for years and allowed folks to hunt and fish on them through the state's block management program.
The two companies merged in 2016. Weyerhaeuser's other land holdings in the West are typically leased out and recreationists often need to pay-to-play to use the lands. Montanans balked at that idea when the company first announced the merger.

Weyerhaeuser officials could not be immediately reached for comment.
Weyerhaeuser has come under fire from both the public and local officials for the Montana sale, as they fear that the lands, which have been used by the public for hunting and fishing for generations, will now be off-limits.
Southern Pines, however, claims it doesn't have plans to change Weyerhaeuser's previous public lands policy.
On the timber side, sources have said both privately and publicly that the holdings don't have much merchantable timber left — the company and Plum Creek over the years simply over harvested them. While they're green with trees, there's few large trees left and it will take decades to regrow the forests so they have merchantable saw logs.
---