Yesterdays: Fighter jet crashes into Flathead Lake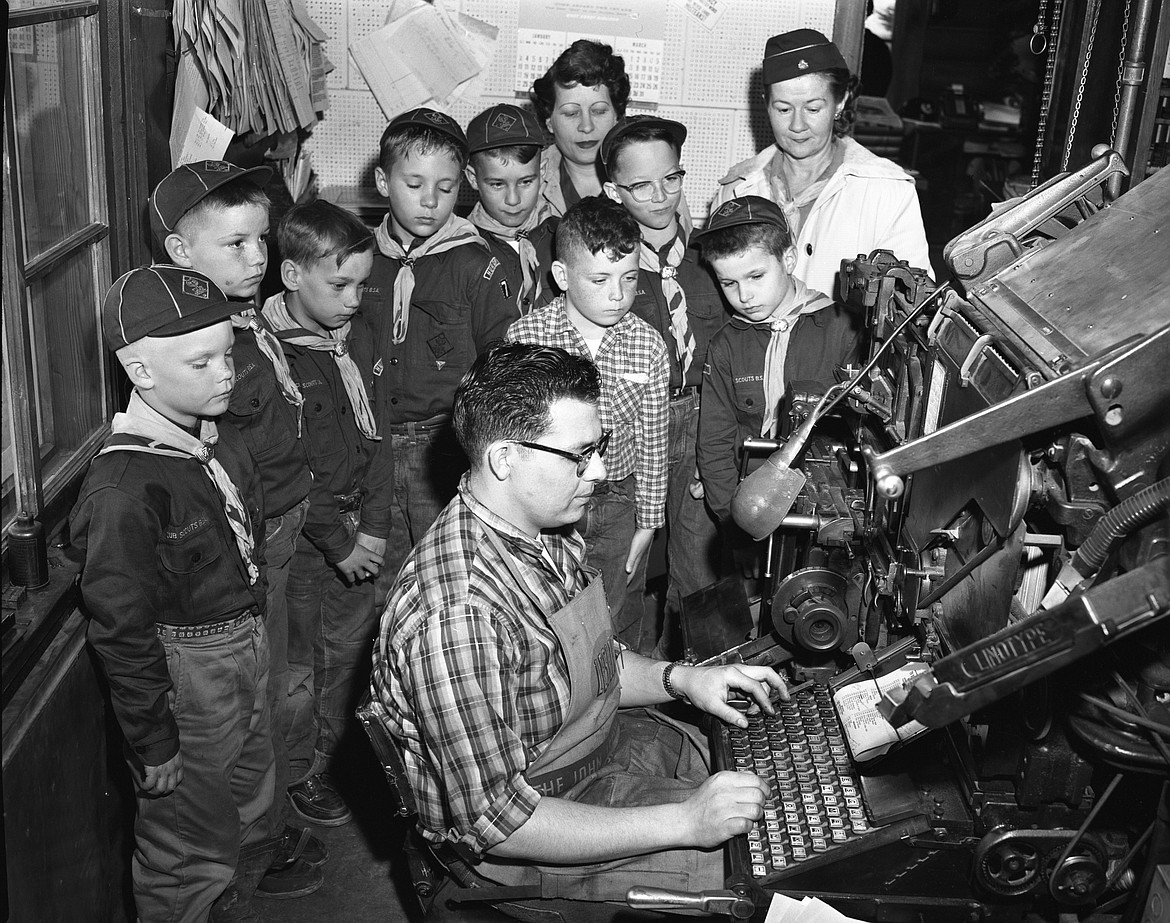 Hungry Horse Cub Scouts get a tour at the Hungry Horse News, March 29, 1960. (Mel Ruder photo)
70 years ago
March 24, 1950
Wallace Kirkland of Life Magazine was in town shooting construction of the Hungry Horse Dam for a larger magazine piece on water resources of the nation. There was a taxi service in Columbia Falls. Troy Thacker had purchased Columbia falls Taxi from Gary Mattheisen. The taxi would operate out of Thacker's garage. The phone number for the service, which would run around the clock, was 82-K.
60 years ago
March 25, 1960
The high divorce rate in the county was a matter of concern. About one in three marriages ended in divorce, a study found. Off the 114 divorces, about half were of couples that got married before they were 19 years old and 90 percent involved children. A Navy Jet F9F Cougar crashed into Flathead Lake and Capt. John Eaheart was missing. Eaheart was in the Marine Corps Reserves and was serving his two weeks on active duty flying the plane. The remains weren't found until 2006.
50 years ago
March 27, 1970
Columbia Falls' main street was swept and washed down in a volunteer effort by 15 businesses. Bad Rock had a problem with missing dogs. Six had disappeared in the past month.
40 years ago
March 27, 1980
Columbia Falls residents were set to vote on whether or not to fluoridate the city's water supply. Local dentists supported the idea, others were worried about cancer. The measure failed.
30 years ago
March 29, 1990
Federal trappers were trying to catch a wolf pair near Marion and transfer them to Glacier National Park. The wolves were suspected of killing a calf. An effort the year before with a family of wolves didn't go well. The wolves were dropped off in Nyack, but the female abandoned her pups and the male died of an infection from the trap wound. The pups starved to death and the female settled in the Swan Range, alone.
20 years ago
March 23, 2000
A semi trailer was making the rounds through local communities. On the side it advertised the number of timber mills that had shut down since 1988 and the number of jobs that had been lost. The trailer was part of an effort by Eureka mill owner Jim Hurts and his partner Lum Owens. They were protesting outside interference into timber harvests in the region's woods.
10 years ago
March 25, 2010
Diners at a local restaurant claimed they found hair in their meals. The restaurant gave the couple a $50 refund. But after they looked a surveillance tape, they discovered the woman had pulled out her own hair and put it in the meal. Police were investigating the matter.
---