Schools preparing to teach students remotely, lunch service continues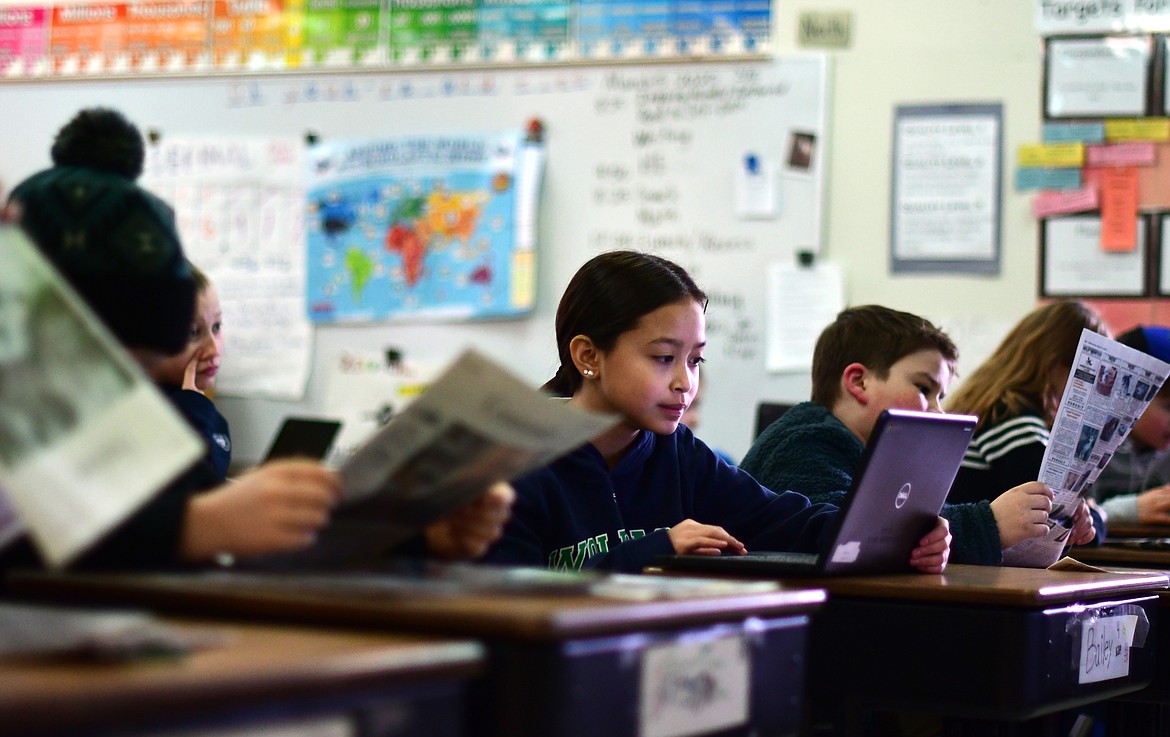 Ruder Elementary fifth graders start their day with current events. Center: Bailey Windauer (Teresa Byrd/Hungry Horse News)
by
Chris Peterson
Editor
|
March 18, 2020 6:38 AM
Columbia Falls School District 6 is preparing to have teachers give lessons over the Internet where it's possible, Superintendent Steve Bradshaw said Monday.
Schools were closed across the state by order of Gov. Steve Bullock on Sunday to stem the spread of coronavirus. They will remain closed until at least March 27.
But Bradshaw said the expectation is that schools could be closed longer than that. The district right now is working with families to determine if they have a home computer and Internet access to take on remote distance learning plans.
If they don't, the school can provide Chromebooks and other devices, he said. Logistics were still being worked out early this week.
The school goes into spring break next week, so there wouldn't be any classes that week anyway.
The school is also making plans to deliver hot lunches to students who need them and to continue the backpack program, Bradshaw said. The first lunches were being dropped off Tuesday at locations where families could pick them up.
The backpack program gives kids meals over the weekends and that was going forward as well, thanks to donations from Farm Hands Nourish the Flathead.
Teachers are still being paid while school is closed. At Monday's board meeting, there was discussion on whether they should come to school or work remotely from home. The problem with coming to school, or even meeting with staff, was that the Centers for Disease Control is now recommending that gatherings have no more than 10 people at a time. So just meeting with teachers was going to be a challenge.
There is also an issue with teachers and the number of days they would have to work over the course of the school year. Without waivers from the state, Bradshaw warned the school board that teachers could end up working more than 187 days, which could run the district afoul with the teacher's union and their contract with the district.
One option was to have teachers not work the rest of this week, which would cut three days off the schedule.
Families that need Internet or computer equipment are urged to contact school offices.
---