Kathe Nelson-Lalum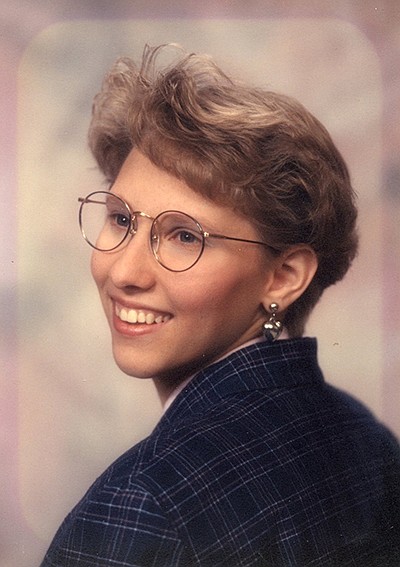 Kathe Nelson-Lalum, 44, of Columbia Heights, Minnesota, passed away suddenly, Feb. 8 2020 as a result of complications of Influenza A. She was preceded in death by her grandparents. She is survived by her husband, Nathan E. Lalum; her parents, Bob and Karen Nelson; her sister Jill (Jody) Heustess; nieces, Charley and Piper; and Nathan's family, Allen and Diane Lalum; William and Amy Greer-Lalum and grandparents, William and Mary Armstrong.
Katie was born in St. Louis Park, Minnesota on April 19, 1975 to Robert and Karen (Hill) Nelson. She grew up in Bismarck, North Dakota, attended Highland Acres Elementary, Hughes Junior High and graduated from Century High School. She went on to college and graduated from the University of Mary with a degree in music education. She and Nathan Lalum were married May 23, 1998. They moved to Lamar, Colorado where she taught school. In June 1999, they moved to Columbia Falls, where she taught Junior High music. She was an active member of Our Savior's Lutheran Church in Columbia Falls and director of the choir. She was a member of the Glacier Symphony playing percussion. She loved her music and played drums, marimba and steel drums. She later was Activities Director at Montana Veterans' Home in Columbia Falls. While working there she received her call to the ministry. In 2002 they moved to Minneapolis where she returned to school at Luther Seminary and received her Master of Divinity degree with special emphasis in care and ministry to the aging. She was an ordained minister of the Evangelical Lutheran Church in America (ELCA). She served as chaplain at Lyngblomsten Care Center in St. Paul until her health prevented her from continuing.
Later she bravely fought the Elerlers-Danlos Syndrome autoimmune disease. She enjoyed costuming, going to conventions with husband, Nathan. They made costumes together and enjoyed role playing games with their friends. Katie was an excellent cook and seamstress. She was a good wife to Nathan, good friend to many and loved her pets. She will be greatly missed.
Memorial services were held Feb. 14, 2020 at the Cremation Society of Minnesota, 4343 Nicollet Avenue, Minneapolis, Minnesota.
---