Ian Tippet, longtime Glacier Park figure, dies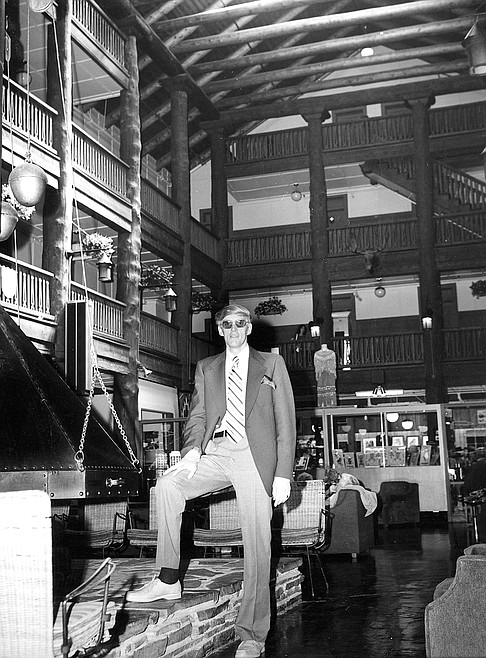 Many Glacier Hotel manager Ian B. Tippet in the lobby of the hotel, Aug. 29, 1976. (Mel Ruder photo)
by
CHRIS PETERSON
Editor
|
March 18, 2020 6:38 AM
Ian Tippet, the man who brought musicals and Hootenannies to Glacier National Park for decades, died of natural causes Monday, March 9 in Arizona. He was 88.
Tippet was born in Devonshire, England, but his home away from home was Glacier National Park.
He first came to Glacier Park in 1950, working at the front desk of the Glacier Park Lodge in East Glacier.
Tippet grew up in London and survived the bombing during World War II, he said in a 2014 interview. He came to the U.S. on a scholarship from Conrad Hilton, the founder of the Hilton Hotels chain.
The idea was for Tippet to work under Hilton for a few years in the U.S. and then return to London to work in Hilton's hotel there. But Tippet had a summer to himself and he went to Glacier.
"I never went back to do what I was supposed to do with Hilton," Tippet said. "Glacier ate me up."
Tippet had a distinguished career, working in the park for 63 years for Glacier Park Inc. when it operated the hotels for the Park Service, but the 25 years spent managing Many Glacier Hotel were the best, he said.
In order to make guests forgive, if not forget, the condition of the aging hotel, which at the time had a variety of ailments, he decided to put on nightly musical shows.
"'Oh my God', I thought," he said. "I've got to have something that offsets these difficulties."
He hired college students from across the country, seeking out drama and music majors from every state. In the 1970s, he also started making a point of putting black men and women on the staff, paying their travel expenses with his own money to get them to the Park.
It was a golden era at Many Glacier, Tippet said. The staff put on musical numbers and by mid-summer had prepared a full Broadway show.
The hotel staff worked an eight-hour shift, then rehearsed the night's program. The hotel had 200 employees, and most wanted to come back.
"Word got around quickly (on college campuses)," Tippet said. "They wanted to get a job in Many Glacier."
Tippet didn't hire musicians and drama majors for all GPI properties. He wanted geologists and history majors to be his Red Bus drivers, and he wanted athletes at Glacier Park Lodge so they could play the Many Glacier staff in flag football and soccer. The musicians got crushed in most of those games, but it created a rivalry and unity among staff and helped morale.
Over the years, Tippet touched literally thousands of lives of young people who worked in Glacier.
He stopped the musicals in 1983, but worked for Glacier Park Inc. until 2013.
More recently he was living in the Phoenix, Arizona area and was in poor health late last year. A GoFundMe campaign raised more than $17,000 to help with his expenses and he appeared to be on the mend, friend Carol Repulski Dahle told the Hungry Horse News.
---