Yesterdays: Big news in waerton? A new swimming pool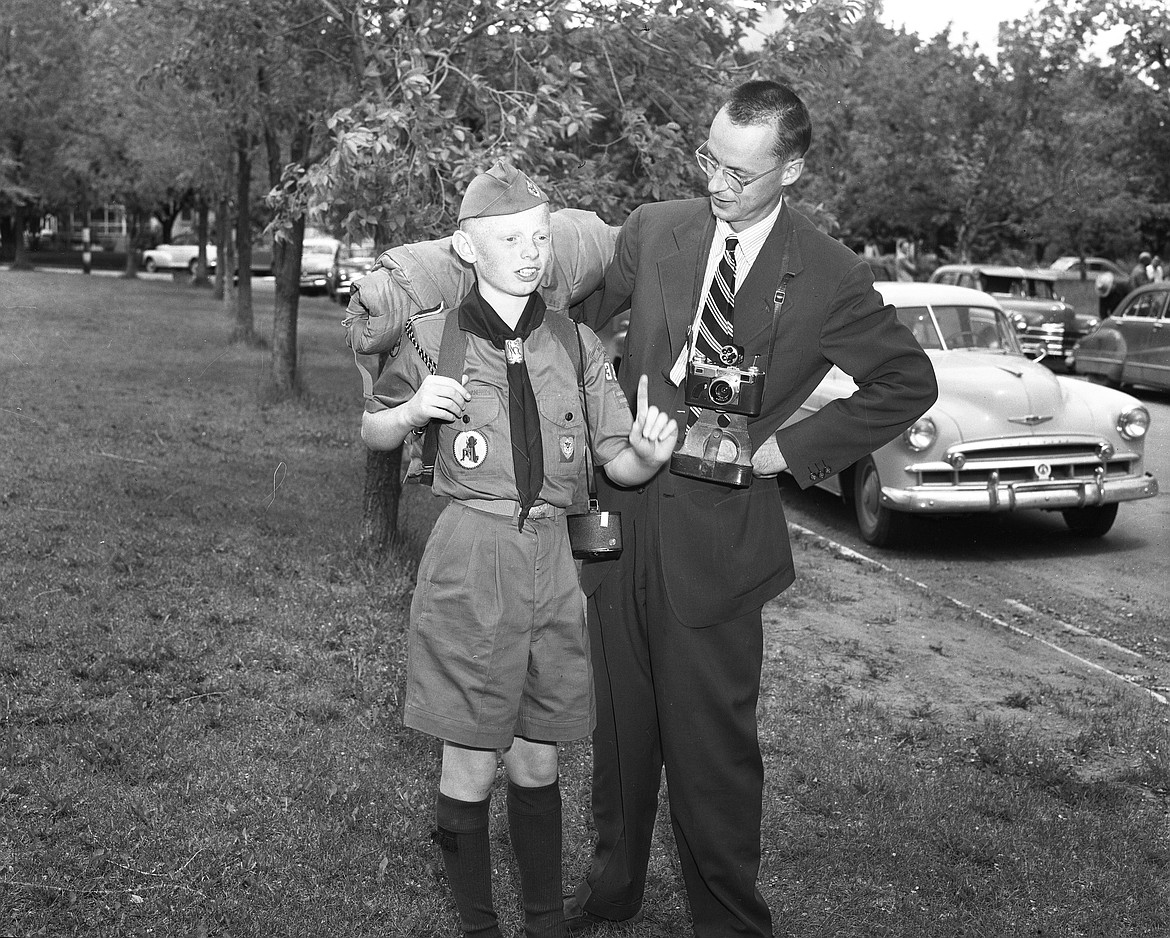 Life photographer Bob Kelley with Martin City Scout Billy Petersen, who was featured on the cover of the magazine, June 17, 1950.
70 years ago
June 16, 1950
The Flathead National Forest planted 18,000 western red cedar and 25,000 spruce on a little more than 50 acres near Falls Creek on the Glacier View district. The idea was to see if the planted trees did better than the natural regeneration. The plot was part of 300 acres that the Forest Service had burned the year before.
60 years ago
Jun 17, 1960
Big event in Waterton Lakes National Park in Canada was the dedication of its new $500,000 pool. The event drew a host of Canadian dignitaries. There was even a diving demonstration planned. Waterton is different than Glacier in that there's a townsite inside the park boundary.
50 years ago
June 19, 1970
Heavy rains caused about $200,000 in damage to Glacier National Park. The Park saw three inches of rain in 24 hours.
The Going-to-the-Sun Road had a hole in it, trees were down, a footbridge was washed out and there was other damage. Front page photo showed a bulldozer in Snyder Creek, trying to keep water from doing more damage.
40 years ago
June 19, 1980
Columbia Falls Mayor Frank McMaster and two councilmen, Doug Teddy and Cal Crouch announced they were resigning their positions. McMaster and the rest of council disagreed on the city's water rate structure and timely decisions on the city's sewer plant. Crouch said he was considering resigning because there was a lack of initiative by council.
30 years ago
June 21, 1990
Glacier National Park had at least one wolf pack with a litter of four wolves and another pack apparently had a litter as well, because the female in that pack was staying close to the den. Park biologists hadn't seen the wolves in the second pack, however.
20 years ago
June 15, 2000
Mark and Diane Praxel of Hungry Horse had an "instant" family — the couple had triplets. The kids were named Layton, Cassandra and Kayla. The kids were born less than 11-1/2 minutes apart.
10 years ago
June 17, 2010
A study of mountain goats in Glacier was halted after two animals that were shot with tranquilizer darts so they could be fitted with radio collars died. Both goats were males. One researcher tried to give one of the goats mouth-to-mouth, but it still died of an apparent heart attack.
---