Sky Eco Rentals expands to new location in Coram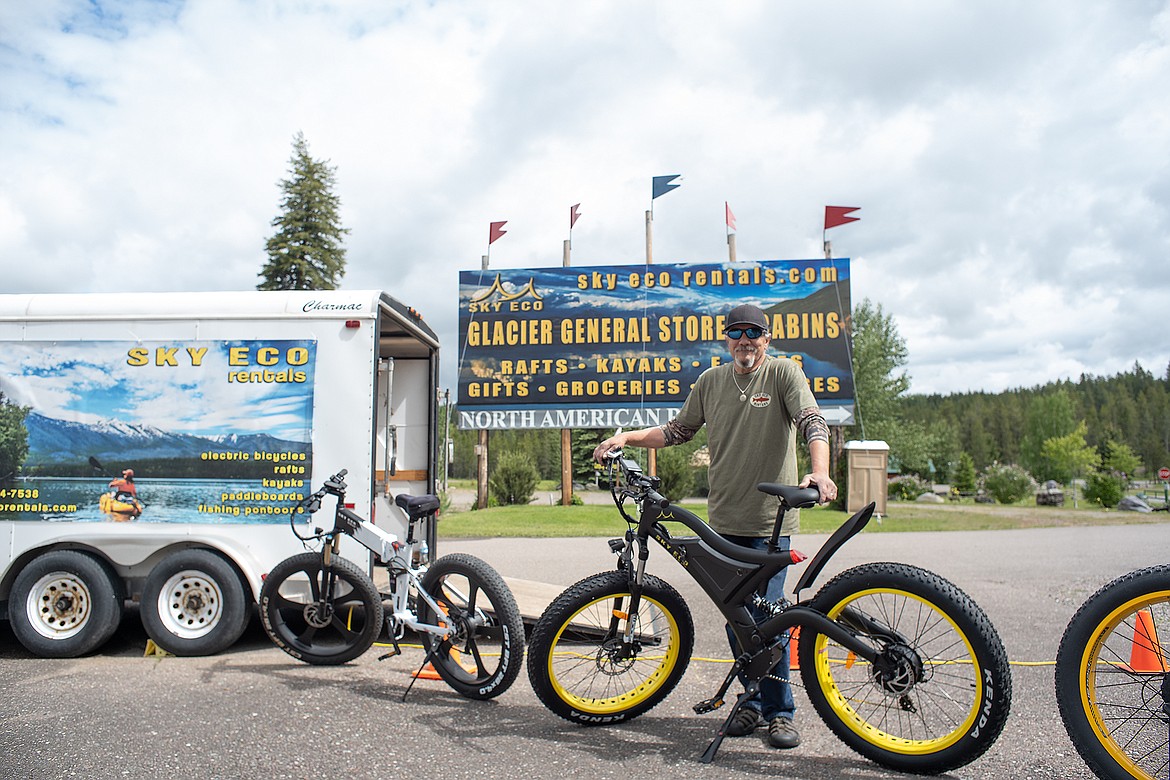 Ed Albrite at Sky Eco Rentals new location in Coram.
by
Chris Peterson
Editor
|
June 24, 2020 7:07 AM
Sky Eco Rentals has greatly expanded and now has a new location in Coram at the former general store adjacent to the North American RV Park off Highway 2 in Coram.
The company used to be based in Columbia Falls next to the Hungry Horse News, but is now in a spacious location that includes four rental cabins, three studio apartments, a gift shop and a sporting goods store.
The company still does what it always did best — rent rafts, kayaks and ebikes at affordable rates for to visitors and locals alike, noted co-owner Ed Albrite.
Albrite, founder Sky Yelinek and Tom Moldovan bought the Coram property in January from Charles Seward.
Since Glacier National Park reopened, business has been brisk, Albrite said last week.
They rent over 50 brand new ebikes and they've been promoting them not just for use in Glacier, but for the surrounding Flathead National Forest, most notably Desert Mountain, which has great views from its summit back into the park.
"The views from the top are spectacular," he said.
Plus, the crowds are far lighter than in Glacier Park, he noted.
Albrite said this was an ideal location for expansion because the Highway 2 bike path is right out the front door and the park's west entrance is just five miles away — a short trip on an ebike.
The gift shop features local books and artists, including noted silversmith Brad Brittsan and renowned artist Allen Jimmerson, whose works are known throughout the West.
The shop also features camping and fishing needs and just about any sort of item a visitor might need.
The ebikes have a range up to 60 miles and are fat-tire mountain bikes, making them suitable for both road and trails.
Albrite said a couple recently went 55 miles in one day without needing a charge.
The rentals have an emphasis on cleanliness — everything is thoroughly cleaned after each excursion.
"We've got a lot of compliments from Glacier Park on how clean our watercraft are," he said.
The park requires that all watercraft be inspected before launching in its waters due to concerns about aquatic invasive species.
Cabins and apartments are thoroughly cleaned after every guest leaves.
"We turn the room completely over," Albrite said.
For more information, visit the company's website at: skyecorentals.com
---