Elk Mountain: Straight up and away from the crowds
by
CHRIS PETERSON
Editor
|
June 24, 2020 7:20 AM
The tourists are back in full force, Sun Road open or not.
I used to like the Sun Road, but I can no longer handle the crowds. I have nothing against bicyclists, but there's always that odd person that has to ride a bike and blare their music, as if everyone around them wants to listen to what they're listening to.
Buddy, you're in a national park. Why not listen to the birds? The rushing water? The wind through the trees?
So like I said, I avoid the place, except for late evenings or when I absolutely have to get to a trailhead.
We avoided the Sun Road in a pleasant way on Sunday, with a hike up Elk Mountain.
The trailhead was empty when we got there and we saw just one lone hiker the rest of the day. There's a host of trails that go into Glacier National Park off Highway 2.
Most are unpopular, primarily because they're in the trees, or they're too long, or both.
Who wants to listen to birds, anyway?
Elk Mountain is one of those trails.
The Elk Mountain Trail does get out of the trees, but it's straight uphill, too, for a touch more than 3,300 feet. The trailhead isn't marked, because you have to park outside Glacier, hike along a two-track, cross the railroad tracks, and then go into the park.
It's not a big deal, but it adds another mile onto the trip, making it a 7-mile long journey.
Along the way we saw lots of flowers, plenty of the aforementioned birds and yes, we even listen to the wind blow and the water rush through the trees.
At the top the wind howled and the clouds raced by and a golden mantled ground squirrel wanted desperately to chew on our packs.
On the way down we saw a band of bighorn sheep that wanted nothing to do with us.
They scooted up the mountain and we never got a glimpse of them again.
The sheep weren't all that photogenic anyway — with gobs of winter coat still stuck to their hides.
All in all, a good day in the woods and the hills.
And not a radio to be heard.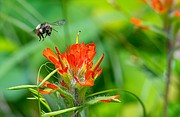 ---