Daines said he supports increasing fine for illegal wilderness landings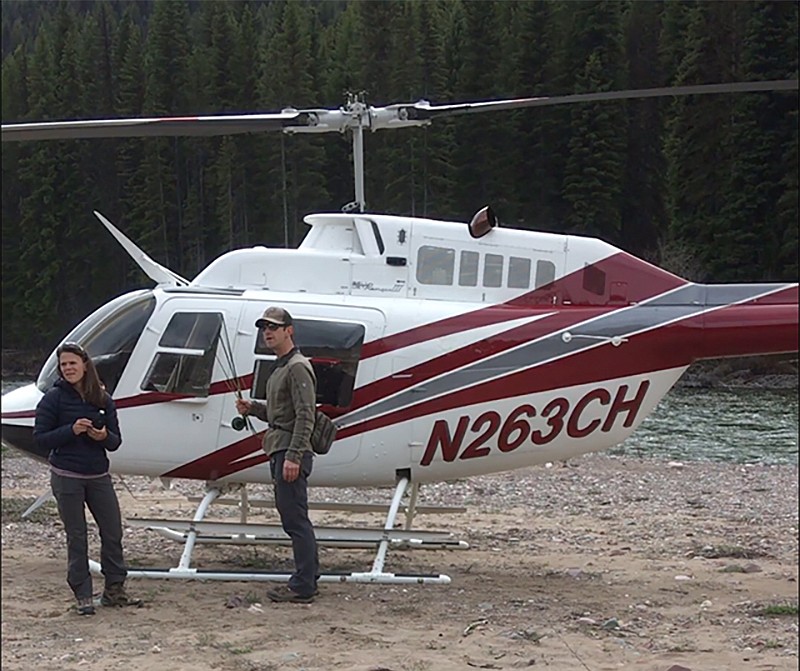 This cell phone photo provided to the Hungry Horse News appears to show a couple who allegedly flew into the Bob Marshall Wilderness and landed on the South Fork of the Flathead River bank to do some fishing.
by
Chris Peterson
Editor
|
June 19, 2020 2:41 PM
Montana Republican Sen. Steve Daines said he will introduce a bill that would increase the maximum fine for landing any unauthorized aerial vehicle in designated wilderness areas in national forests to $20,000.
The announcement comes after a Bozeman pilot, Samuel L. Schwerin, 48, was fined $500 — the maximum amount under current law — for landing a helicopter on a sandbar of the South Fork of the Flathead in the Bob Marshall Wilderness last month.
Schwerin and his wife, Sara, who is also a pilot, were caught by two horsemen on May 16 near Black Bear with the helicopter, fishing rods in hand.
The horsemen reported the incident to Forest Service officials after taking photos and video of the incident.
But wilderness advocates said the fine amounted to the proverbial slap on the wrist.
"Montana's wilderness shouldn't be taken advantage of and exploited as a playground for the rich and famous," Daines said. "Montanans value wilderness for the solitude it provides and the adventure that is involved to travel to so many beautiful locations. My bill will make folks with a deep pocket think twice before entering our pristine wilderness areas unlawfully."
The Montana Wilderness Association was encouraged about the development, but also added a cautionary note about the senator's previously actions, which have been not been pro-wilderness, they said.
"We're grateful Sen. Daines today is recognizing the value of keeping Montana's wilderness areas quiet and working to prevent motorized trespass and illegal aircraft landings," said Montana Wilderness Association conservation director Amy Robinson. "However, his actions ring hollow since the senator recently petitioned the Secretary of Agriculture to open eight airstrips in the Bob Marshall Wilderness Complex alone. If Daines wants to be a champion for the Bob Marshall, we ask him to join the 75% of Montanans who support the Blackfoot Clearwater Stewardship Act. As a member of the Senate Energy and Natural Resources Committee, he can help ensure this bill receives a hearing and promptly moves to the Senate floor."
On June 15, 2018 Daines wrote a letter to Secretary of Agriculture Sonny Perdue asking him to consider reopening several airstrips in the Bob Marshall Complex that had been closed for about 70 years, including the one at Black Bear, not far from where the Schwerins were caught landing illegally.
"... I believe reopening a few of these airstrips will provide access to these areas to hikers and backpackers alike, bolstering Montana's $7 billion economy," Daines wrote at the time.
Perdue declined the request.
Montana Democratic Sen. Jon Tester also weighed in the Daines proposal to increase fines.
"Regardless of the machine, motorized use in wilderness areas is illegal, period. Senator Tester has never wavered in his fight to prevent motorized use in our wilderness areas, and he will always work aggressively to hold accountable anyone who endangers our public lands," an aide to the Senator said.
Separately, the Blackfoot Clearwater Stewardship Act, which Tester has sponsored, would add more acreage to the 1.5-million acre Bob Marshall Wilderness, but has been languishing in Congress for years.
George Nickas of Wilderness Watch, a wilderness advocacy group based in Missoula, said the Daines proposal was a good start.
"I think he's on the right track," he said. "It (the fine) is significant enough as a deterrent."
However, Nickas said in order to have real teeth, the bill should have a confiscation provision, which would allow the government to confiscate an aircraft or other vehicle violating the law, depending on the circumstances.
"That has to be on the table," he said.
A confiscation provision would also act as a deterrent to companies that rent out equipment, such as snowmobiles, to know the law and make sure their clients aren't trespassing in wilderness and other protected areas, Nickas said.
Designated wilderness areas, by definition under the 1964 Wilderness Act, prohibit both motorized and mechanized use, including bicycles, with just a few exceptions. For example, the Schafer airstrip in the Great Bear Wilderness is grandfathered into the law.
Note: This story has been edited to clarify the Montana Wilderness Association's position. It also added a statement from Sen. Jon Tester's office.
---