Windauer recognized by Kalispell Regional Healthcare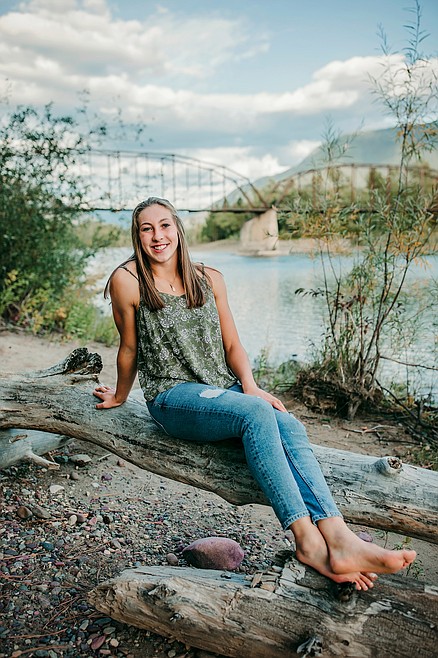 Josie Windauer poses for her senior portrait (Melody Clark photo)
by
Chris Peterson
Editor
|
June 17, 2020 7:21 AM
Columbia Falls senior Josie Windauer was recently named a "Today's Achievers, Tomorrow's Leaders," selection by Kalispell Regional Healthcare.
The award looks to "honor and recognize the lives of high-achieving high school students who — through school activities, volunteer work, community service, or other initiatives — nurture healthier communities."
Windauer, 18, will play soccer for the University of Montana this fall and is the first player from the school to sign with a Division 1 program. She holds the school record with 33 goals in her senior season and was co-MVP of the girls' basketball team this season.
She excelled in the classroom as well, graduating just shy of a 4.0 grade point average.
While she loves playing soccer — practice starts Aug. 4 — her longterm goals are to pursue a career in either wildlife biology or athletic training.
She grew up hunting and fishing with her father, Dave and her brothers Ben and Justin and grandpa Bob Windauer. Dave is a custom bow builder and Josie said she's been shooting a bow since she was old enough to walk.
The family is avid hunters and Windauer really enjoys bowhunting over rifle hunting.
"I'm getting into bowhunting more, it's really challenging," she said.
She's taken several deer over the years, including a 5-point mule deer. Her family hunts both prairie muleys and mountain muleys. The mountain deer are a challenge and more than once they've slogged out of the woods in a snowstorm, she said.
"We've had some pretty grueling hikes out in the snow. An adventure, but really enjoyable," she said.
There's a distinct advantage to living in a family of hunters.
"We rarely have to buy meat," she said.
She also loves to get out and fish — ice fishing, fly fishing, and spin fishing. She was heading out to fish for pike in a local lake this week. Her biggest pike so far is a 17-pounder.
"I really enjoy fly fishing," she said.
She'll take a hiatus from outdoor activities for soccer season, of course. She said the team will play most of its schedule, though some travel may be curtailed due to concerns about coronavirus. The state has largely been spared from the virus compared to other states.
"We're really fortunate to live in Montana," she said.
---