Historic storm wipes out power to many, damages homes across Flathead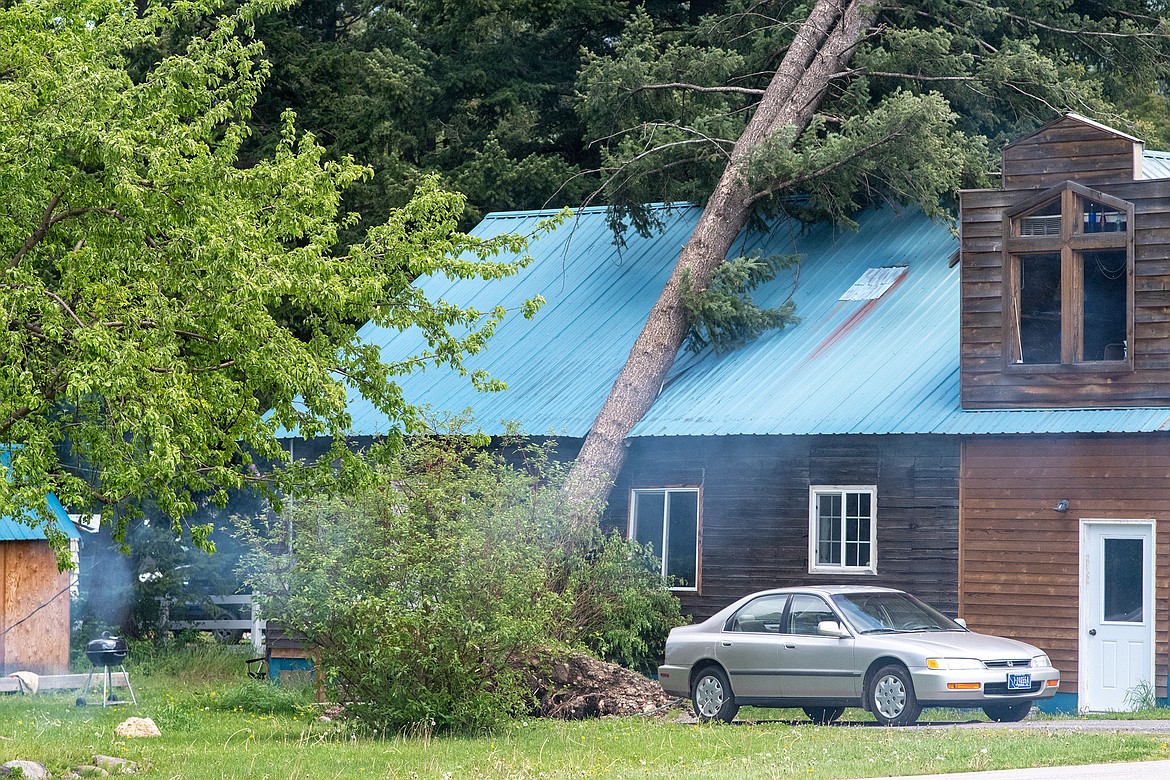 A tree leans on the historic Sahl residence in Martin City Monday.
by
CHRIS PETERSON
Editor
|
June 1, 2020 3:15 PM
Violent thunderstorms Sunday morning knocked power out to about half of all Flathead Electric Co-op customers as a strong cold front blew through the valley.
Some areas were relatively unscathed, while others had numerous trees down, including several on homes and businesses.
FEC spokeswoman Wendy Ostrom-Price said 37,000 people found themselves without power in a matter of minutes. She said it was the single largest outage in the history of the Co-op. The storm was widespread with damage from Libby all the way to Essex and south into the Swan Valley.
She said the Co-op hoped to have the main lines repaired by day's end Monday, but people on secondary lines — those that serve individual homes and neighborhoods — might not have power restored as late as Wednesday or even Thursday.
Gary Sahl of Martin City was cleaning up his yard on Monday afternoon and nervously eyeing a big Douglas Fir that was leaning on his home, which was once a storefront in town.
Sahl said he hoped to get the tree off soon, before the damage turned catastrophic.
The storm sent trees toppling over U.S. Highway 2 and dozens of roads as well. There was a report from a hiker who said trees had also jackstrawed over the Columbia Mountain Trail in places.
One wind gust recorded was 78 mph at a remote station in Kila, National Weather Service meteorologist Corby Dickerson said.
At the Glacier Park International Airport there was a wind gust of 69 mph as the storm blew through between 8:22 a.m. and 8:42 a.m.
The North Fork of the Flathead reached moderate flood stage on Sunday as parts of the drainage saw upwards of 2 inches of rain in just a matter of hours.
The river is now dropping, Dickerson said,
More rain and violent weather could be on tap for later in the week, as a large low pressure system from Alaska drops down and could merge with a low currently near San Diego, California, boils up from the coast. It's a bit early to predict the full potential of the storm, Dickerson said, which could come Saturday.
Rivers are running high and chocolate brown and the snowpack is still about 130 percent of average.
---